MAKE MATH MOMENTS
IN-PERSON AND ONLINE PROFESSIONAL DEVELOPMENT OFFERINGS
Learn about both in-person and online synchronous and asynchronous Mathematics Professional Development Offerings by the Make Math Moments Team of Jon Orr & Kyle Pearce.
Over a combined 30 years of experience teaching engaging lessons, we've planned and reflected on what works in math classrooms and what doesn't. Our mathematics professional development offerings will not only show you the techniques that you can use to maximize student engagement, conceptual understanding, and build a productive disposition towards mathematics, but also give you the resources to help make it happen!
ELEVATE YOUR PEDAGOGICAL PRACTICE AND MATH CONTENT KNOWLEDGE 
Live and In-Person Learning
Jon Orr and Kyle Pearce are available individually or as a dynamic duo to deliver in-person mathematics professional development in the form of a Keynote Address, presentations, and workshops for your conference, district or school.
Online Synchronous and Asynchronous
Mathematics professional learning can be accessed virtually in the form of highly customizable live synchronous webinars and/or asynchronous courses and online workshops for your conference, district, school, or individually.
No Matter What The mathematics Professional Learning need, we've got you covered…
With hundreds of live keynotes, presentations and workshops delivered while hundreds of self-paced online participants have engaged in our online courses, there is a Make Math Moments professional development plan that can help you and your colleagues deliver an engaging, high quality problem based lesson program.
Our EXPERIENCE & SPECIALTIES
Jon Orr and Kyle Pearce have experience presenting for conferences, associations and districts across North America and beyond including: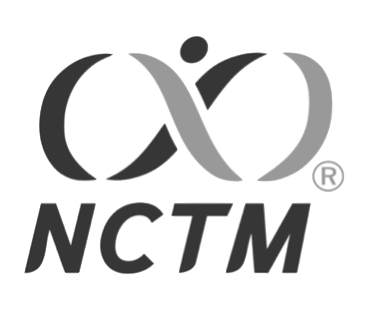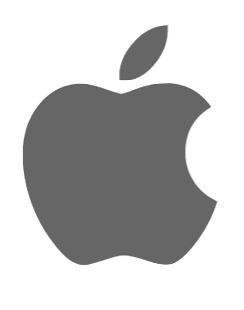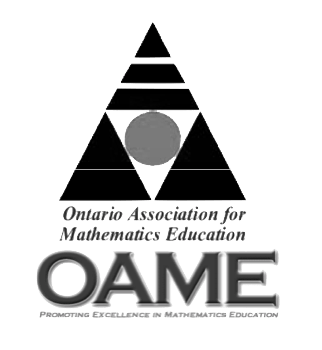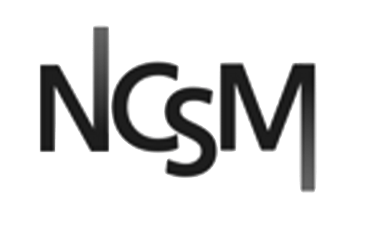 In order to implement a successful math program consisting of problem based math lessons, we have created a 3-Part Framework to assist educators in building the capacity to plan and deliver engaging math lessons that students not only love, but learn from. 
Each of our programs will guide educators through the pedagogical moves and math content knowledge necessary to deliver an effective Make Math Moments program.
In-person KEYNOTES & Presentations

FACILITATING LIVE WORKSHOPS

ONLINE WORKSHOPS, COURSES & ACADEMY

PROBLEM BASED LESSONS & UNITS OF STUDY
High Impact Professional Learning From Your Couch
Given the signficant changes the world has endured as of late, the future will consist of less in-person mathematics professional development opportunities. How will your district ensure that your K-12 mathematics educators are able to continue engaging in high quality mathematics professional development? Make Math Moments is proud to offer multiple online asynchronous mathematics professional development courses and an ongoing community to help.
MAKE MATH MOMENTS ONLINE WORKSHOP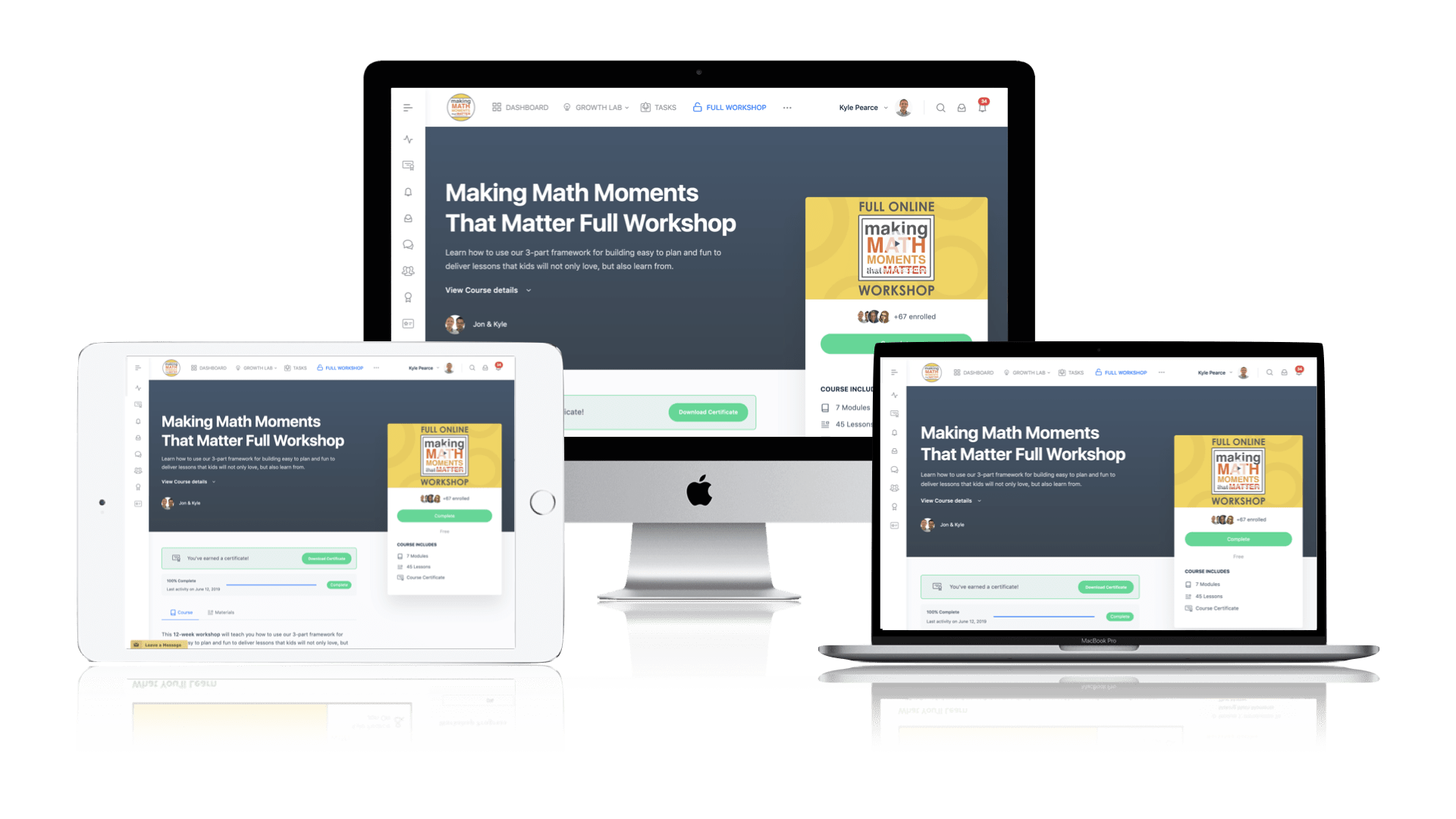 12-week, self-paced and online video course unpacking the 3-Part Framework to Spark Curiosity, Fuel Sense Making and Ignite Teacher Pedagogical Moves
PROPORTIONAL REASONING COURSE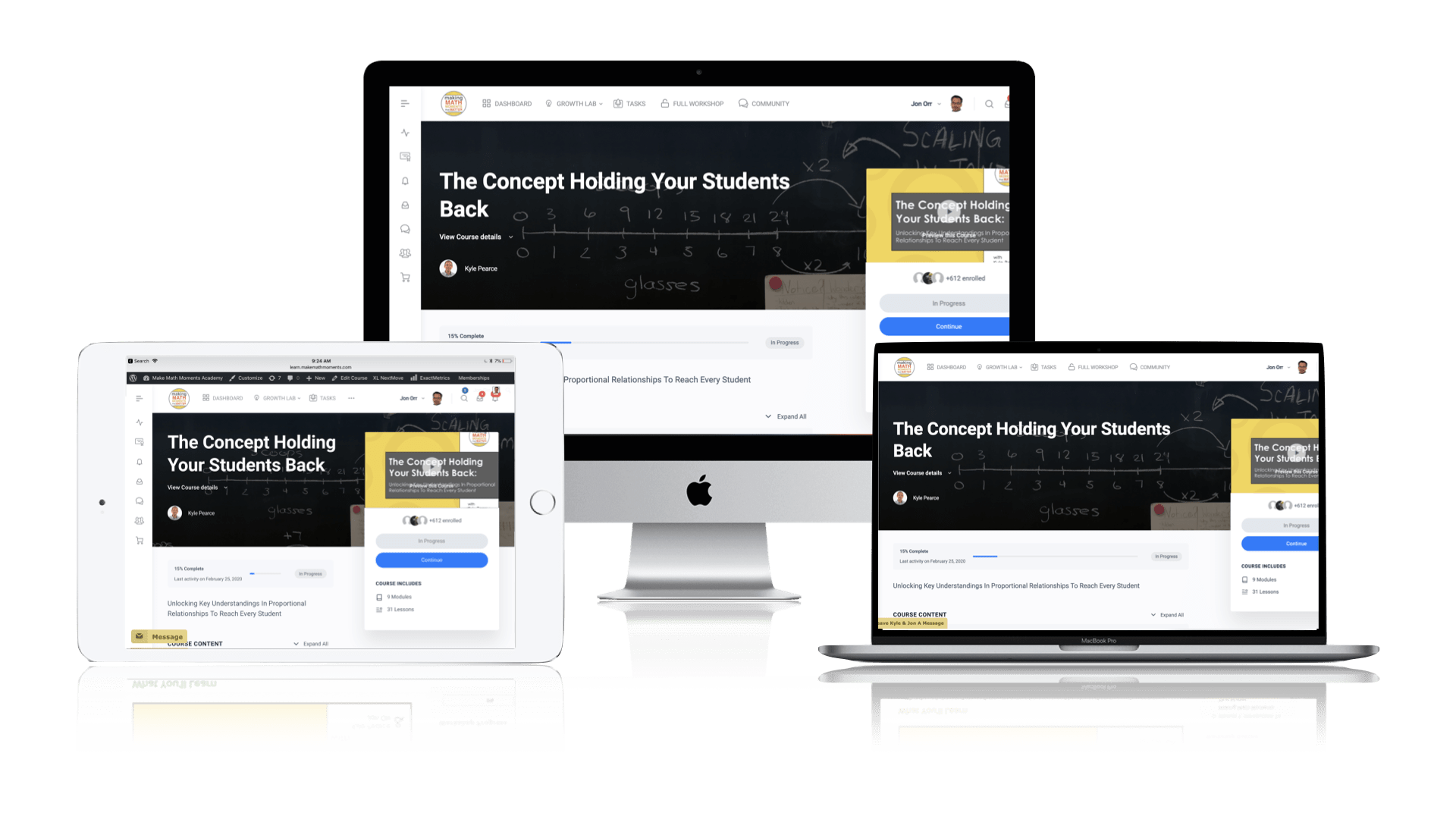 12-week, self-paced and online video course unpacking the progression of proportional reasoning from spatial comparison to ratios, rates and proportional relationships.
While the pedogogical approaches introduced in the Make Math Moments 3-Part Framework are applicable for K-12 mathematics classrooms, the content specific examples are typically in the grade band from 3 to 10.
Ready to Make Math Moments That Matter for students in your district?
Jon and Kyle are available to learn alongside You and your colleagues in a face-to-face or online format.
Don't trust website forms? You can reach us by sending an email to admin (at) makemathmoments.com