The Easiest Way to Learn New Math Class Strategies & Resources for FREE!
Educators are constantly on the hunt for new and innovative ways to engage and inspire their students in math class. Whether it is by reading the next math pedagogical-content knowledge book shared by a colleague in the lunch room or by searching the web for useful YouTube videos like this one, the hunt is always on and there never seems to be enough.
For those of you who don't know us, I'm Kyle Pearce and I'm a co-founder of Make Math Moments. With my co-founder, Jon Orr, we have been on a mission to provide an opportunity for all mathematics educators around the world to access professional learning opportunities that will elevate their teaching practice and promote a more equitable learning experience for all students.
We strive to provide all educators with the opportunity to Spark their learning through the Making Math Moments That Matter Podcast as a means to inspire the exploration of new pedagogical practices and to seek out opportunities to deepen their own mathematical content knowledge. 
While the Making Math Moments That Matter Podcast is an AMAZINGLY EASY way to constantly learn new math class strategies and to access free resources – with a new episode coming out each week on Apple Podcasts, Google Podcasts, Spotify and all of the rest of them – I'm here to share a professional learning opportunity that we've been proudly organizing for educators teaching mathematics around the world and it is completely FREE!
What am I talking about?
Well, it's our annual Make Math Moments Virtual Summit and this, the fourth year since its inception, remains 100% free for educators to attend live in its virtual format. 
That's right. That means educators from ANY COUNTRY – as long as you have a device and an internet connection – can engage in a FREE professional development opportunity that you can participate in from anywhere… Your classroom, prep room, home office, or while sitting on the couch.
This FREE Virtual Math Summit is designed with hour long virtual sessions delivered LIVE for Kindergarten through grade 12 and beyond educators of mathematics. 
Over two days – on Saturday November 19th and Sunday November 20th, 2022 – we'll be hosting presentations from some of the biggest influencers in mathematics education from around the globe. 
With over 20 different presentations being streamed over this two-day online conference, you're sure to have a TON of transformative sessions that align with your current professional learning needs.
How do you register? 
Well, head over to MakeMathMoments.com/summit and enter in your name and your email and you're good to go. 
(Don't worry – we do not share your personal information with anyone)
Don't miss out on what is sure to be one of the best professional learning experiences of the year by signing up at makemathmoments.com/summit
Also – be sure to share this event with your colleagues!
District leaders – I know many of you are watching this video as well. Of course sign yourself up for the Virtual Summit, but also head over to our Summit District Sharing Page for some handy resources that make sharing this virtual event super easy and irresistible for your math mentees you work with.
So go ahead and register for this amazingly awesome professional learning opportunity and be sure to share with your colleagues!
See you there!
Resources Related To The Video
Want to Run Problem Based Lessons Without a Hitch In Your Classroom?
DOWNLOAD THE 3-PART FRAMEWORK GUIDEBOOK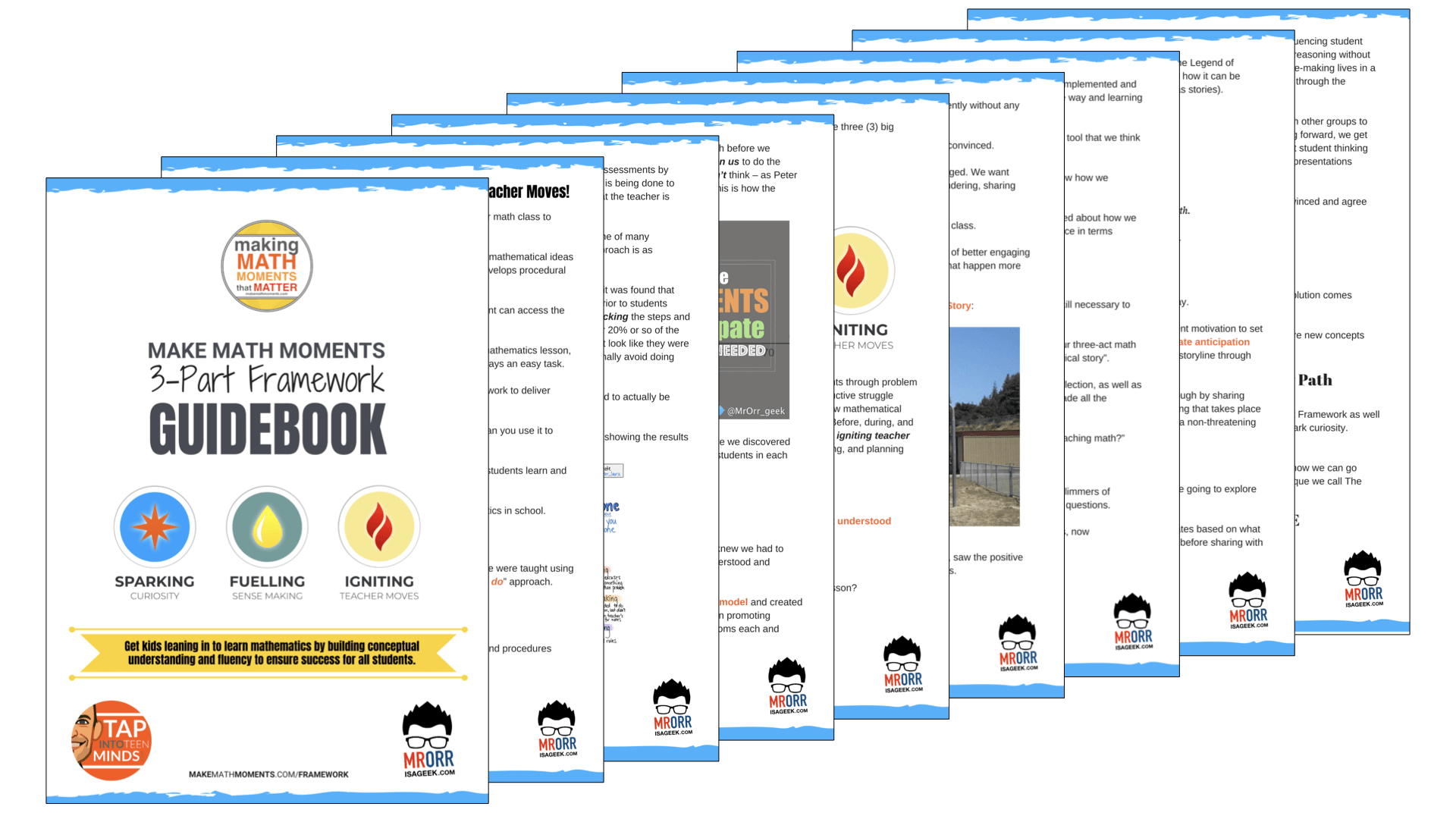 Why not bring the 3-Part Framework Guidebook with you?
Download the PDF so you can share with your professional learning network via print or email!
LESSONS TO MAKE MATH MOMENTS
Each Make Math Moments Problem Based Lesson consists of a Teacher Guide to lead you step-by-step through the planning process to ensure your lesson runs without a hitch!
Each Teacher Guide consists of:
Intentionality of the lesson;
A step-by-step walk through of each phase of the lesson;
Visuals, animations, and videos unpacking big ideas, strategies, and models we intend to emerge during the lesson;
Sample student approaches to assist in anticipating what your students might do;
Resources and downloads including Keynote, Powerpoint, Media Files, and Teacher Guide printable PDF; and,
Much more!
Each Make Math Moments Problem Based Lesson begins with a story, visual, video, or other method to Spark Curiosity through context.
Students will often Notice and Wonder before making an estimate to draw them in and invest in the problem.
After student voice has been heard and acknowledged, we will set students off on a Productive Struggle via a prompt related to the Spark context.
These prompts are given each lesson with the following conditions:
No calculators are to be used; and,
Students are to focus on how they can convince their math community that their solution is valid.
Students are left to engage in a productive struggle as the facilitator circulates to observe and engage in conversation as a means of assessing formatively.
The facilitator is instructed through the Teacher Guide on what specific strategies and models could be used to make connections and consolidate the learning from the lesson.
Often times, animations and walk through videos are provided in the Teacher Guide to assist with planning and delivering the consolidation.
A review image, video, or animation is provided as a conclusion to the task from the lesson.
While this might feel like a natural ending to the context students have been exploring, it is just the beginning as we look to leverage this context via extensions and additional lessons to dig deeper.
At the end of each lesson, consolidation prompts and/or extensions are crafted for students to purposefully practice and demonstrate their current understanding. 
Facilitators are encouraged to collect these consolidation prompts as a means to engage in the assessment process and inform next moves for instruction.
In multi-day units of study, Math Talks are crafted to help build on the thinking from the previous day and build towards the next step in the developmental progression of the concept(s) we are exploring.
Each Math Talk is constructed as a string of related problems that build with intentionality to emerge specific big ideas, strategies, and mathematical models. 
Make Math Moments Problem Based Lessons and Day 1 Teacher Guides are openly available for you to leverage and use with your students without becoming a Make Math Moments Academy Member.
Use our OPEN ACCESS multi-day problem based units!
Make Math Moments Problem Based Lessons and Day 1 Teacher Guides are openly available for you to leverage and use with your students without becoming a Make Math Moments Academy Member.
Use our OPEN ACCESS multi-day problem based units!