Making Math Moments That Matter Podcast
Wondering how to create a classroom culture where students don't want to stop exploring mathematics when the bell rings? Kyle Pearce from TapIntoTeenMinds.com and Jon Orr from MrOrr-IsAGeek.com team up to uncover how we can Make Math Moments That Matter for every student in the math classroom from Kindergarten through Grade 12. Discover how you can build easy to plan and fun to deliver math lessons that kids will not only love, but also learn from using the Making Math Moments That Matter 3-Part Framework. Get ready to learn as we interview math education influencers, engage in coaching calls with mathematics educators from around the world, and take deep dives into assessment, differentiation, student behaviour, engagement, problem solving, math fact fluency, and many other common teacher challenges as we strive to Make Math Moments That Matter. Let's learn how we can meet the needs of every learner in all classrooms regardless of student readiness together! Subscribe by searching or us on your preferred platform or by clicking here: iTunes, Google Play, Spotify, RSS, or wherever you get your podcasts.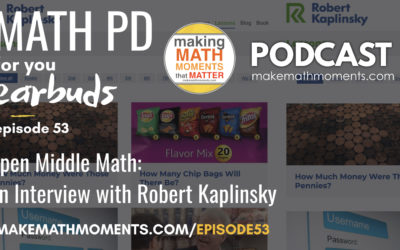 This week we sit down with problem creator, national presenter, and now author, Robert Kaplinsky. In this tip-filled episode we chat with Robert about how to implement problem based lessons so kids high 5 each other, how we can squeeze open middle problems into our routines and why we should, and finally we chat about Robert's mission to provide great professional development to teachers no matter their geographical location.
read more