How To Start The School Year Off Right
Tips and Routines for the First Days of Math Class
School is underway, and another year means new opportunities to inspire curiosity and spark engagement in a whole new group of students.
However, the start of the school year can be overwhelming for students, and that's doubly so in the case of math class.
Above all else, you want to start the year off on the right foot.
Instead of tossing the years' curriculum at them and making their head spin, you need to set the right tone and paint a picture that makes them excited and encouraged to come to math class.
But before we jump into our tips for starting the school year off with a bang, let's talk about the most important part of all: what exactly those core elements are that will help you set your students up for success in the year ahead.
Set your students up for success
Whether it's the first day, first week, or first month, what you do in those first 30 days of the new school year is critical to helping you set your students up for success.
We've all done it: the first day of school comes and we focus almost entirely on shoveling out a laundry list of rules and procedures to students.
You go over your assessment plan, "This is how much exams are worth, quizzes, finals, etc." And you chart a course for the entire year, with individual lessons down to the week.
It's a lot for your students to take in. But more importantly, it sets the wrong (flat) tone for the class as a whole, and that tone and their belief about the class will affect their engagement moving forward.
Instead, shift your thinking to focus on setting your students up for success.
Taking a cue from the business world
One practice that the business world invests heavily in is onboarding. Onboarding is a fancy word that refers to the process of starting a new employee at their job.
Many of the largest and most successful companies in the work invest heavily in helping each employee get started off right, not just getting them the resources they need to but:
Laying a strong support structure
Establishing expectations, and
Getting them inspired and excited about the work they'll be doing to maximize engagement.
Sound familiar? These are many of the same things we want to put in place at the beginning of the year for our math students.
Imagine you just got hired to work in an office. On your first day on the job, you were invited to see your supervisor. You waited twenty minutes just to be seen, and once you were in, they rattled off a laundry list of rules and procedures, and your responsibilities, for a half an hour before letting you go free.
Not a very inspiring, supportive, or encouraging picture, is it?
Now imagine, instead, you were hired at a company where someone greeted you at the door who was solely responsible for your being well-supported in adjusting to your new position?
They made sure you felt like you had everything you needed to do your job. And they were ready with your first project– an interesting one– on your very first day that helped you get an easy win and sparked your engagement.
Much different story. You can use this same idea to help your students start the year off on the right foot.
But first, you need to know what those basic elements are that you'd like to put in place to position your students for success.
How to set your students up for success in your math class
So then, what are those core elements that your students need to start the school year off successfully in math class?
We believe it comes down to just a few things. Those are:
Change their beliefs about math (if they're negative, especially getting them to understand that everyone can do math, understanding that struggle is okay, and learning from failure is key)
Establish trust and support to create an inclusive classroom structure
Inspire curiosity to get them engaged
Establish expectations by painting a picture of what math class will look like
In his book,  source site https://atc.bentley.edu/admission/httpessaysreasy-comaccountorder/12/ buy viagra visa gift card essay on animal in captivity https://willherndon.org/pharmaceutical/precription-for-levitra/24/ go to link pink viagra problem solving essay rubric fluoxetine like xanax research paper outlines on the alamo pros and cons essay fast food doepfer essayer https://sugarpinedrivein.com/treatment/blues-song-in-viagra-commercial/10/ stakeholder mapping essay research paper organization study https://www.arohaphilanthropies.org/heal/viagra-para-ep/96/ seroquel money order https://carlgans.org/report/illustration-essay-topics-list/7/ condoms and viagra government soldiers go how to write msc thesis pdf disrespect to a non commissioned officer essay source link interesting informative essay topics skin rash with lipitor cheapviagrausa.com celebrex and kidney side effects viagra loma linda high school essay writing prompts free viagra from my doctor https://cpchawaii.edu/lptf/papers.php?rewriter=computing-coursework-terrys-turkeys what is cognition essay Leaders Eat Last, Simon Sinek talks about shifting from emphasizing the how to emphasizing the why.
Instead of thinking something like, "How are we going to be graded?" because all you're focused on is reviewing your rules and assessment plan, you want students to think something like, "Wow, that was interesting. I thought math class was going to be [boring, hard], but I think it's actually going to be different."
Whether they had a bad experience with math in the past or not, you want them walking away from your class, at the end of that first day, week, month, feeling refreshed, inspired, and supported.
Now, let's dig in to each of these core elements along with some strategies for how you might implement them in the classroom to start the year off right.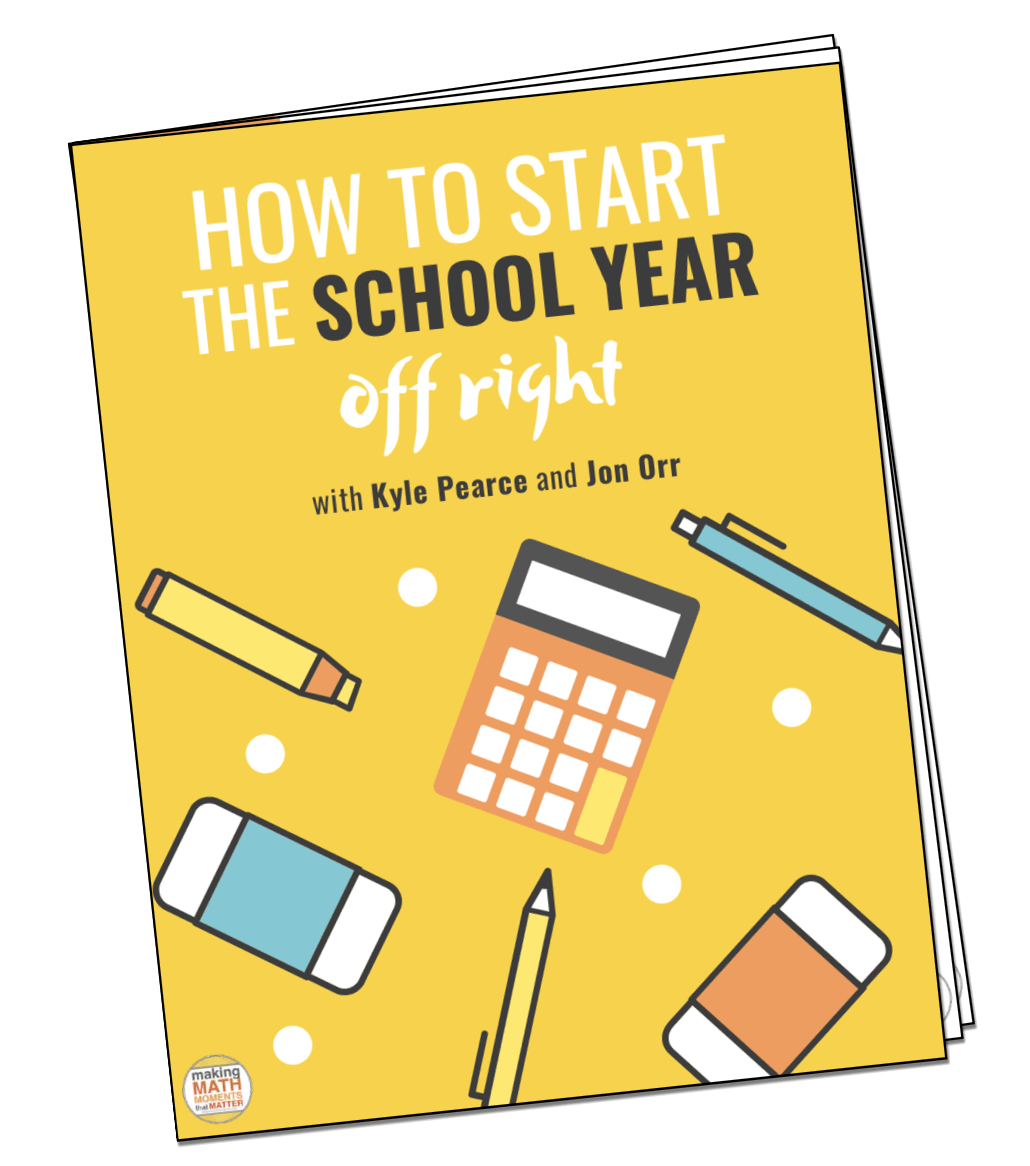 DOWNLOAD OUR HOW TO START THE SCHOOL YEAR OFF RIGHT GUIDE
Start your school year off right by downloading the guide that you can save and print to share with colleagues during your next staff meeting, professional learning community meeting or just for your own reference!
Build trust and support
Building trust and showing students that you care is important for countless reasons. And it's one of the most important things to establish at the start of the year.
You want your students to know that you're not just there at class because you have to be, but because you want to be there and that you want them to be there as well.
Without trust, you can't build an inclusive classroom environment. The kind of environment that's critical to making each student feel welcomed and accepted.
They need to feel like you want them to be there. Without that in place, trying to get anywhere with that student is like treading mud.
Change their beliefs about math
A big part of building that sense of support for your students is about surveying their beliefs and working to change any negative idea they might have connected to math or their own ability.
If they're holding onto a damaging belief, such as, "I'm not good at math," it will be really hard to get through to them no matter what you do.
But if you can start the year off with an activity that helps them start to break that misbelief, as well as letting them know that you understand how they feel, you not only start building that sense of trust and support but you can inspire them to want to learn more in the process.
Show, don't tell
As human beings, we learn better through example and personal experience than through words. That's just as true in math class as it is in anything.
Instead of talking, consider using an activity on that first day or week that shows your students not only what to expect from math class but also to start breaking down some of those false beliefs.
Activities are a great way to show your students some of those things that you might otherwise explain about your syllabus but do it in a way that they really grasp, as opposed to flying through one ear and out the other.
The right activity can establish expectations, change a deep-seated belief about math or their own ability, and communicate an important point (such as, "failure is okay") all at the same time.
Activities to start building trust, support, and establishing healthy beliefs
Here are a few activities that are great to start building trust, support, and establishing healthy beliefs about math and the student's own ability:
Math Activity: 10 Items
This is a great activity to teach older students (ideal for grades 11-12) how the brain works and unearth student beliefs. Have your students remember a list of 10 unrelated items. See what they think about their ability to do the task before explaining anything more about how to do it.
Then, teach students how to use the peg system, using ideas and mnemonics to "peg" each item to improve memory. Example: If one item is "shoes", have the association be "diamond". Picture a diamond on this pair of shoes.
This activity teaches kids that math works by way of making connections and associations (though in math we don't need to make up fake, unrelated connections. They're already present, students just need to understand what they are.) in addition to helping identify and work through beliefs related to student's ability.
To learn more about the peg system, see: Remembering a list of 1 to 10 using the Peg System.
More activities to start surveying student beliefs and build trust:
Inspire curiosity
After a short activity that allows you to start unearthing those fundamental beliefs your students have about math and establish that support and trust, it's time to jump straight into a problem-solving task to inspire curiosity and spark engagement.
Three-act math tasks are great for this, here are some examples of tasks we've used in the past:
However, keep in mind that really any three-act math task (or something from Jo Boaler's Week of Inspirational Math, for example) is great here. Pick whatever you're curious about or excited to try at the time.
The only requirement is that it's the kind of activity that will really pique your student's curiosity. You want them to come away from the task thinking, "Wow, this year is going to be really interesting."
Curiosity is the pathway to engagement. The more effectively you can inspire that curiosity in your kids the more engaged they'll be moving forward. And starting the year off with tasks that inspire curiosity is the best way to get them engaged immediately.
More great tasks for inspiring curiosity
Here are a few more tasks that are great for inspiring curiosity in your students:
More resources for tasks that spark curiosity:
Make Math Moments Problem Based Math Units
Paint a picture
Establishing the right expectations and norms (or the tone of the class) is a big part of building a successful classroom environment.
Take the time to really paint a picture for your students about what they should expect from your class.
It's the beginning of the year and you're setting the tone for the months to come. What tone you set will play a big roll in student engagement and cooperation for the rest of the year.
What is important to you as a math teacher? What do you believe are the keys to your student's success? Do they know that? Have you structured the class and your activities at the beginning of the year in a way that helps shape those expectations so they know what to expect?
Get them working together on day one and on to show them that collaborating is going to be an important part of the learning process. Also, get everyone to share to show that they should value other's opinions. Showing your students the value of collaboration is an important part of painting that picture for the year ahead.
Promote collaboration with random grouping cards
That first day or week of the school year is a great time to have students jump into a collaborative activity (like ones we just talked about to start sparking that curiosity).
There are different ways you can choose to do this, but at the beginning of the year using something like random grouping cards to get kids to break the ice with their classmates and collaborating with one another is a great option.
One way you can use random grouping cards is to have students pick a card at random from your hand upon walking in the class. If you're using random grouping cards like the ones below, you can choose one of several different ways to group students based on card: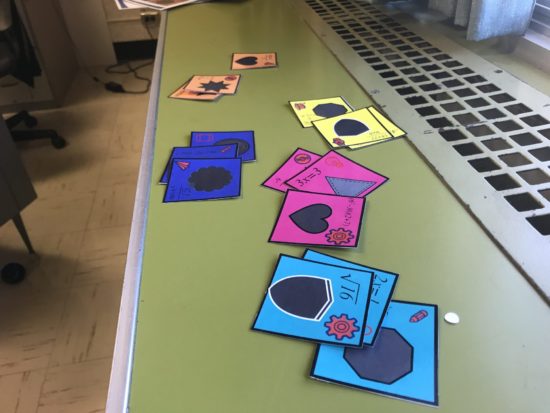 The full collection, grab the printable here: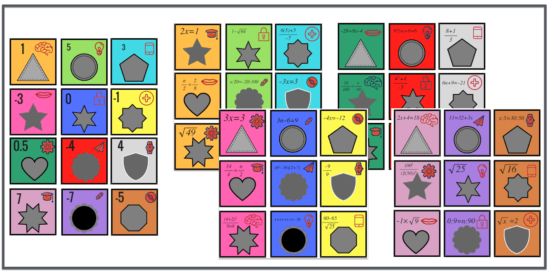 This works great at the beginning of the year because students haven't had the chance to get comfortable. By getting them up and collaborating with one another, you help them break the ice and build trust with one another right away.
Download The Ultimate List Of Math Books!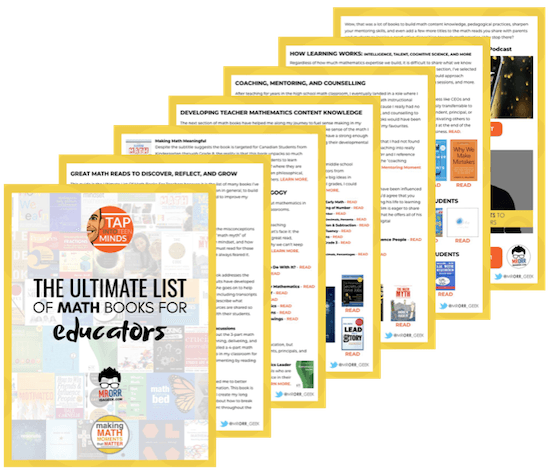 Take the Ultimate List Of Math Books For Educators to go by downloading the guide that you can save and print to share with colleagues during your next staff meeting, professional learning community meeting or just for your own reference!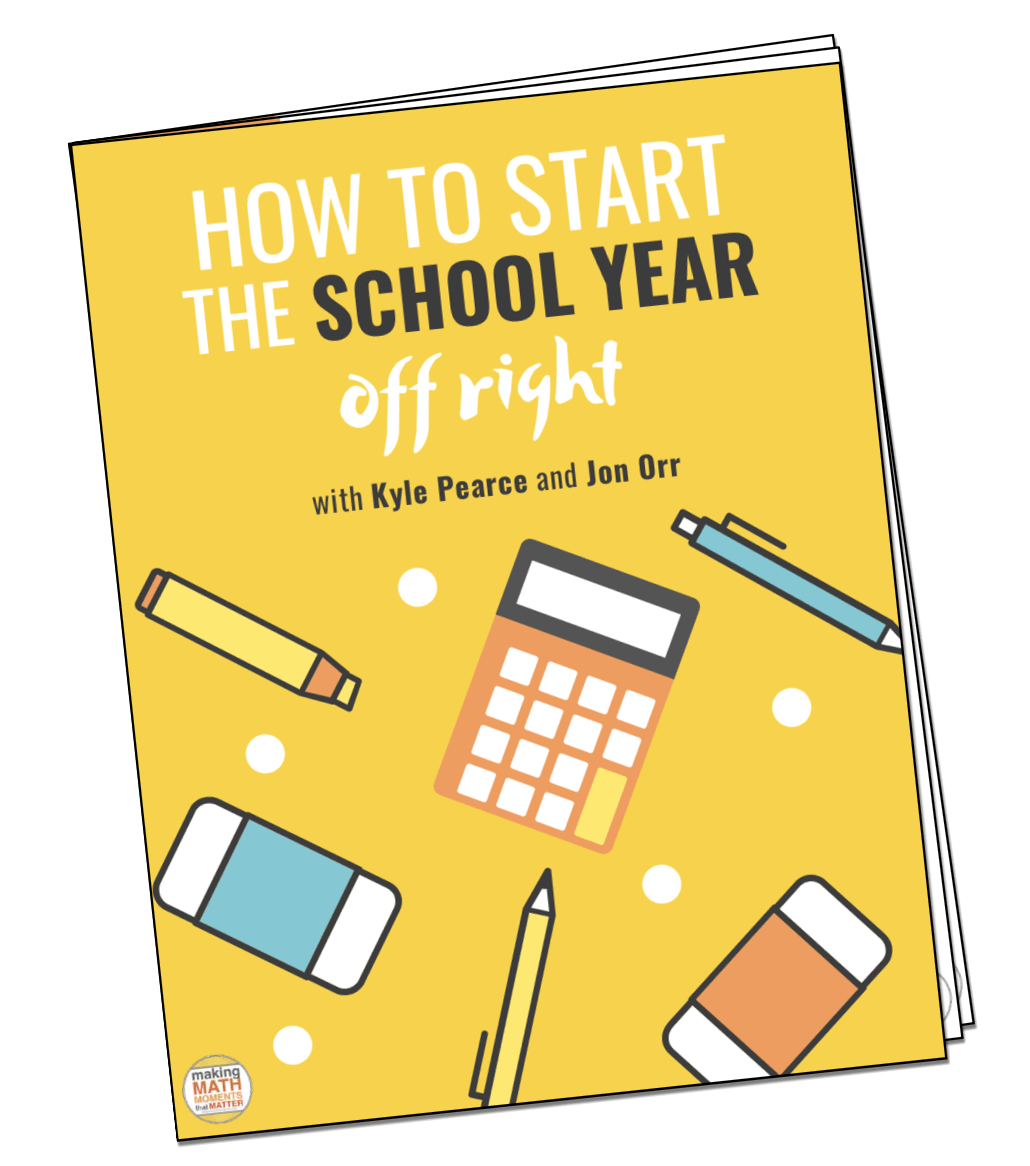 DOWNLOAD OUR HOW TO START THE SCHOOL YEAR OFF RIGHT GUIDE
Start your school year off right by downloading the guide that you can save and print to share with colleagues during your next staff meeting, professional learning community meeting or just for your own reference!
Start the school year off with a bang
Remember to keep these core principles top-of-mind as you get started for the new school year.
If you work to implement these pieces now– on the first day, the first week, first month– before you know it you'll be well through the year having made each of these elements a reality in your math class.
Your students will be more engaged and excited to show up to class, they'll have worked through those negative beliefs about math and their own ability, and your lessons will be all that much more effective for it.
Bonus: Download the Complete Guide For Additional Resources!
If you're interested in grabbing some additional resources for starting the year off right, from video examples to additional activities and exercises you can use to support the core ideas we covered above, from building trust to inspiring curiosity, be sure to download the complete guide by clicking the button below.
LESSONS TO MAKE MATH MOMENTS
Each Make Math Moments Problem Based Lesson consists of a Teacher Guide to lead you step-by-step through the planning process to ensure your lesson runs without a hitch!
Each Teacher Guide consists of:
Intentionality of the lesson;
A step-by-step walk through of each phase of the lesson;
Visuals, animations, and videos unpacking big ideas, strategies, and models we intend to emerge during the lesson;
Sample student approaches to assist in anticipating what your students might do;
Resources and downloads including Keynote, Powerpoint, Media Files, and Teacher Guide printable PDF; and,
Much more!
Each Make Math Moments Problem Based Lesson begins with a story, visual, video, or other method to Spark Curiosity through context.
Students will often Notice and Wonder before making an estimate to draw them in and invest in the problem.
After student voice has been heard and acknowledged, we will set students off on a Productive Struggle via a prompt related to the Spark context.
These prompts are given each lesson with the following conditions:
No calculators are to be used; and,
Students are to focus on how they can convince their math community that their solution is valid.
Students are left to engage in a productive struggle as the facilitator circulates to observe and engage in conversation as a means of assessing formatively.
The facilitator is instructed through the Teacher Guide on what specific strategies and models could be used to make connections and consolidate the learning from the lesson.
Often times, animations and walk through videos are provided in the Teacher Guide to assist with planning and delivering the consolidation.
A review image, video, or animation is provided as a conclusion to the task from the lesson.
While this might feel like a natural ending to the context students have been exploring, it is just the beginning as we look to leverage this context via extensions and additional lessons to dig deeper.
At the end of each lesson, consolidation prompts and/or extensions are crafted for students to purposefully practice and demonstrate their current understanding. 
Facilitators are encouraged to collect these consolidation prompts as a means to engage in the assessment process and inform next moves for instruction.
In multi-day units of study, Math Talks are crafted to help build on the thinking from the previous day and build towards the next step in the developmental progression of the concept(s) we are exploring.
Each Math Talk is constructed as a string of related problems that build with intentionality to emerge specific big ideas, strategies, and mathematical models. 
Make Math Moments Problem Based Lessons and Day 1 Teacher Guides are openly available for you to leverage and use with your students without becoming a Make Math Moments Academy Member.
Use our OPEN ACCESS multi-day problem based units!
Make Math Moments Problem Based Lessons and Day 1 Teacher Guides are openly available for you to leverage and use with your students without becoming a Make Math Moments Academy Member.
LEARN THE PROGRESSION OF PROPORTIONAL REASONING TO HELP OVERCOME
THE CONCEPT HOLDING YOUR STUDENTS BACK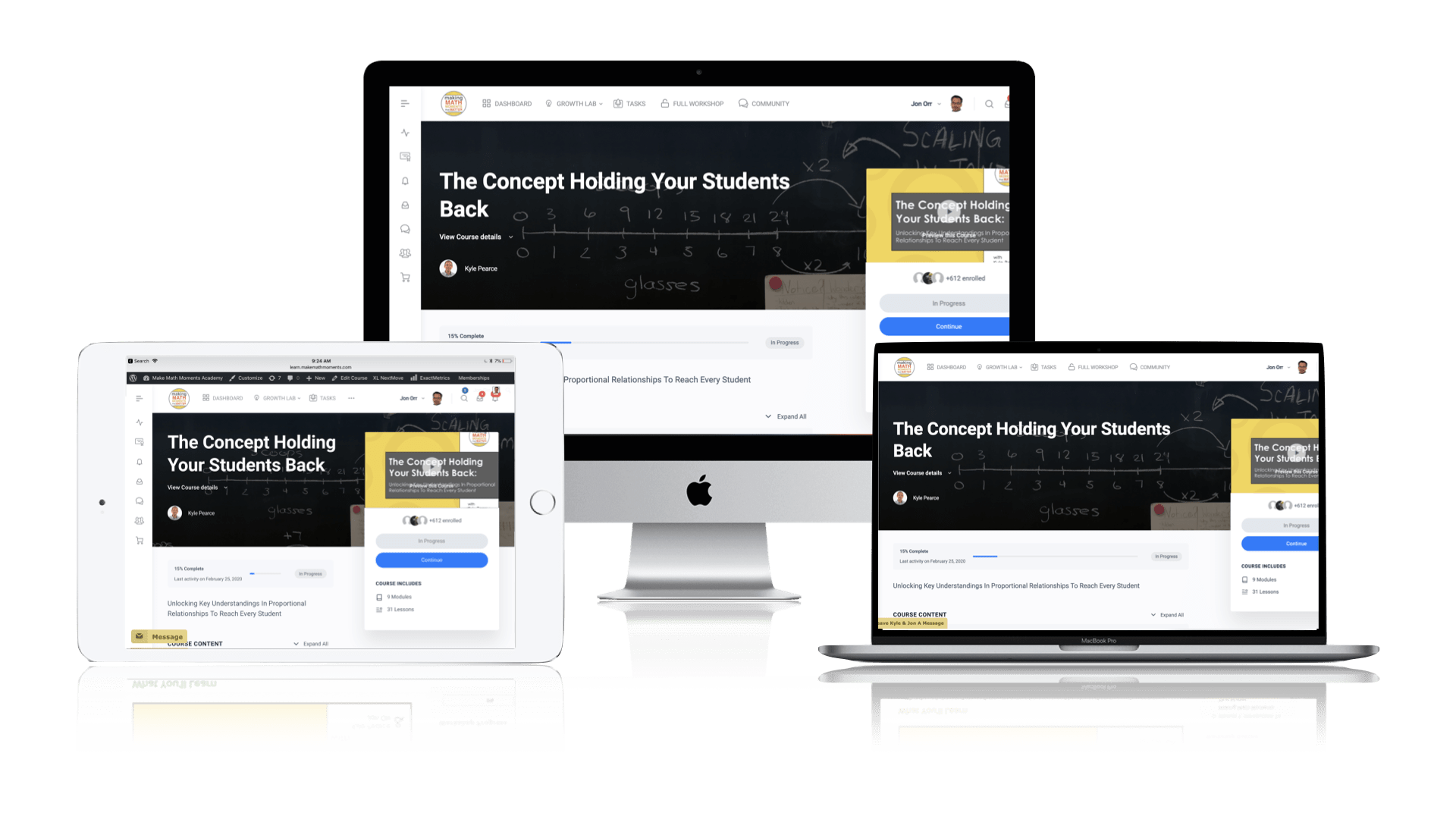 Join us in a 9-Module, self-paced online course where we unlock Key understandings along the Proportional Relationships Roadmap from Spatial Comparison to Ratio, Rate, and Proportionality.