How To Teach Algebra: Substitution and Solving Equations – A Virtual Classroom Sneak Peek
Teaching algebra and the incredibly important algebraic thinking necessary for students to conceptually understand pushing into abstraction can be a challenge for many educators. With some students almost naturally pushing along, while others are stuck with a lack of number sense that restricts them to additive thinking, it can be a stressful concept to plan and deliver in the math classroom.
In today's video, we'll be diving into Day 1 from the Shot Put problem based math unit to leverage context to emerge an incredibly helpful mathematical model that will not only lower the floor for all students, but also help your 'high fliers' better understand the mathematics that they are using when they quickly come up with answers.
Best of all, we'll be actually running this lesson with a group of grade 7 and 8 students in a virtual classroom or remote learning setting. Note that you will not "see" or "hear" the students for privacy reasons, however you will get to be a fly on the wall during this lesson to pick up on the facilitator moves throughout.
In particular, you'll learn:
How to set the stage for a successful problem based lesson when students may not be familiar with this lesson structure or approach;
A context and linear mathematical model that will help you lower the floor as we begin algebraic substitution and solving one- and two-step equations;
How to leverage the Curiosity Path to create an information gap and engage students early in the lesson; and,
Where you can go to use Day 1 and the remainder of this problem based math unit.
Resources Related To The Video
Want to Run Problem Based Lessons Without a Hitch In Your Classroom?
DOWNLOAD THE 3-PART FRAMEWORK GUIDEBOOK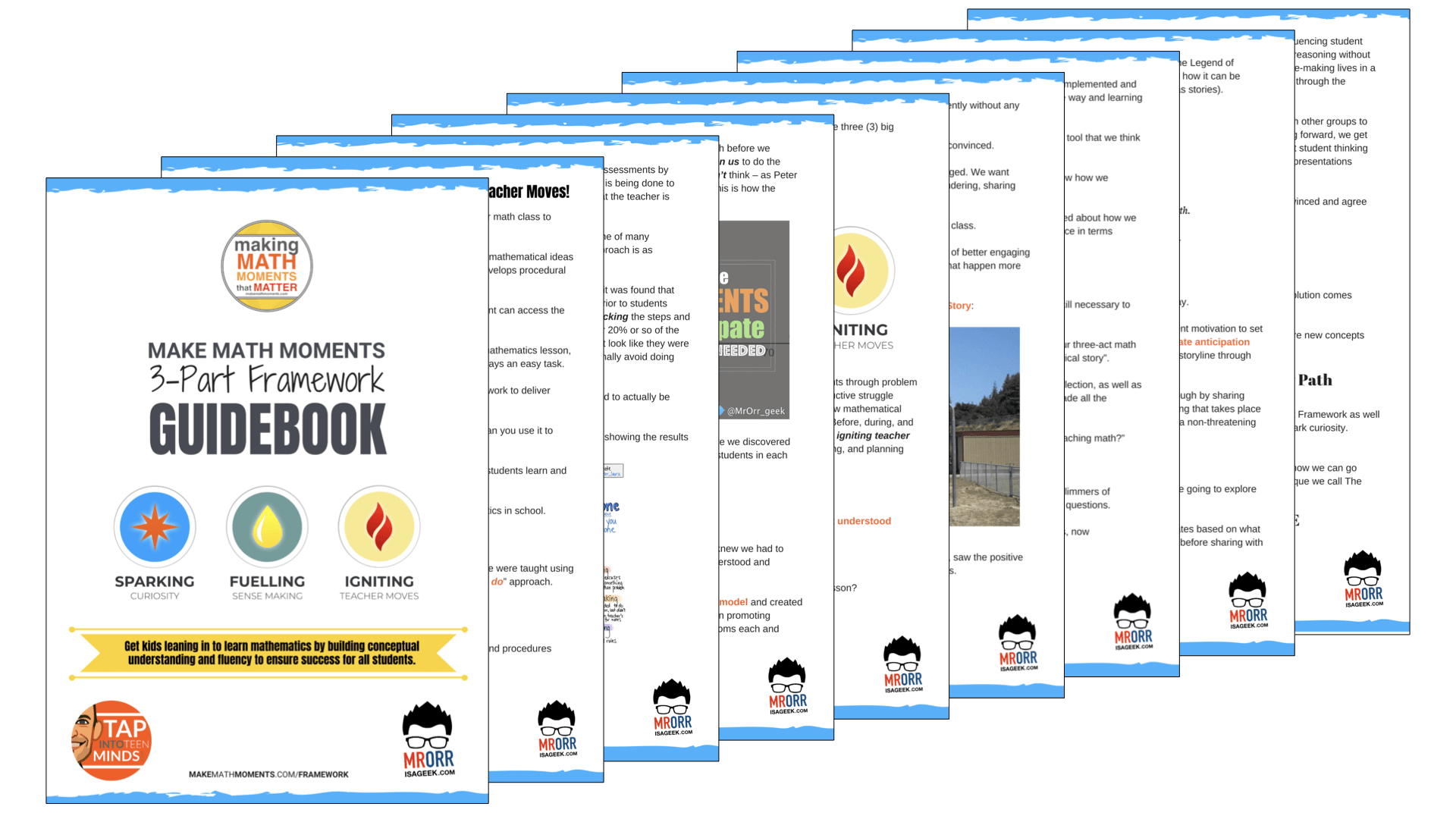 Why not bring the 3-Part Framework Guidebook with you?
Download the PDF so you can share with your professional learning network via print or email!
LESSONS TO MAKE MATH MOMENTS
Each Make Math Moments Problem Based Lesson consists of a Teacher Guide to lead you step-by-step through the planning process to ensure your lesson runs without a hitch!
Each Teacher Guide consists of:
Intentionality of the lesson;
A step-by-step walk through of each phase of the lesson;
Visuals, animations, and videos unpacking big ideas, strategies, and models we intend to emerge during the lesson;
Sample student approaches to assist in anticipating what your students might do;
Resources and downloads including Keynote, Powerpoint, Media Files, and Teacher Guide printable PDF; and,
Much more!
Each Make Math Moments Problem Based Lesson begins with a story, visual, video, or other method to Spark Curiosity through context.
Students will often Notice and Wonder before making an estimate to draw them in and invest in the problem.
After student voice has been heard and acknowledged, we will set students off on a Productive Struggle via a prompt related to the Spark context.
These prompts are given each lesson with the following conditions:
No calculators are to be used; and,
Students are to focus on how they can convince their math community that their solution is valid.
Students are left to engage in a productive struggle as the facilitator circulates to observe and engage in conversation as a means of assessing formatively.
The facilitator is instructed through the Teacher Guide on what specific strategies and models could be used to make connections and consolidate the learning from the lesson.
Often times, animations and walk through videos are provided in the Teacher Guide to assist with planning and delivering the consolidation.
A review image, video, or animation is provided as a conclusion to the task from the lesson.
While this might feel like a natural ending to the context students have been exploring, it is just the beginning as we look to leverage this context via extensions and additional lessons to dig deeper.
At the end of each lesson, consolidation prompts and/or extensions are crafted for students to purposefully practice and demonstrate their current understanding. 
Facilitators are encouraged to collect these consolidation prompts as a means to engage in the assessment process and inform next moves for instruction.
In multi-day units of study, Math Talks are crafted to help build on the thinking from the previous day and build towards the next step in the developmental progression of the concept(s) we are exploring.
Each Math Talk is constructed as a string of related problems that build with intentionality to emerge specific big ideas, strategies, and mathematical models. 
Make Math Moments Problem Based Lessons and Day 1 Teacher Guides are openly available for you to leverage and use with your students without becoming a Make Math Moments Academy Member.
Use our OPEN ACCESS multi-day problem based units!
Make Math Moments Problem Based Lessons and Day 1 Teacher Guides are openly available for you to leverage and use with your students without becoming a Make Math Moments Academy Member.
Use our OPEN ACCESS multi-day problem based units!