How To Teach Multiplying and Dividing Fractions
Sneak-a-Peek Into a Grade 7 Remote Learning Classroom
I have been loving all of the time I have been spending in so many classrooms lately. While I have always enjoyed jumping into as many classrooms at varying grade levels, having the opportunity to explore how to teach math class online has been an amazing experience that is so rewarding, but also so humbling.
In today's special Sneak-Peek video, we'll be jumping into a grade 7 remote learning math class and you'll get a sense of how to teach multiplying and dividing fractions through a Make Math Moments problem based lesson.
As we do in each problem based math lesson we lead, rather than simply pre-teaching concepts, we'll be using the Curiosity Path to dive into a context-rich problem that is from our latest unit that is about ready for publishing in our Problem Based Math Lesson area of the website. 
Watch as we dive into an edited 'summary' of this remote learning math class where we share some of the key parts of the lesson including the Sparking Curiosity intro through the Curiosity Path, Fuelling their Sense Making through a productive struggle prompt and keep an eye for how we can Ignite Our Teacher Moves throughout!
Give a quick watch to find out how! All relevant links are located below the video.
Resources Related To The Video
Want to Run Problem Based Lessons Without a Hitch In Your Classroom?
DOWNLOAD THE 3-PART FRAMEWORK GUIDEBOOK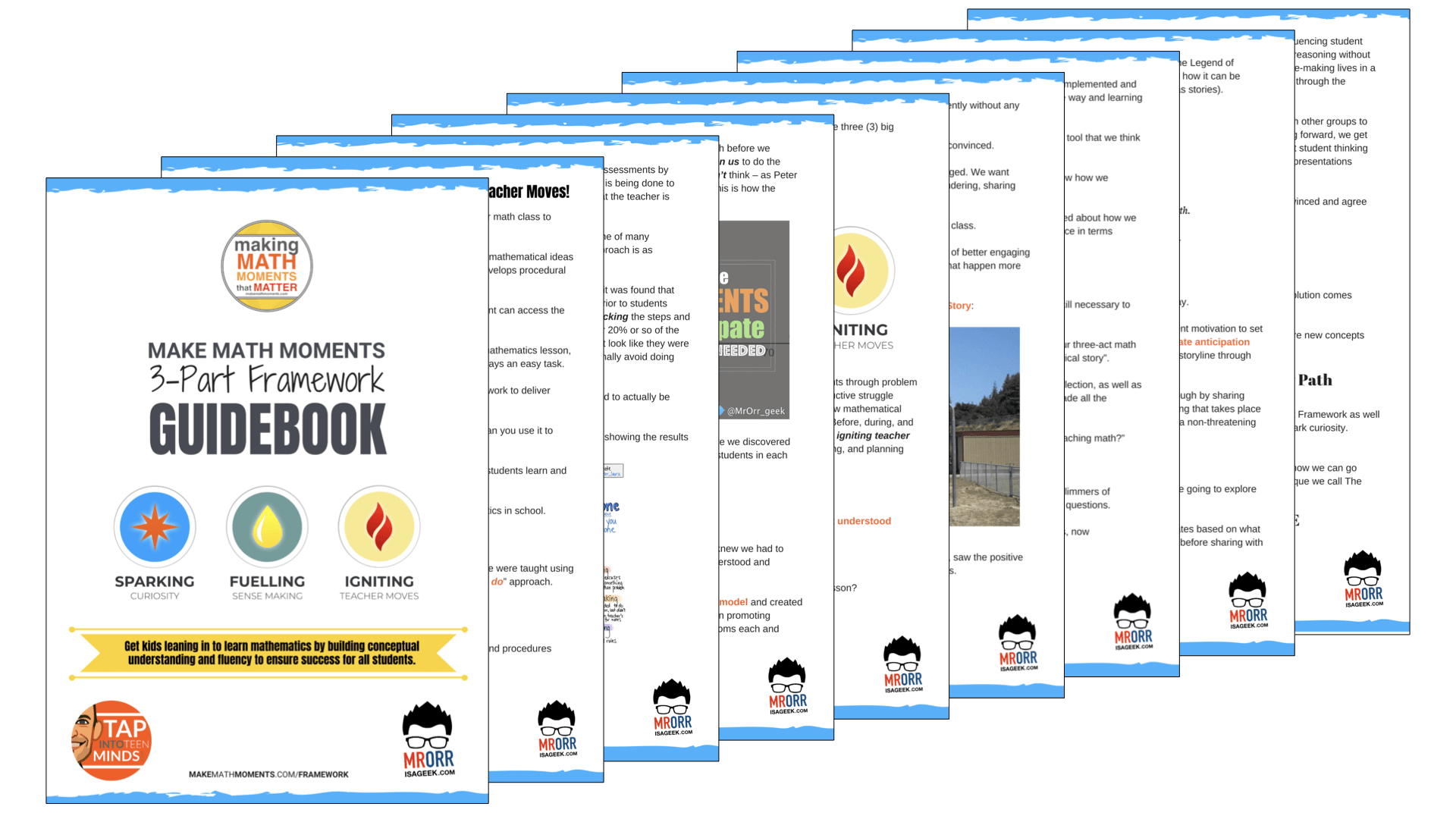 Why not bring the 3-Part Framework Guidebook with you?
Download the PDF so you can share with your professional learning network via print or email!
DOWNLOAD THE 3 ACT MATH TASK TIP SHEET SO THEY RUN WITHOUT A HITCH!
Download the 2-page printable 3 Act Math Tip Sheet to ensure that you have the best start to your journey using 3 Act math Tasks to spark curiosity and fuel sense making in your math classroom!