How To Overcome This Common Math Professional Development Paradox
You've probably been there.
You plan for what you believe will be a fantastic day of learning – spending hours and hours thinking, crafting, reflecting and re-working to make it "just right".
The day of the learning comes and…
…it seems like the group of educators you're working with would be rather doing something else. A lack of general engagement or just comments highlighting a deficit-based mindset are evident.
YIKES!
Does investing in math professional development opportunities even matter if the "students" (educators, in this case) don't even want to engage?
Turns out that educators are just grown up versions of our students. At times, it might seem like nothing we do can engage them when in reality, everyone (young and old) is curious, enjoys productive struggle and ultimately wants to feel successful.
Furthermore, your teachers actually want professional development opportunities despite some demonstrating disengaged behaviour they may have demonstrated in the past.
For example, analysis of The Teaching and Learning International Survey (TALIS) data by OECD shows that despite high levels of participation in development activities, the math professional development needs of a significant proportion of teachers are not being met.
Bingo.
Just like in the math classroom where students disengage and even become behavioural issues when they feel their needs are not being met, educators can act in a very similar fashion.
So, what about all those hours of planning?
Your heart was in the right place, but if specific teacher needs are not being met, they will disengage.
This is just like all those years Jon and I spent *trying* to engage and nudge our students forward (and failed).
Now that you're in this Math District Mentoring role, you've probably noticed that educators are actually more challenging to nudge for change because their own lived experiences deepen beliefs and entrench habits that are hard to break.
Furthermore, these lived experiences of educators also make it more difficult to convince them of why doing something differently might be better.
So… let's pause for a second to reflect on what we know:
educators feel their professional learning needs are not being met; and,
they disengage every time we try to dig into new learning.
What gives?
The reality is that similar to the way we often rush to teach the next concept in math class without giving students an opportunity to experience why this concept is useful, we tend to do the same in our mathematics professional development sessions.
We – the facilitators – often research why certain pedagogical approaches are helpful and then tell educators that we now must do it.
That isn't how learning works for students and it certainly isn't how learning works for our much more experienced educators.
This idea alone can completely redefine what professional learning could look and sound like in your district. It is hard to go it alone, but you can if you commit to it.
Your district isn't the only one struggling to make change happen in the mathematics classroom, so be sure not to beat yourself up over it.
It isn't YOU. It is the ineffective systemic approaches we continue to use despite all of the data telling us it isn't working.
As Steve Leinwand, former President of NCSM has said numerous times:
"PD is underperforming. It is neither professional nor does it develop."
If you're looking for more support in this journey to turn professional learning around in your district, then book a time to chat with our team so you can learn more about how we are mentoring a select number of districts and their mentors just like you.
Resources Related To The Video
Want to Run Problem Based Lessons Without a Hitch In Your Classroom?
DOWNLOAD THE 3-PART FRAMEWORK GUIDEBOOK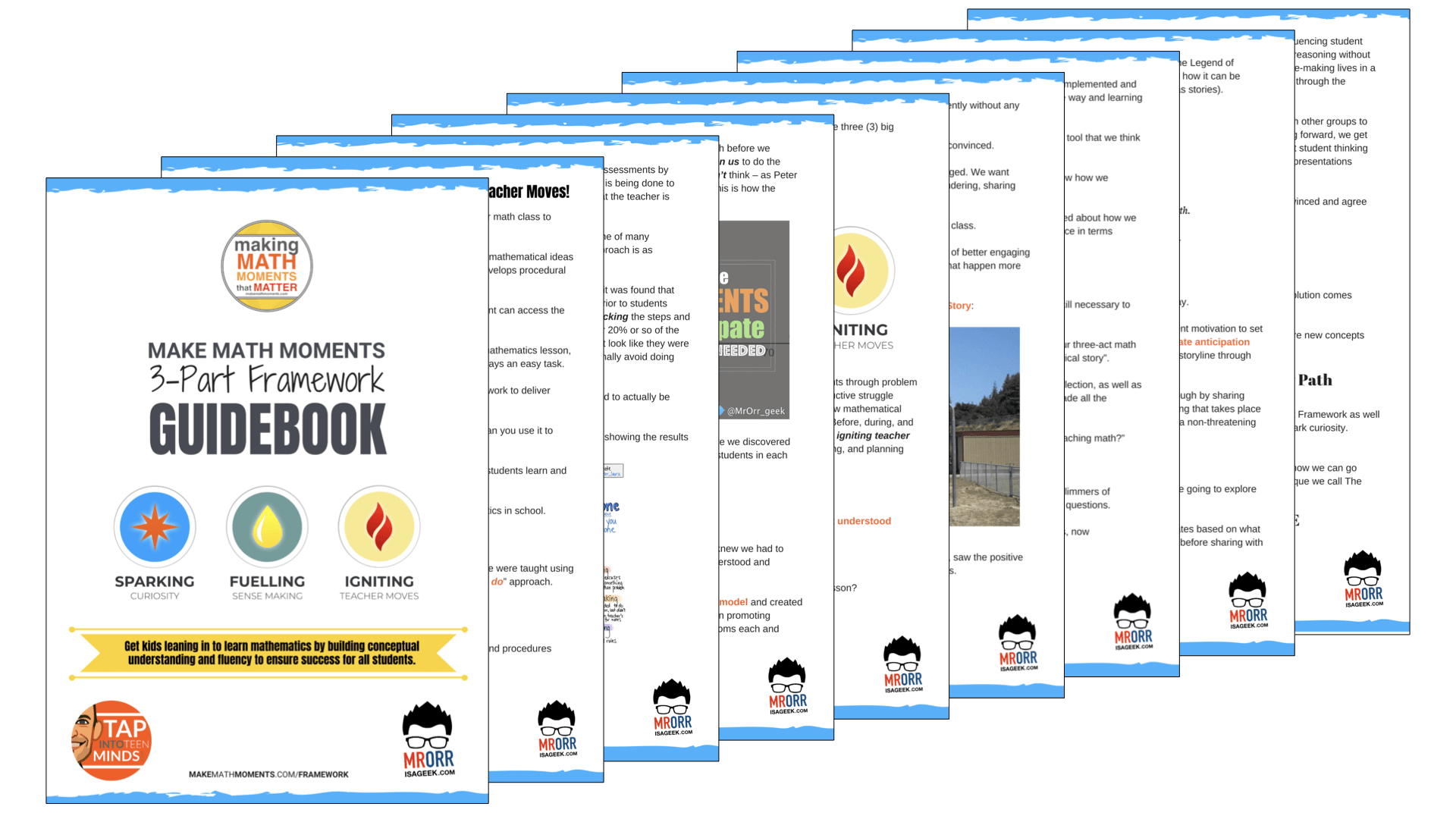 Why not bring the 3-Part Framework Guidebook with you?
Download the PDF so you can share with your professional learning network via print or email!
LESSONS TO MAKE MATH MOMENTS
Each Make Math Moments Problem Based Lesson consists of a Teacher Guide to lead you step-by-step through the planning process to ensure your lesson runs without a hitch!
Each Teacher Guide consists of:
Intentionality of the lesson;
A step-by-step walk through of each phase of the lesson;
Visuals, animations, and videos unpacking big ideas, strategies, and models we intend to emerge during the lesson;
Sample student approaches to assist in anticipating what your students might do;
Resources and downloads including Keynote, Powerpoint, Media Files, and Teacher Guide printable PDF; and,
Much more!
Each Make Math Moments Problem Based Lesson begins with a story, visual, video, or other method to Spark Curiosity through context.
Students will often Notice and Wonder before making an estimate to draw them in and invest in the problem.
After student voice has been heard and acknowledged, we will set students off on a Productive Struggle via a prompt related to the Spark context.
These prompts are given each lesson with the following conditions:
No calculators are to be used; and,
Students are to focus on how they can convince their math community that their solution is valid.
Students are left to engage in a productive struggle as the facilitator circulates to observe and engage in conversation as a means of assessing formatively.
The facilitator is instructed through the Teacher Guide on what specific strategies and models could be used to make connections and consolidate the learning from the lesson.
Often times, animations and walk through videos are provided in the Teacher Guide to assist with planning and delivering the consolidation.
A review image, video, or animation is provided as a conclusion to the task from the lesson.
While this might feel like a natural ending to the context students have been exploring, it is just the beginning as we look to leverage this context via extensions and additional lessons to dig deeper.
At the end of each lesson, consolidation prompts and/or extensions are crafted for students to purposefully practice and demonstrate their current understanding. 
Facilitators are encouraged to collect these consolidation prompts as a means to engage in the assessment process and inform next moves for instruction.
In multi-day units of study, Math Talks are crafted to help build on the thinking from the previous day and build towards the next step in the developmental progression of the concept(s) we are exploring.
Each Math Talk is constructed as a string of related problems that build with intentionality to emerge specific big ideas, strategies, and mathematical models. 
Make Math Moments Problem Based Lessons and Day 1 Teacher Guides are openly available for you to leverage and use with your students without becoming a Make Math Moments Academy Member.
Use our OPEN ACCESS multi-day problem based units!
Make Math Moments Problem Based Lessons and Day 1 Teacher Guides are openly available for you to leverage and use with your students without becoming a Make Math Moments Academy Member.
Use our OPEN ACCESS multi-day problem based units!