Stop Force Feeding Math Professional Development – Do This Instead
Let's face it: inspiring change is hard.
Regardless of whether we're talking about helping someone make a personal change (i.e.: eating habits, smoking, mindset, etc.) or professionally (i.e.: pedagogical, logistical, etc.), it can often feel like a losing battle.
Remember back when releasing teachers for job-embedded professional learning was possible? You know, before all of the supply teacher shortages across North America and the rest of the globe?
Change was hard even back then.
Now, it is even more challenging.
Regardless of your district mathematics professional learning circumstances, change was difficult to make because we tend to push too hard and too fast.
(Remember my past few videos? What not to do when planning and delivering PD and The PD Trap?)
What if you could "breadcrumb" ideas to your educators without committing too much time and energy to it?
There's many different ways you can implement what we call "The Breadcrumb Strategy" for math professional learning. Little messages shared in the mailboxes of educators in your building, posting little tidbits of information up on the district wide math group… or what about something more often such as an email?
For example, here's a sample email that is leveraging the breadcrumb math professional learning strategy:
Subject: Struggling to lead a problem based lesson?

Body of the Message:

In <insert district name here>, we have been promoting the use of problem based lessons to promote inquiry and the development of conceptual understanding for the past <insert number of months/years> and we know it can be a difficult change to make. 

If you're like many of the other educators challenged with gaining traction with this new approach, maybe you've inadvertently fallen into one of these common traps.

Watch this short video to learn more about how you can avoid these challenges in the future.

If you're interested, I'd love to connect to discuss your thoughts and what your big take aways are!
The Breadcrumb Strategy is one of many approaches that we have been working on with our District Mentorship Program Partners to truly make change in math pedagogy and content knowledge over the long run.
Don't get me wrong: we NEED to have big, bodacious goals for our mathematics educators… but the part that we often forget about is setting realistic timelines to ensure the goals are not overwhelming those educators we are seeking to help the most.
Unlike packing in too much too fast in a full day workshop or trying to run a professional learning community meeting where only one person is talking (and way too fast, I might add), Our Make Math Moments Mentorship Program is dedicated to help craft an intentional math professional learning plan with the Make Math Moments Online Learning Platform at the centre to ensure professional growth happens at the speed of learning.
So, before you head off today we would like you to reflect on one realistic goal for the mathematics educators you learn alongside to achieve by the end of next school year, what would it be? Be sure to let us know in the comments below.
For those who are looking for a comprehensive professional learning plan that can produce real change, let's hop on a call to hear about your current district math professional learning plan and how we can help you continue refining it to be as impactful as possible!
Resources Related To The Video
Want to Run Problem Based Lessons Without a Hitch In Your Classroom?
DOWNLOAD THE 3-PART FRAMEWORK GUIDEBOOK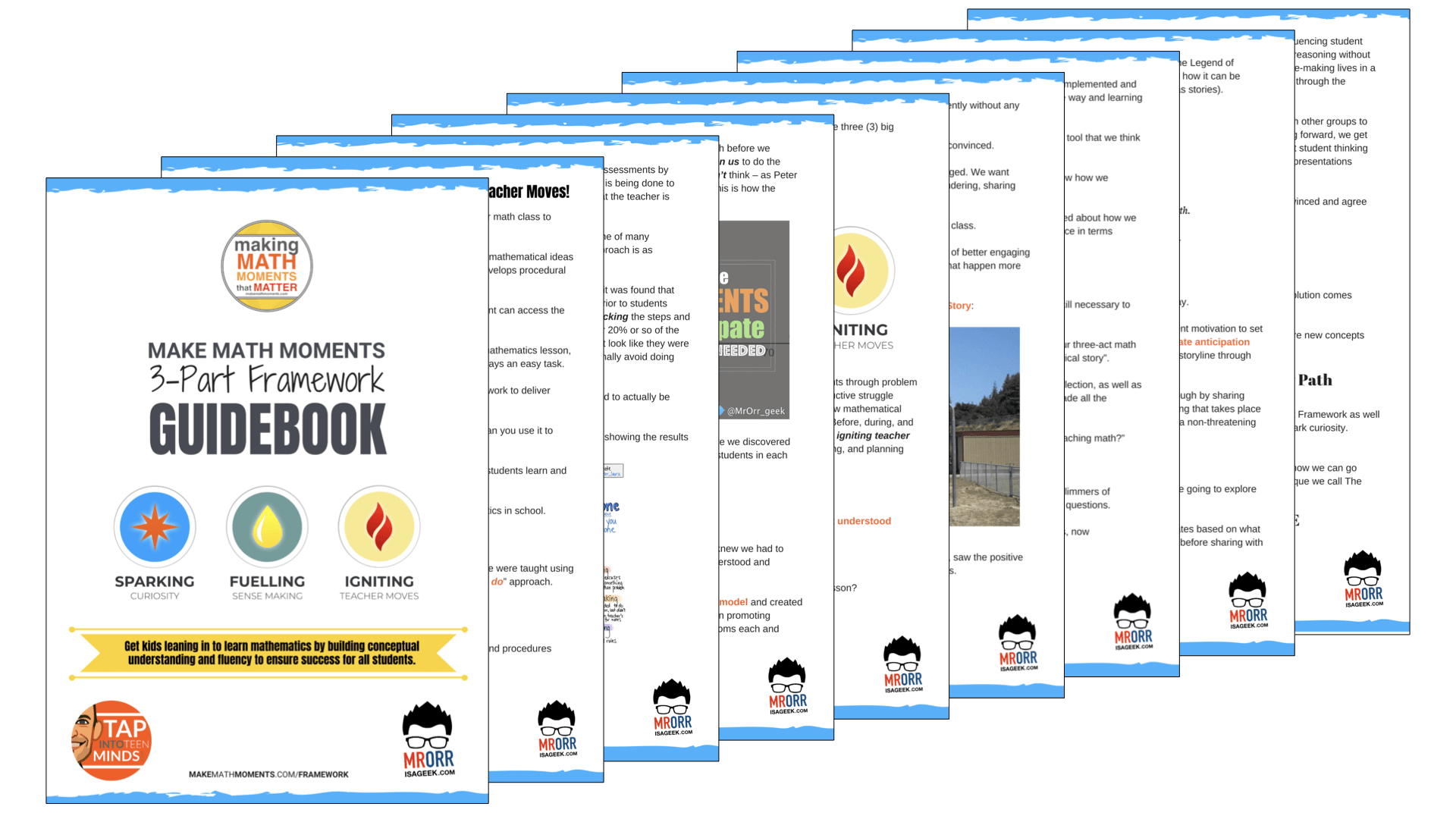 Why not bring the 3-Part Framework Guidebook with you?
Download the PDF so you can share with your professional learning network via print or email!
LESSONS TO MAKE MATH MOMENTS
Each Make Math Moments Problem Based Lesson consists of a Teacher Guide to lead you step-by-step through the planning process to ensure your lesson runs without a hitch!
Each Teacher Guide consists of:
Intentionality of the lesson;
A step-by-step walk through of each phase of the lesson;
Visuals, animations, and videos unpacking big ideas, strategies, and models we intend to emerge during the lesson;
Sample student approaches to assist in anticipating what your students might do;
Resources and downloads including Keynote, Powerpoint, Media Files, and Teacher Guide printable PDF; and,
Much more!
Each Make Math Moments Problem Based Lesson begins with a story, visual, video, or other method to Spark Curiosity through context.
Students will often Notice and Wonder before making an estimate to draw them in and invest in the problem.
After student voice has been heard and acknowledged, we will set students off on a Productive Struggle via a prompt related to the Spark context.
These prompts are given each lesson with the following conditions:
No calculators are to be used; and,
Students are to focus on how they can convince their math community that their solution is valid.
Students are left to engage in a productive struggle as the facilitator circulates to observe and engage in conversation as a means of assessing formatively.
The facilitator is instructed through the Teacher Guide on what specific strategies and models could be used to make connections and consolidate the learning from the lesson.
Often times, animations and walk through videos are provided in the Teacher Guide to assist with planning and delivering the consolidation.
A review image, video, or animation is provided as a conclusion to the task from the lesson.
While this might feel like a natural ending to the context students have been exploring, it is just the beginning as we look to leverage this context via extensions and additional lessons to dig deeper.
At the end of each lesson, consolidation prompts and/or extensions are crafted for students to purposefully practice and demonstrate their current understanding. 
Facilitators are encouraged to collect these consolidation prompts as a means to engage in the assessment process and inform next moves for instruction.
In multi-day units of study, Math Talks are crafted to help build on the thinking from the previous day and build towards the next step in the developmental progression of the concept(s) we are exploring.
Each Math Talk is constructed as a string of related problems that build with intentionality to emerge specific big ideas, strategies, and mathematical models. 
Make Math Moments Problem Based Lessons and Day 1 Teacher Guides are openly available for you to leverage and use with your students without becoming a Make Math Moments Academy Member.
Use our OPEN ACCESS multi-day problem based units!
Make Math Moments Problem Based Lessons and Day 1 Teacher Guides are openly available for you to leverage and use with your students without becoming a Make Math Moments Academy Member.
Use our OPEN ACCESS multi-day problem based units!