What NOT To Do When Planning and Delivering Math Professional Development
A couple weeks ago, I asked district math leaders like yourself to share the "pebble in your shoe" when it came to planning for and delivering mathematics professional development with educators.
The responses we received were certainly not surprising – at least to us.
Don't get me wrong – the "pebbles" were described in a few various ways.
Challenges such as:
Educators focusing on memorization over conceptual understanding;
Delivering professional learning, but not seeing any of the ideas shared put into practice; and,
Many others…
I even hopped on a bunch of calls with district leaders to discuss their math plans and really get down to the "root" of what might be going on here.
Ultimately, what we came to realize was that most professional learning plans fail because they are ideas put together by people like you and I who have already had their epiphanies about why math class needs to change and how we might go about making that change.
When we mandate professional learning for a full day or even a handful of days over the school year and try to "fix" the problem, we end up doing what we're asking those same educators not to do in their classrooms.
We rush to giving answers on how to "fix" their math classrooms in much the same way we rush to teaching kids steps, procedures and algorithms.
How might we change this approach in our math professional development plans?
Answer:
Plan and deliver professional learning in much the same way you want your educators to plan and deliver their math lessons.
Don't tell them what is wrong and how to fix it; craft experiences for them to emerge this same learning.
An obvious problem here is logistics.
If we usually schedule a handful of pull-out sessions and that is it, then how can we "get to it all"?
(Doesn't this sound awfully familiar to your educators saying that there isn't enough time to "get through" all of the standards?)
If we expect educators to change how they plan and deliver their lessons, then we need to do the same when it comes to mathematics professional development.
So my question to you – the math professional development leader or mentor in your building, in your district or just those of you who have taken to sharing and helping on social media – leave a comment down below and let us know what YOU are going to do as you begin planning your next mathematics professional development session.
Remember, we don't just want to Make Math Moments for our students. We also need to Make Math Moments for our educators if we want that learning to truly impact teacher practice and in turn, impact student learning.
Interested in digging into this idea further on behalf of your district or school?
Take some time to schedule a call with us so we can learn more about your specific math professional development "pebble in your shoe" and help you refine your next steps.
Resources Related To The Video
Want to Run Problem Based Lessons Without a Hitch In Your Classroom?
DOWNLOAD THE 3-PART FRAMEWORK GUIDEBOOK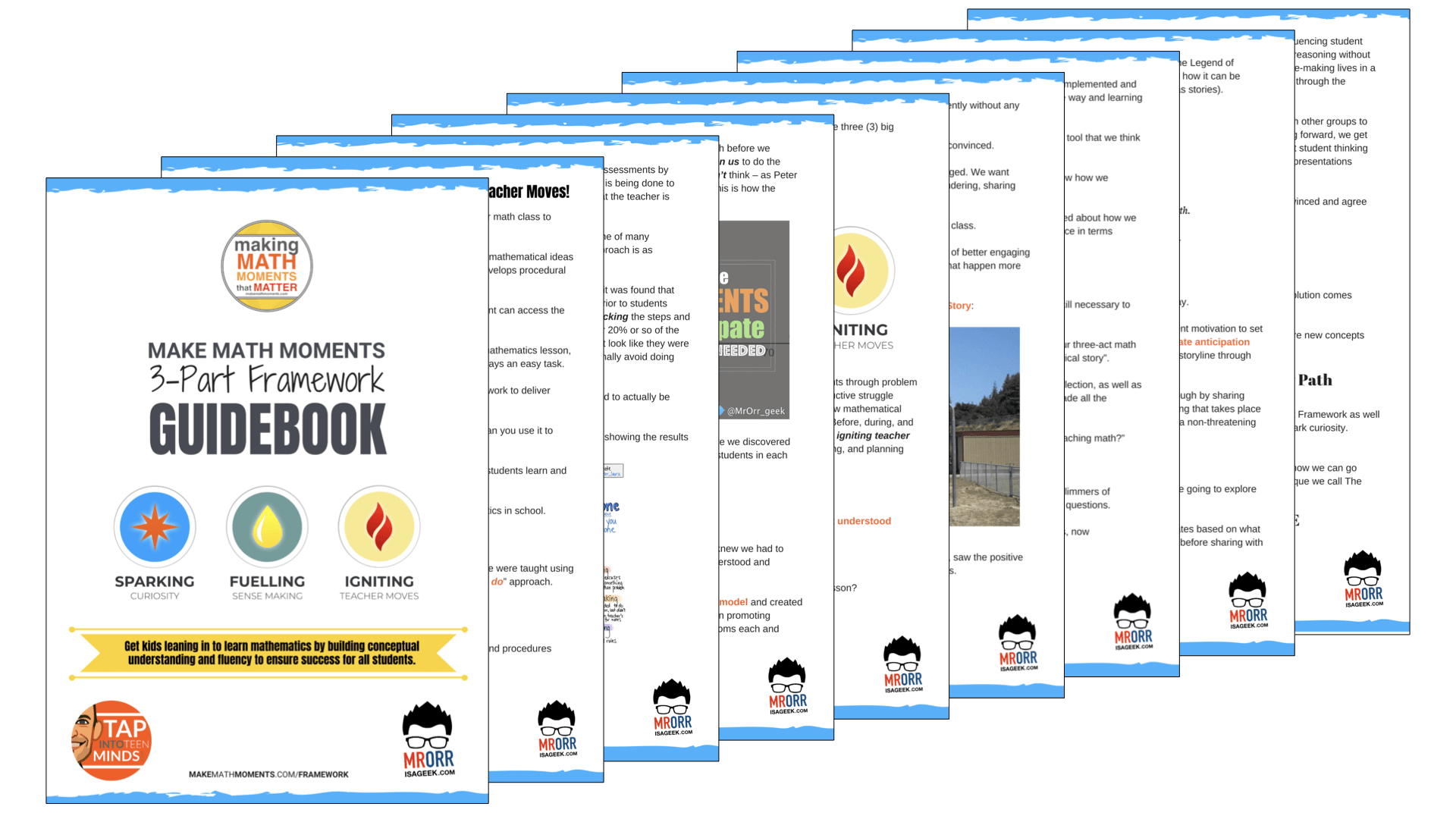 Why not bring the 3-Part Framework Guidebook with you?
Download the PDF so you can share with your professional learning network via print or email!
LESSONS TO MAKE MATH MOMENTS
Each Make Math Moments Problem Based Lesson consists of a Teacher Guide to lead you step-by-step through the planning process to ensure your lesson runs without a hitch!
Each Teacher Guide consists of:
Intentionality of the lesson;
A step-by-step walk through of each phase of the lesson;
Visuals, animations, and videos unpacking big ideas, strategies, and models we intend to emerge during the lesson;
Sample student approaches to assist in anticipating what your students might do;
Resources and downloads including Keynote, Powerpoint, Media Files, and Teacher Guide printable PDF; and,
Much more!
Each Make Math Moments Problem Based Lesson begins with a story, visual, video, or other method to Spark Curiosity through context.
Students will often Notice and Wonder before making an estimate to draw them in and invest in the problem.
After student voice has been heard and acknowledged, we will set students off on a Productive Struggle via a prompt related to the Spark context.
These prompts are given each lesson with the following conditions:
No calculators are to be used; and,
Students are to focus on how they can convince their math community that their solution is valid.
Students are left to engage in a productive struggle as the facilitator circulates to observe and engage in conversation as a means of assessing formatively.
The facilitator is instructed through the Teacher Guide on what specific strategies and models could be used to make connections and consolidate the learning from the lesson.
Often times, animations and walk through videos are provided in the Teacher Guide to assist with planning and delivering the consolidation.
A review image, video, or animation is provided as a conclusion to the task from the lesson.
While this might feel like a natural ending to the context students have been exploring, it is just the beginning as we look to leverage this context via extensions and additional lessons to dig deeper.
At the end of each lesson, consolidation prompts and/or extensions are crafted for students to purposefully practice and demonstrate their current understanding. 
Facilitators are encouraged to collect these consolidation prompts as a means to engage in the assessment process and inform next moves for instruction.
In multi-day units of study, Math Talks are crafted to help build on the thinking from the previous day and build towards the next step in the developmental progression of the concept(s) we are exploring.
Each Math Talk is constructed as a string of related problems that build with intentionality to emerge specific big ideas, strategies, and mathematical models. 
Make Math Moments Problem Based Lessons and Day 1 Teacher Guides are openly available for you to leverage and use with your students without becoming a Make Math Moments Academy Member.
Use our OPEN ACCESS multi-day problem based units!
Make Math Moments Problem Based Lessons and Day 1 Teacher Guides are openly available for you to leverage and use with your students without becoming a Make Math Moments Academy Member.
Use our OPEN ACCESS multi-day problem based units!