Episode 236: From Labels to Growth: A Game-Changing Approach to Math Assessment
In our recent podcast episode, we had the pleasure of hosting Jonathan Lind again. Jonathan is an experienced high school math teacher currently teaching at an American school in Qatar. Jonathan shared invaluable insights and practical strategies on how he transformed his assessment practices in his math class, leading to remarkable outcomes for his students.
During our conversation, Jonathan delved into the following key ideas:
Shifting from labeling students to using assessment for growth;

Time-saving curriculum coverage with standards-based grading;

Promoting student success through growth and proficiency days;

Assessing Polya problem-solving techniques effectively;

Designing a grading system to inspire student achievement;
This is a Math Moment Maker Reflection episode where we talk with a member of our fantastic community who is working hard to continue reflecting and refining their practice to Make Math Moments with more students in their math classroom.
How shifting from using assessments to label students to using assessment for growth can be a game changer in math class;

How using standards based grading can save you time when trying to cover your curriculum; 

Why growth and proficiency days and smaller, but more frequent assessments can help more students achieve at higher levels in your math class;

How the Polya problem solving model should be used and assessed in a math class;

How to design your grading system to inspire students to achieve the fullest potential;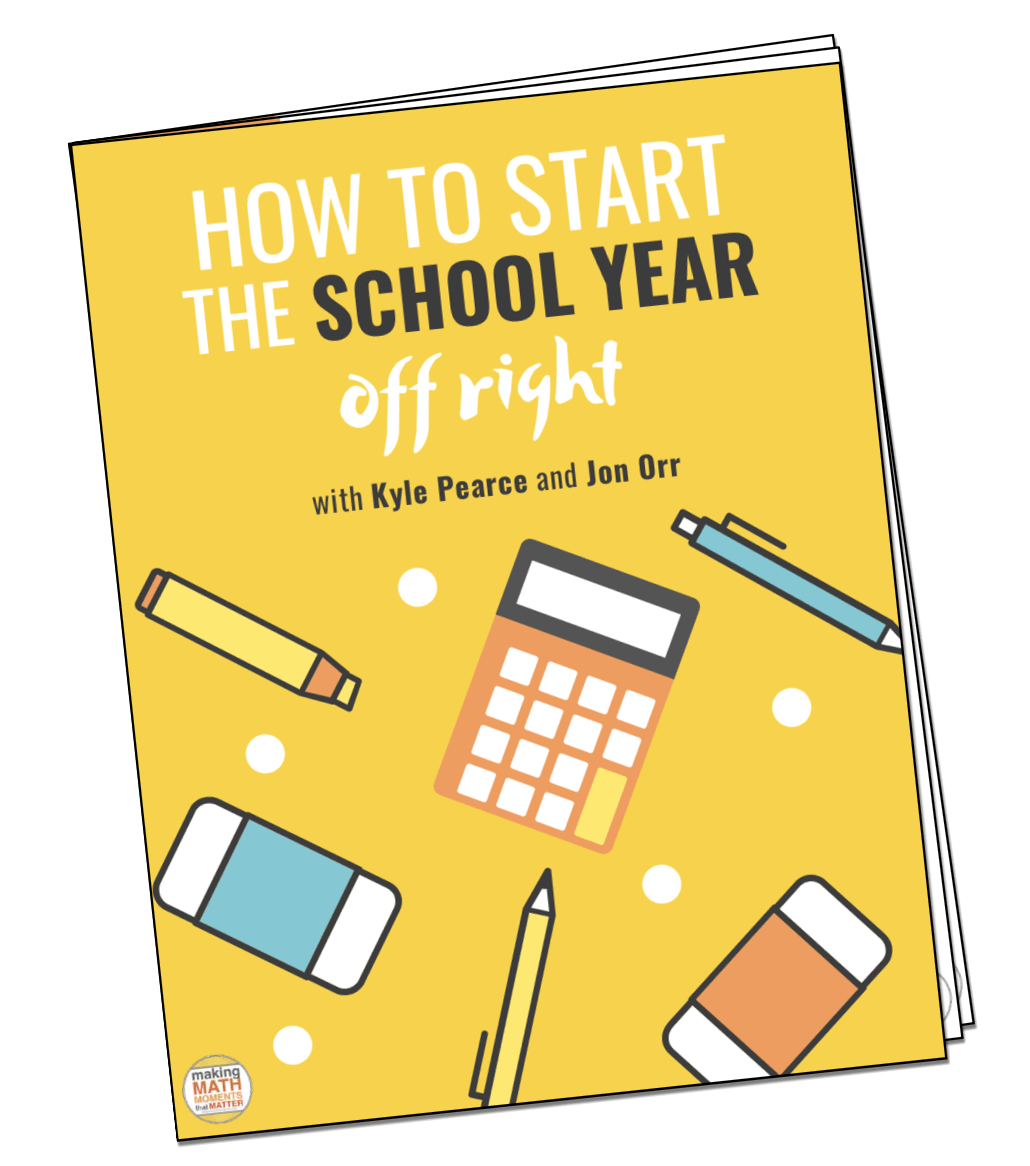 DOWNLOAD OUR HOW TO START THE SCHOOL YEAR OFF RIGHT GUIDE
Start your school year off right by downloading the guide that you can save and print to share with colleagues during your next staff meeting, professional learning community meeting or just for your own reference!
Jon Lind:
The daunting thing when it comes to the idea of reassessment for me, and for most of the teachers I talk to, is I don't want to have to make another test. It's so time-consuming to put together a test.
Jon Lind:
Think about it though. Do we need to assess skills anymore? Do we need to write an assessment for skills? That's a big chunk of what you assess. Probably for a lot of traditional-
Jon:
Hey, you're listening, right now, that person you just heard was Jonathan Lind. Jon is a high school math teacher from Qatar. And we're bringing him back.
Jon:
Because Jon was with us back on episode 185, where we talked about shifting his pedagogical practice. We talked about standards-based grading. Gave him some next steps in that, and on how to change some of his practice. And he's back one year later to the day to fill us in on what's happening over the year.
Jon:
And you're going to want to stick around, because he's got some mind-blowing nuggets to share with you about so much change over the last year. Specifically on his assessment practices in his geometry course.
Kyle:
Exactly. And the beauty is here, we reached out, we wanted to check in and see how things were going. But really had no idea where the conversation was going to go. We didn't really know if he continued down that same path, if he made any progress. And Jon was so kind to pick a time to hop on with us.
Kyle:
As you're going to find out here, he's continued that learning journey. And it sounds like a lot of ideas that we were discussing on this last episode, or the first episode we had him on, has really evolved into shifting his assessment process in his classroom. The beauty is that it's actually making a massive impact on student outcomes, and just the overall trajectory in his math classroom.
Kyle:
So hey, friends, this is a Math Moment Maker reflection episode, where we talk with members like you from our community who are working hard to continue reflecting and refining their practice to make math moments with more students in their math classroom. So hang on, buckle up and let's go.
Kyle:
Welcome to the Making Math Moments that Matter podcast. I'm Kyle Pearce.
Jon:
And I'm Jon Orr. We are from makemathmoments.com.
Kyle:
This is the only podcast that coaches you through a six-step plan to grow your mathematics program, whether at the classroom level or at the district level.
Jon:
And we do that by helping you cultivate and foster your mathematics program like a strong, healthy, and balanced tree.
Kyle:
The trunk represents leadership in your organization, or the classroom pillars in your math class. While the roots of the tree represent mathematics content knowledge, and what it means to be mathematically proficient.
Jon:
Like a tree requires soil, water, and sunlight, your mathematics program requires a productive educator mindset and the belief that all students can achieve at all levels. Your professional learning structure, or your professional learning plan, represents the limbs of the tree.
Kyle:
The branches of the tree represent the development of educator pedagogical content knowledge, including effective teaching and equity-based teaching practices. And the final section are the leaves, which represent the resources, the tools, and classroom environment.
Jon:
If you master the six parts of an effective mathematics program, the impact of your math program will grow and reach far and wide
Kyle:
Every week. You'll get the insight you need to stop feeling overwhelmed, gain back your confidence, and get back to enjoying the planning and facilitating of your mathematics program for the students or educators that you serve. All right, friends, let's dig into that conversation with Jon.
Jon:
Hey there, Jon. Thanks for coming back. It's been a while. I think, actually we didn't say this before we hit record, but it's actually one year to the day.
Jon Lind:
Is it really the actual day?
Jon:
I have a note here in our notes where we take notes and we usually put the date of the call, and it's exactly a year ago today that we chatted with you, Jon. That is insanity.
Jon Lind:
Isn't that cool.
Jon:
I know it's-
Kyle:
I didn't even pick up on that.
Jon:
I know, it's such a weird coincidence there. We chatted with Jon back on episode 185. If you have not yet listened to that, go do that. Do yourself a favor. Because this is a, "Where are they now?" type episode. We're going to talk with Jon [inaudible 00:04:44], get the lowdown on what's been going on with him.
Jon:
But back in that episode, Jon, we were chatting about pedagogical moves, focusing on assessment. And I know you're teaching at an American school in Qatar. So hey, fill us in. Fill us in on the last year, and tell us what's going on with you lately.
Jon Lind:
So yeah. Hey, thanks again for having me back on. This last year has been really interesting. I don't know if you guys knew everywhere else, but the World Cup happened this year right in our neighborhood.
Jon:
Yes, right. Yes, in Qatar.
Jon Lind:
Just when we get out of COVID, and stop with the hybrid school and everything, we have this big World Cup right in the middle of our year. So we still haven't had a normal school year yet.
Jon:
Oh geez.
Jon Lind:
In the four years I've been at this school. But the World Cup was awesome. It was really interesting to be in a tiny country with the World Cup going on.
Jon:
How cool is that?
Jon Lind:
It was a bit disruptive for school, but we'll take it. It's a once in a lifetime opportunity. But anyway, I wanted to talk to you guys again because of how much your assessment course has changed the way I teach my geometry class.
Kyle:
Awesome. Tell us more about that. Because to be honest, we actually were reaching out to you and a handful of others and saying, "Hey, listen, we want to check in. We want to see how things are going."
Kyle:
But we actually didn't say, "Give us a heads-up as to what's going on." So that that's like music to our ears here. Tell us more.
Jon:
Well, yeah, let's dig on that. Because the last time we did chat about assessment and standard-based grading, and I think we tossed the assessment course, which is built into the academy, your way. So why don't we rewind and take us back to that moment where you started that course, and some of the first things you did, and what's changed in your room.
Jon Lind:
Right, okay. So geometry in the American curriculum is not on the top of every math teacher's list to teach. I feel like most of us were really good at algebra when we were coming up.
Jon Lind:
And then in the American curriculum we have this whole separate class for geometry, which no one thinks is a good idea. But it's sort of a relic of how we've been doing things for 100 years, and it ends up being sort of shunt to the new teacher or an experienced teacher, or whatever. It's not a class that people are scrambling to get to teach.
Jon Lind:
So as someone who moves around pretty frequently, I've ended up with geometry for probably the last six years of my career. And so I've sort of just leaned into it. I've been working pretty hard on the course.
Jon Lind:
I started at this school four years ago with the geometry class. I talked to the team and we switched it to a new curriculum with the illustrative math stuff, and we base our course on that. And we've been trying to make it less like the traditional super skills-based and super proofs-based geometry courses of the past, and make it a little more authentic, we had been talking about last time.
Jon Lind:
It's not even close to a place where the course feels good or like it's fixed yet. But we've been working on it. And I've been working actually with one teacher for all of those four years, Mo Haider, here's a shout out to you. And we've been trying to do new things and trying to revamp the course.
Jon Lind:
Then this year, a couple of different professional experiences coalesced to really sort of shake things up in the way we did things. The first one was at the beginning of the year, I was lucky enough to get sent to a conference with Dr. Anthony Muhammad in Addis Ababa in Ethiopia.
Jon Lind:
That was a conference around the PLC structure, and how working in teams with focused collaboration and following the four questions of the PLC structure can really change the way you do things. Those questions are, what do we want students to be able to do? How do we know that they can do it? What do we do if they can't? And what do we do if they can already do it?
Jon Lind:
It's starting with what do we want students to be able to do, and being really intentional about making sure that that happens, basically. But he had this really inspiring story of a school that he turned around from a failing school to one of the top schools in the US. And part of that was really focusing on skills and assessment in the math area of it.
Jon Lind:
They had things like, they called it a homework lunch. If you didn't get your homework done, you had lunch with a tutor and you did that until it was done. We've seen lots of different iterations of that.
Jon Lind:
They also had scheduled assessments per subject area. So they knew at the beginning of the year when math was going to give all of its summative assessments, and that was the only time you could give them. So there was only a couple a semester or something.
Jon Lind:
Then they had the idea, and this really resonated with me, that we cannot accept… If we were teaching students, we can't accept the idea that they would leave our classes without knowing how to do these things that we have said are essential for this class.
Jon Lind:
So that started sort of rumbling around in my head. And I started with that idea of, what are the things that are these essential skills for geometry? What are the things that I don't want my students to walk out of here without having shown me that they're able to do them.
Jon Lind:
And so during that World Cup time, we had a little bit of extra time around the school so we got together for lunch. We went down to half days or something. I forget exactly what the schedule was. But we got together for lunch, the three of the geometry teachers, and we came up with this for the second semester of the year.
Jon Lind:
What are the essential skills? We went through our standards. And then what we did was we tied them to DeltaMath activities. The idea that was starting to form was it skills are something that we can assess with technology, and with DeltaMath, we can just… The beautiful thing about DeltaMath is the way that it can just make more and more problems of the same type, keep them being different. So we could keep students going on that and have them come back to it and practice and retake assessments.
Jon Lind:
So we were sort of starting to think about the idea that the skills part of the class, we could totally sort of shunt to DeltaMath. We would do the teaching, but we don't have to waste our time coming up with assessments of skills, because there's a computer program that can do that really well.
Jon Lind:
That's where we started in December with our planning and with that PLC notion of, we don't want kids leaving geometry class without being able to do these things. And so we had a big list of semester two essential skills.
Jon Lind:
Then it was time for the winter break, and it was a long one because of the World Cup. And your assessment course had been sort of bookmarked. And I was at this point where I had an idea, like a kernel of an idea, that I was thinking about implementing. It didn't feel quite right yet.
Jon Lind:
And I wanted some more input about assessment. I know that assessment is kind of the key to how things happen in a math class. That seemed like a good time. So on the beach in Thailand-
Jon:
Now you're making everyone jealous.
Kyle:
I was just going to say, I'm like, I want to know how many people… There's been a lot of teachers through that course. How many people did it on a beach?
Jon:
Yeah.
Jon Lind:
Right. Well, it's a nice learning environment, I will say that.
Kyle:
Sure.
Jon:
Right.
Jon Lind:
But it was pretty nice. I had some space from the day-to-day of school, and I was able to sit back. And after I convinced my wife that I wasn't doing it because I had to, I was doing it because I wanted to. I'm on vacation, this is something I want to do. I got through it.
Jon Lind:
And it was just a series of light bulb moments. And a series of, "Oh yeah, I can do that." And the biggest thing was probably the idea of growth days, and the less lengthy and more frequent assessment.
Jon:
When you say the biggest idea of the growth days, give us a snapshot. What specifically was it about the idea of the growth days that kind of resonated with you so much?
Jon Lind:
The idea of students having a time set aside to think about what to do to get better for themselves. When we presented this idea to everybody, we presented the need for a change in terms of three problems.
Jon Lind:
One of the problems was that students were getting through geometry class without knowing how to do some basic skills. They were passing the class at a very low level, but we wanted to see if we could make it so that even at that low level, we could have some understanding that they had been able to do some basic skills at some point.
Jon Lind:
Number two, we wanted to clean up problem solving and reasoning and make that more reasonable for students to get better at. And number three, we really were noticing the lack of ownership that was going on in the classroom. The lack of ownership of students for their own learning.
Jon Lind:
So one of the things that really spoke to me about the growth days was that, "Hey, here's a time for students to choose what to work on." There's obviously going to be some they need to do, but there's also a chance for them to think about where they are, and what they need to do to improve.
Jon Lind:
Also, that was one of the things. And the other thing was the idea of the shorter time period between these assessments. Because the standard idea that you talk about, and that everybody does, is teach, teach, teach, 6, 7, 8 lessons. Quiz that looks exactly like the test. Two review days or something. And then the test.
Jon Lind:
And that quiz was such a waste of time. It was a whole class period of a formative assessment that the kids know doesn't count for a grade, so they don't take it very seriously and they just use it as practice. As, "I'm going to wait till that quiz, study that quiz, and then I know the test is going to be just like it in two days."
Jon Lind:
So that cycle was really just feeling kind of awful. And I was searching for a way to get out of that. And the structure of two lessons, assess, two lessons, assess, and really breaking the skills down into smaller chunks.
Jon Lind:
Getting out of the unit mindset, and getting into, "Here's one set of things that are really closely related," that don't take four weeks to teach. It takes two days to teach this. So those were the things that really spoke to me about the idea of growth days.
Jon:
How did the students respond? Sometimes when you change things, some students take it well, some students don't. But also thinking about the students, when they-
Kyle:
Yeah, like there is no review day for this assessment.
Jon:
Yeah. You were saying that you were feeling like students weren't owning the learning and owning their achievement in class. How did that change when the growth days came in?
Jon Lind:
Well, I heard an episode of yours last year. I think Anna Clark maybe? About how difficult it is to fit standards-based grading into a PowerSchool gradebook. That's what the big deal was. It was a big deal, what we called things. It was a big deal how we put things in the gradebook. And yeah, students had a lot of trouble adjusting.
Jon Lind:
Now, that's super understandable. And we changed things in the middle of the year on them. And we changed them in a pretty significant way. It's not ideal, but really when I took the course and started putting this stuff together, it wasn't something that I could wait until next year to do. I had to do it.
Jon Lind:
And we were able to convince most students that this was something that was advantageous to them, when they actually believed us. Because retaking assessments was not a thing that is sort of allowed in our assessment policy. The big summative assessments. You do not get a reset of those.
Jon Lind:
And so I don't think they really believed that I was serious about that when we started. But once they started seeing, "Hey, whoa, he's serious. He's going to make us take this again until we get it perfect." Then they started buying into it for the most part.
Jon Lind:
We had a few that were just really resistant to it, and a few parents that were super resistant to it. But that's going to happen with change. And we were sort of ready for that, and we sort of stuck together as a team really well. We couldn't have done this without the buy-in from the team.
Jon Lind:
The other two teachers, one was Moe Haider, who I mentioned earlier, and Stacy Fleming, really just, when I came back from break all jazzed and told them about this, I was like, "Please, please, please, guys, you got to do this. We got to do this." And they were like, "Okay, sure."
Jon Lind:
So we really worked closely together, and it wouldn't have worked if we hadn't. We have seven sections of this course to keep online, and we had some really difficult situations with students and parents to deal with, but we stuck together and got through it.
Kyle:
I wanted to go back to even just some of the challenges that students have, because there are big changes. And then I want to give you a little bit of credit where credit is due, that you were in the middle of a year and you were probably still trying to make sense… It sounds like this epiphany through the course, and through the work that you had been doing, and you're like, "I know that we want to do this."
Kyle:
But oftentimes when we go to implement, there's things come up that you don't anticipate. So now you have to think on your toes a little bit. So just the fact that you and your team were able and willing to do that work. And like you said, I think because all of you were doing it, it makes it so much better.
Kyle:
Because then you have a little PLC where you go, "Hey, a student said this to me today." You might have been second-guessing, and then somebody else on your team can then pick you up, or say, "Hey, here's how I was thinking." Or "Oh, maybe we need to connect tonight and chat about it and try to figure this out." But ultimately, keeping that team together, I think is really important.
Kyle:
Now, can I ask you, in terms of the amount of time that you've put in. There's teachers who are listening. So first of all, folks who listen to the podcast are doing amazing things. They're finding an hour a week to listen to the podcast. That's so awesome. What did it look like and sound like for you when you were doing the course?
Kyle:
It sounds like you were on vacation, but it was because you wanted to do it, so good on you. But how did you chunk up the course? Did you binge it or were you like, "Hey, I'm going to commit to…" Sometimes we tell teachers, "Hey, commit 15 minutes a day." And it's like, if you can commit that 15 minutes, that can take you through over X number of days, weeks, or months.
Kyle:
So what did that look like and sound like for you? Because if I'm at home right now and they're going like, "Wow, this sounds interesting to me, but how much time and effort is this going to take in order for me to be able to have this shift in mindset, but then also feel confident enough to actually try to put something into practice?"
Jon Lind:
I don't remember exactly, but I don't think the course itself took me more than a week. And it didn't really feel like a binge. I mean, I had a lot of swimming and sunbathing to get to, so I didn't have that much time to devote to it.
Jon Lind:
Yeah, I think a couple of hours a day for about a week was what it took to get through the course. And then for the next two weeks or something, I was doing a two or three hour chunk every two or three days to plan to sort of put it into effect.
Kyle:
And now let's talk time of actually doing this work. So you're like, "Okay, I'm doing this thing." I think one of the challenges that a lot of educators have when…
Kyle:
As soon as we change anything. We know our traditional structure, we know what a unit looks like and sounds like. You even highlighted, it's like there's some day that we spend on a quote/unquote "quiz" or formative assessment. Then there's review days near the end.
Jon:
Fitting it all in. All this curriculum you have to get in there.
Kyle:
Yeah. When you go to these more regular assessments. Like Jon and I typically would do, one day a week, what we would call as our assessment or a growth day. As well as the other half would typically be used for students to continue trying to build their proficiency in different asked concepts. To get reassessed, things like that.
Kyle:
How did you feel about being able to, quote/unquote, "cover" the content? Did you feel that you were more pressed for time? Did you feel like you actually had more time, or you got more accomplished through this work? How did that look and sound in your world?
Jon Lind:
So with the combination of that idea from PLCs of essential skills, for us, that was key. Sitting down and looking at it as a semester, and looking at all the standards that we're supposed to cover and thinking about what's essential? What do these kids need for their next math class? What is the most important thing that we teach? And picking those out and saying, "We don't want students to leave without this." That was super important.
Jon Lind:
And then, if you concentrate on that, and do these smaller chunks, what it ended up with us was four units broke down into nine essential skills. So two or three per unit. And it ended up being more time to teach.
Kyle:
I love it.
Jon Lind:
More time to focus on things. Because we weren't wasting our time with the non-essential skills. There's a lot of stuff in the standards that we get caught up on that is not essential.
Kyle:
You almost commit an equal amount of time to everything, instead of going, "Wait a second, wait a second. This thing we need to expose students to, we need to explore. But it's actually not something that's going to be fundamental to the next part of the journey. But over here, this thing, if they don't have this skill, this is going to really cause them a challenge next year, two years from now, whatever it might be."
Kyle:
And I think that is such a huge, almost career-changing moment when you get to that place. Now, it's still, and I'm sure you'd agree, there is a lot of thinking to be done. And again, with your team, it makes it way easier when you all get to sort of discuss and say, "How much time should we spend? Or is this something we really need to focus on?"
Kyle:
But when you do it as a team, then you can at least feel more confident that, "Hey, I think there's some merit here to what we're trying to do," versus just trying to be, we'll call it equal to all the standards. It's like equal.
Kyle:
It's not really about equality. It's about what matters, what really matters, what is essential. I love that. And really, you're kind of teasing out this idea that when you're exploring standards-based grading, that's essentially the work that's happening.
Kyle:
Because then you start to look at things and go, "Wait a second. We're not actually necessarily assigning a grade for every standard, but we're starting to think what is it in general that we're actually assessing here and evaluating here?"
Kyle:
And which ones of these am I more concerned about ensuring that those students do come back to so I'm going to make them revisit them. Some of these other ones over here, I might go, "Eh, we're not quite there, but I'm not that concerned about it. I'm really concerned over here," and just really hyper-focusing.
Kyle:
Then what I'm hearing from you, and maybe you can confirm or deny this, but when you focus on those essential skills, sometimes some of the secondary skills, or maybe we'll call them the not so important, or not so essential skills, actually start to develop as well almost in unison. Because it was like, maybe they were being held back because of the challenge in these more important pieces of the puzzle.
Jon Lind:
Well, yeah. And sometimes those secondary standards are really great ways to teach the essential standards.
Kyle:
Yeah, like excuses, right? Excuses to dig in more.
Jon Lind:
Trigonometry, there's one about the complementary angle relationship of trigonometry. It's not an essential standard, but it's something that's really interesting to talk about and see if students can really reason their way through, with the essential standards of knowing that it's ratios of the opposite side to the hypotonus.
Jon Lind:
So yeah, those turned less into, "Oh man, we got to spend a whole day figuring out the Cavalieri principle?" To, "Oh, let's explore the Cavalieri principle using these formulas." Because the formulas are the essential standard, and this principle is something that is a really bigger understanding that we can get into.
Jon Lind:
That is super hard to assess, by the way, anyway. So yeah, totally. It gave us a different perspective on things. The whole idea of tying in DeltaMath, and that idea that it was a great way to do this reassessment thing, was so that we could get the assessment of skills out of the way and really focus on problem solving and communicating.
Jon Lind:
That's what I talked about a lot in our last session here, and it's something that's a struggle for the whole time. So all of those changes around the skills were sort of easy once we figured out what to do, and we set up the DeltaMath into chunks, where we could assess them in 20 minutes or less. And that's where those nine chunks came from that it turned into.
Jon Lind:
But then, the other change that is a really big change in the way I am approaching the bigger skills that I want students to walk away with, is we broke down problem solving and reasoning themselves into their own learning targets specific to them. And we tried to make it into four things that you have to do when you are problem solving, you have to show us that you can do.
Jon Lind:
What that did, is it changed it from the mindset I had about… Let me take a beat and say that our grading system is such that it's about a third of a grade is skills, a third of the grade is problem solving, and a third of the grade is reasoning. So it's a big deal. These are a big deal. We've given them a lot of weight. And we've given them a lot of weight without really understanding what to do with them.
Jon Lind:
So what we did is, we said, "We're assessing problem solving. We need to assess problem solving." The way I used to think about it was a lens through which we assess content, and I'm not on that page anymore. They're a set of skills in themselves.
Jon Lind:
So we looked at the math practice standards, and we looked at the ancient research from Polya, or whatever, and there are four things you have to do to solve a problem. You have to know what the problem is. You have to come up with a strategy, you have to apply the strategy, and you have to reflect on it. Boom. There's our four learning targets for problem solving and reasoning.
Jon Lind:
And those are all we're assessing when we're doing problem solving and reasoning. We're not assessing content. There's different content that we're going to throw in, and it's going to be the content that we cover in the class. But we're not assessing that content here. We're assessing problem solving.
Jon:
Do you find that at any time you're doing both? You're saying, "Hey, we're assessing both the content that you're just showing through the problem solving, but we're also going to assess and give you feedback on your problem solving approach."
Jon Lind:
There's a little bit of that. So for the third of the grade that is, we call it concepts and procedures, the skills, you can get to a B in that basically, the proficient level, by doing all the DeltaMath stuff proficiently. We give the DeltaMath tests on the growth days.
Jon Lind:
So that was a big hurdle for students to get over. Because 100% on these little tests is a B. For the A, you have to perform and apply those skills in problem solving and reasoning prompts. And so every third or fourth growth day, we called it a cumulative check-in. This is the summit of assessment.
Jon Lind:
That was really nice too, because we made, instead of doing these unit tests, four unit tests in a semester, we have three cumulative assessments. And those were strictly problem solving and reasoning prompts. So there are bigger questions where they have to do these problem solving and communication learning targets.
Jon Lind:
The A in the concepts grade, came from your performance on those. So if you're 100% on the DeltaMath, you're at a B. If you can apply those skills in a unfamiliar situation, and if you can reason about those skills, that's an A.
Jon Lind:
So yeah, we're slightly assessing. But that's the whole idea that it's hard to get past… You can't solve a problem that relies on some skills without knowing the skills first. So if you're solving a problem where you're finding an angle, you have to know how to use trigonometry. You're unable to do it without that.
Jon Lind:
And that was the problem with how we were assessing before. The skills weren't there. So we couldn't even look at problem solving really, because they weren't able to approach a problem. Now, even if students aren't super solid on the skills, they have some preliminary steps that they can show that they have problem solving skills.
Jon Lind:
Anybody can restate a problem, tell us what they're actually asking you to do. It's reading comprehension, it's barely even math. But it's a super important step that we gloss over. How many times do students answer the wrong problem when we ask them?
Jon Lind:
So there's step one, and if you get that you're already passing problem solving. All you have to do is restate the problem. Then if you can describe, in words, a strategy that you would use to solve the problem, well that's the next step. If you do that, you're at a C or whatever. And then proficiency requires you to actually solve the problem and get the right answer.
Jon Lind:
But there's a low entry point, an authentic important entry point. It's not hard, but it's necessary. And we found that first level step into problem solving was really useful, and we found that was really useful in the communication piece as well.
Jon Lind:
Man, these grading schemes get so complicated when we have to put numbers on stuff. But through all of that, what it meant was that, yeah, now if we can get all of our students to do these skills, then we've solved that problem of students leaving without us feeling like they know how to do anything. We have direct evidence that they have. And we have direct evidence that most of them have worked to do so.
Jon Lind:
Most students needed two or three or even more tries to get it right on these skills assessments. But they did, because they knew that it had a direct effect on their grade. We know that grades are a motivator for students, so we said, "Okay, we get this. Let's do this in a way that will inspire them to do something worthwhile." So yeah, I'm going all over the place here, but it all sort of worked together to make us feel a lot better about things.
Kyle:
Yeah, and what you just articulated is something that we speak with a lot of the district leaders that we work with, or school leaders that we work with, as they try to make change in their math programming. And that's really that you had a clear objective.
Kyle:
One specific objective you had, and your team had, was how do we ensure that students have those essential skills when they leave? And, really, whether you realize it or recognize it, and I know you're recognizing it now, is that you also had a key result.
Kyle:
So you're actually using a tool. And you're able to leverage that specific tool to help you with your monitoring to determine, is this working? Is this doing what we wanted? And the answer I'm hearing from you… And I would like to dig in a little deeper here too, to see what other sort of changes you have seen in either the data or even just some of your anecdotal evidence around student outcomes.
Kyle:
But it sounds like that one in particular, you identified a tool that could do that part well, and I think that's such an important piece. As an educator, we often think that we have to have our hands in everything at all times. And in reality, what you did is you actually opened the door for you to help address another challenge, which was around this idea of problem solving and reasoning that you were sharing, that you felt you weren't doing well either.
Kyle:
So even though you started with essential skills, that actually was the stepping stone to help you better assess. And I'm going to argue that by assessing problem solving and reasoning and application better, what you're actually doing is helping students to become better in that area. Because if we don't assess that area well, then students aren't going to actually rise to the challenge and actually learn those things.
Kyle:
They're going to just try to figure out where are you holding the hoop, and they're going to try to jump through that hoop. So by getting your assessment game addressed in that area, you're now sort of going, "No, no, this is what we're trying to get you to do. Let's do that." And students are now aiming for that goal instead.
Kyle:
So you've kind of hit two, what you would call is very different areas, but one, it sounds like, sort of led you towards opening the door to be able to do some great things over here. Are there any other either data pieces or any other sort of student outcome pieces that you would say were big?
Kyle:
I think the ones you've shared already are massive. But are there any other pieces or outcomes that you've noticed have changed since making some of these changes in your classroom?
Jon Lind:
Yeah. There's lots. Another big thing that I took away from your course was the idea of portfolios. I think you've talked about that website that went away and-
Kyle:
Yes, yes.
Jon Lind:
You still have some screenshots of that website-
Jon:
I did, yeah.
Jon Lind:
I'm like, "Oh, man, I want to get that." But we ended up using just Google slides and a template where-
Jon:
That's the other lesson that we concluded in the course.
Jon Lind:
Yeah, and that's something that we haven't figured out how to use right yet. But we like it. We've got to a point where all of our kids are using it for some purpose, and we just have to make it a little more clear what that purpose is and how we use it. We can't spend a lot of time, of course, looking at the reflection that students have, but we want to make sure that it's being helpful and helping them move forward.
Jon Lind:
So adding the reflection piece, it feels really good too. It feels like this is something we should be doing. That's what a lot of this is. It's like, "Yeah, this is the right thing to do. We should be thinking about what we're doing so that we can get better." And some students really took that and used it well, and we want to look at those students and use them as examples, probably, moving on.
Jon Lind:
Second thing is, the thing that these little chunks of skills on DeltaMath were able for us to do, was give students who never see success in math class a place to see success in math class. These are skills that we specifically put together as things that everybody can do. There are no "can't do" students in our classrooms. We just don't have them.
Jon Lind:
There are some "won't do" students. If we change our mindset, which is part of the PLC thing, to "We're not going to accept that, and you have to do this to get through this class. And we are going to do everything that we can to make sure that you do this," then those "won't dos" go away and you're left with students who just do it.
Jon Lind:
Of course, that's the dream. There's still some students who are going to be resistant and decide not to do stuff, but we can give them opportunities in different spaces in the school to do that. We can figure out strategies for that.
Jon Lind:
But anyway, the kids who are trying, and before, they'd come to a test, and they'd try, and their try wouldn't be good enough yet, and then that's gone. They never get to see it again. And so their whole life is just this, "I wasn't ready for that yet. And that's what math class is."
Jon:
Yeah, I love that you've grabbed the essence of the course, which is called Assessment For Growth, that whole "growth" by the horns. You've grabbed that by saying, "We're going to value and reward growth, and we're going to set up a system that does that in spite of all the systems that never have rewarded growth in the past."
Jon:
And sounds like you've got a lot of success happening with your students. You've made a lot of leaps this year with your team, with what structures you're putting into place. I'm loving hearing all of this.
Jon:
I'm wondering, Jon, what would you say right now is your next step in your process? You've set up a great system. It sounds like it's working. I'm sure you're going to continue this next school year as well, but what would be your next area of focus?
Jon Lind:
Just to wrap up Kyle's question. The data also really supported what we did. Doing something in the middle of the year isn't a great idea, but it gives you good data. It gives you data where you can relate a kid before you do it to the same kid after you did it.
Kyle:
Very true, very true.
Jon Lind:
The resistance, actually, to this approach, has mostly gone over our head, and they go directly to the principal or they go directly to the guidance counselors. So we've had to do so much communication with that sphere of people. And this indirect responding to issues has been super stressful.
Jon Lind:
So we called all of the counselors and the admin together, and the whole math department, for a reflection meeting just this week about the geometry thing. Because we want others to maybe sort of pick some of this stuff up too and try it themselves. And we want to bring the counselors and the admin in on this.
Jon Lind:
We presented them with the data. And the data clearly shows that, not only did this not hurt anybody, this made everything better. On average, every score, every way you look at averages, it's higher. And in fact, when we look at the year before, and previous years as well, there's a slump in the second semester usually for us.
Jon Lind:
And that slump is not only gone, it's the other way. Everybody got better. So the same students on average got better, and compared to last year, way better for a second semester than it was before.
Kyle:
That is so awesome to hear. And I want to reiterate this idea of assessment for growth. The name of the course is Assessment For Growth, because that's exactly what we're trying to perpetuate. And when you really think about it, it makes sense. Because we are coming back… And I love how you articulated that, about how for some students, their life in math class is "I just wasn't ready yet."
Kyle:
The reality is, is usually they don't even look at themselves that way. They don't even recognize that. They just think, "I'm not good enough for math," or "I'm just not able to do the math." And in reality, it's exactly what you said. The reality is, they just weren't ready yet.
Kyle:
This structure and this model, it can look and sound so many different ways. The way you and your team have set this up is pretty unique in terms of how maybe I might set mine up, or Jon might, or some others that we've chatted with. But that's the beauty of it.
Kyle:
It's like you're taking the fundamental ideas, and you're trying to make it work for your context and your course in particular. And you are actually seeing growth, which I think is just fantastic.
Kyle:
So as we're wrapping up here, I'm wondering. If you had one, I hate the word advice, but if you had one suggestion, one thought, for those who are listening and going, "I like how this sounds. I like what Jon shared here today. It sounds like it's working for Jon." What would you say to them in order to help them take that first step to actually start heading in this direction?
Kyle:
Because I'm sure it's scary. I remember being scared. You're worried about is it going to work right, am I going to do it right? What would be your sort of final thoughts for them to take in order to try to help them take that first step in that direction?
Jon Lind:
That's a great question. But I also want to bounce back to Jon's question of one thing I'm working on. Sorry, I keep doing that. [inaudible 00:42:35].
Kyle:
No, that's all right.
Jon Lind:
The one thing I'm still working on is non-traditional assessment evidence, and individualized assessment evidence. I can't see that going over very well in my current environment, and I have to really think about how to get that in. Like interviews and stuff.
Jon:
Observations, conversations.
Jon Lind:
Yeah, exactly. That's something that is so important to our understanding of students. But in a slightly litigious environment, I have to be really careful about being fair. And that's a whole 'nother hurdle that I'm not ready to start jumping over yet.
Kyle:
As long as that's on your mind though, you know what I mean? You will find a way to be able to develop a way that can work and still fit, for sure.
Jon Lind:
Yeah. And it does. It informs my understanding. So if there's a big discrepancy between the numbers on the page and my understanding of a student's abilities, I'm going to bring those two things together somehow. That's professional judgment. That's why I spent so many years learning to be a math teacher.
Jon Lind:
Now, back to, if anybody's working on getting started on this, or something like this, maybe three things. One, do the essential skills thing. Look really closely at the stuff you're supposed to cover. Think about what you need for the next classes or in life, and focus on those things. It's less than you would think.
Jon Lind:
Number two, think about… The daunting thing when it comes to the idea of reassessment, for me and for most of the teachers I talk to, is I don't want to have to make another test. It's so time-consuming to put together a test. Think about it though. Do we need to assess skills anymore? Do we need to write an assessment for skills? That's a big chunk of what you assess.
Jon Lind:
Probably for a lot of traditional tests, it's all that's on there. And we have technology that does it better than we do, and that has more variety than we do. So it's not that big a deal. It's super easy. DeltaMath does it with a click of a button. I mean, use it. If you're assessing skills and you are writing down test questions that are skills based, stop.
Kyle:
I like that. Yeah, that's good. Just stop it.
Jon Lind:
Save yourself hours and hours every week and do it on DeltaMath, because that's what it's for. If you want to build up skills, there's no better way to do it, in my opinion.
Jon Lind:
And number three, make sure you have some allies. Make sure you have a team that you can get on board. If you can't find anyone in your school, hook up with someone online. Because this is not easy, and if you try to do it yourself, oof. Good luck.
Jon:
Totally. And those are three great next steps for folks to get started and think about how to shift some of their practices around standards-based grading with those three kind of starters. So I want to thank you for providing that, Jon.
Jon:
And hey, thanks for being here. And thanks for sticking with us and coming back a year later. I think a lot of folks have pulled a lot of great nuggets from this episode on standards-based grading.
Jon:
And you're right, I think, when you mentioned Anna Clark's episode, which is episode 201, which was also on standards-based grading. We've got a whack folks, if you ever search, Make Math Moments and put standards-based grading in there, you're going to get-
Kyle:
Or even just assessment. There's so many assessment conversations.
Jon:
Yeah, you're going to get lots of stuff in there to kind of keep you going on this. And this is going to be one more that gets added to that list.
Jon:
So Jon, I want to thank you for that, and I'm super excited for the future of your students and the work that you are doing over there in Qatar. So thanks again for joining us today.
Jon Lind:
Well thank you guys, and thank you for putting together that course. There's some key moments in my professional career, and this is definitely one of them.
Jon Lind:
That course sort of brought a whole lot of things together for me, and made so much sense. And really, really changed the way I do things. So I really appreciate that it was there.
Jon:
Thanks for saying that. Thanks for saying that.
Kyle:
That means a ton to us, and it obviously makes all of that time and effort so worthwhile when we're hearing friends like you feeling that they're benefiting like you have. So that is awesome.
Kyle:
Friends who are listening, we will put all the links in the show notes. That Assessment For Growth course, actually, if you're interested, you can go to makemathmoments.com/afg for Assessment For Growth, AFG. Or you can just Google it, Make Math Moments Assessment For Growth. You'll be able to check that out.
Kyle:
And my friend, Jon, once again, thanks so much. You're doing awesome work. Say hello to your allies. It sounds like you've got a nice group going over there. And you know what? Clearly you're making some awesome, awesome, awesome waves in math in your area, so keep it up. And hey, next time we're in Qatar, we're going to come [inaudible 00:47:27], my friend.
Jon Lind:
Right on. That sounds great.
Kyle:
All right, my friend. Take care. Thanks a ton.
Jon:
Take care.
Kyle:
And don't be a stranger.
Jon Lind:
Thanks so much.
Jon:
In today's episode, hey, when we chatted with Jon, we chatted about a few different things, mostly on his journey on the assessment practices that he's changed and morphed and put into place. And in part of that, you heard him talk about, in his actual recommendations to you to get started, was thinking about these essential skills.
Jon:
And Kyle actually articulated a couple of things around that, by thinking about these objectives. His team had a clear objective to change this one piece of their math class. And then they set off on setting up actually some key results to hit, which were making sure that they set these essential skills. They started to monitor the impact that they've put into place on those essential skills and the assessment practices in place.
Jon:
So Kyle, I think Jon did a great job at expressing how his leadership, the trunk of the tree, setting that vision, setting those objectives, making those very clear to the team. I think that being a strong part of the trunk of our tree, this leadership and vision setting, the backbone of a tree, they did a great job at that. And I think they're on their way to kind of rounding out some of the other areas of the tree. What was another specific part of the tree, Kyle, you think Jon articulated well here today?
Kyle:
Yeah, and like you're saying, that trunk has to be strong in order to support other aspects, or other parts of the tree. And the part of the tree I want to talk about, not that there aren't other places we can go, but I'm picturing the limbs of the tree. And the limbs, typically from a classroom perspective, we talk about our professional learning structure for ourselves, or our professional learning plan for educators.
Kyle:
Without that team taking the time, the effort to actually engage in that professional learning… So for Jon, he dove into our Assessment For Growth course, and he really dove in to try to figure out, How can I change and shift my assessment practices? Which of course, through doing so, will implement other aspects of the tree, including his pedagogical content knowledge. Where we'd probably nestle in some of the aspects of the assessment process that he's using.
Kyle:
So right with you there. It sounds like the leadership, the vision setting, the pillars in their classrooms are really strong. And again, they had strong limbs, those professional learning structures, in place in order to do the necessary work to help them get from A to B or A to Z, in their particular case, as they're trying to shift practice in the classroom.
Kyle:
So my wonder for you, friends, is what section of the tree are you thinking about? Where do you see your tree is flourishing? And where do you see maybe aspects of the tree maybe being hindered a little bit, not receiving as much nourishment as it could use?
Kyle:
If you're interested in finding out a little more, digging a little deeper, and maybe receiving a little bit of feedback on that, for our district leaders, you can head to makemathmoments.com/grow. And over on that page, you'll be given the opportunity to take a short assessment screener, which is going to help you as a district or organizational leader in identifying areas that your tree is strong for the entire organization, or some areas that might need your attention. And you'll receive a report with some next steps.
Kyle:
If you're a classroom teacher, just like Jon, you can head over to makemathmoments.com/report, and you'll have your classroom-focused math program assessment screener. Which will ask some questions that relate directly to your own program in your own classroom. And just like for our district leaders, you are going to receive a customized report as well. So head over to makemathmoments.com/grow or /report, and you can engage in that assessment and dig into some learning for you and your team.
Jon:
Hey, if this was an episode that you took a lot of value from, and maybe it's not the first episode you've listened to from us before. And why haven't you hit Subscribe yet? Hit that button, subscribe so that you can get other episodes right to your device.
Jon:
If this was the first episode that you've heard from us, welcome. We are glad that you stayed right to the end, and also are here with us right now. And if you have not yet hit Subscribe, do that please.
Jon:
Also, if we could ask one small favor, please share this podcast with a colleague, a friend. Share it in the way that you found it. Did you find it by just going onto your podcast platform? Tell them where to find it. Did you find it on the internet? Send them the link. If someone passed it to you by email or talking about it at the lunch table, do the same thing.
Jon:
Share the podcast so that we can reach a far and wide audience, so that we can grow the classroom trees of many educators and help as many students as we can. We've got a goal here, Kyle. I don't think we've ever shared this goal, but our goal is to help 1 million students through helping teachers reach those students. 1 million. Wow, we're going to do it. We're going to do that.
Kyle:
And we can't do it without the support of friends like you, you Math Moment Makers. So help us with that goal. Of course, if you're interested in finding some of the links, the resources, some of the pieces that were shared here specifically on this episode, head on over to makemathmoments.com/episode236. That is makemathmoments.com/episode236.
Kyle:
And my friends, it's nothing but a pleasure. So until next time, I'm Kyle Pearce.
Jon:
And I'm Jon Orr.
Kyle:
High fives for us.
Jon:
And you know what's coming. A high five for you.
DOWNLOAD THE MAKE MATH MOMENTS FROM A DISTANCE CHEAT SHEETS
Download the Cheat Sheets in PDF form so you can effectively run problem based lessons from a distance!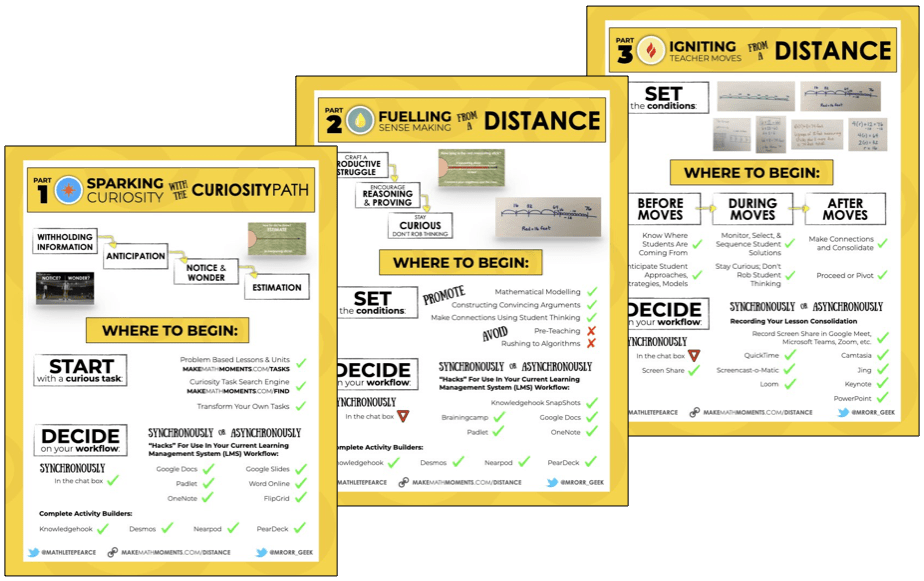 UP YOUR DISTANCE LEARNING GAME IN THE ACADEMY
There is a LOT to know, understand, and do to Make Math Moments From a Distance.
That's why so many Math Moment Makers like YOU have joined the Academy for a month ON US!
You heard right: 30 days on us and you can cancel anytime. Dive into our distance learning course now…
Thanks For Listening
Leave a note in the comment section below.
To help out the show:
ONLINE WORKSHOP REGISTRATION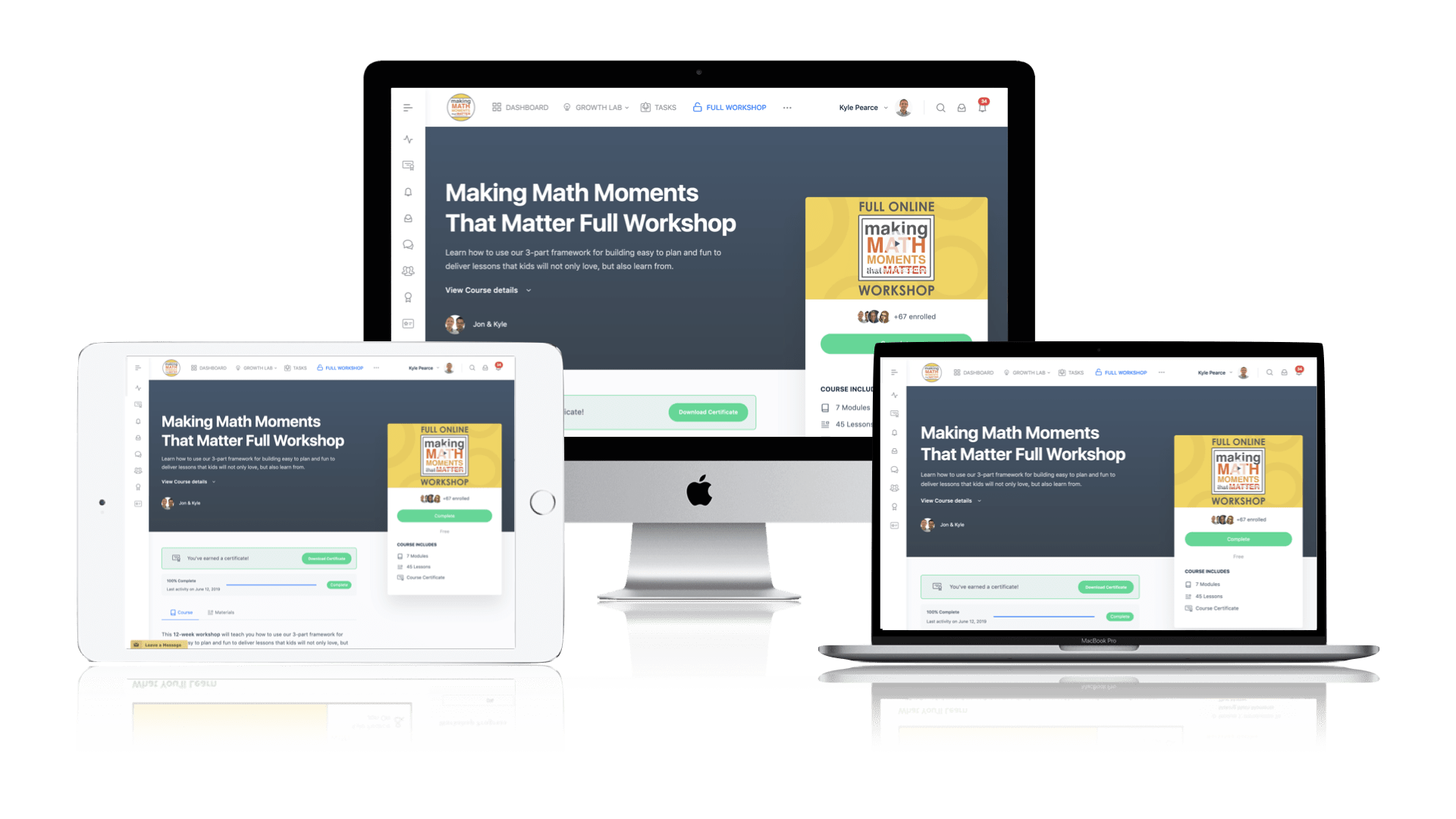 Pedagogically aligned for teachers of K through Grade 12 with content specific examples from Grades 3 through Grade 10.
In our self-paced, 12-week Online Workshop, you'll learn how to craft new and transform your current lessons to Spark Curiosity, Fuel Sense Making, and Ignite Your Teacher Moves to promote resilient problem solvers.