Episode 238: What Matters Most In A Successful Math Program
Without a clear, concise and well-communicated mathematics vision and a sustainable professional development plan rooted in relevant, attainable, research-based and measurable goals, your teachers will continue to work on disconnected pieces of effective mathematics instruction that can only lead to pockets of success instead of systemic change in mathematics teaching practice and student achievement.
In this episode we're sharing our webinar on What Matters Most When Designing A Successful Math Program and we'll outline why reporting the results of your professional development plan over the previous school year is so hard,  why you might not be seeing the results you've hoped for, and how you can break the cycle to ensure your progress and reporting at the next of next year goes off without a hitch.
Why teaching math is hard and how you can make it easier for the educators you support;

What matters most when designing high quality math professional development; and,

How to set realistic and measurable goals that drive sustainable change in math education.
Register For The Webinar To Get Your Planning Kit
District Math Leaders: 
How are you ensuring that you support those educators who need a nudge to spark a focus on growing their pedagogical-content knowledge? 
What about opportunities for those who are eager and willing to elevate their practice, but do not have the support? 
Book a call with our District Improvement Program Team to learn how we can not only help you craft, refine and implement your district math learning goals, but also provide all of the professional learning supports your educators need to grow at the speed of their learning.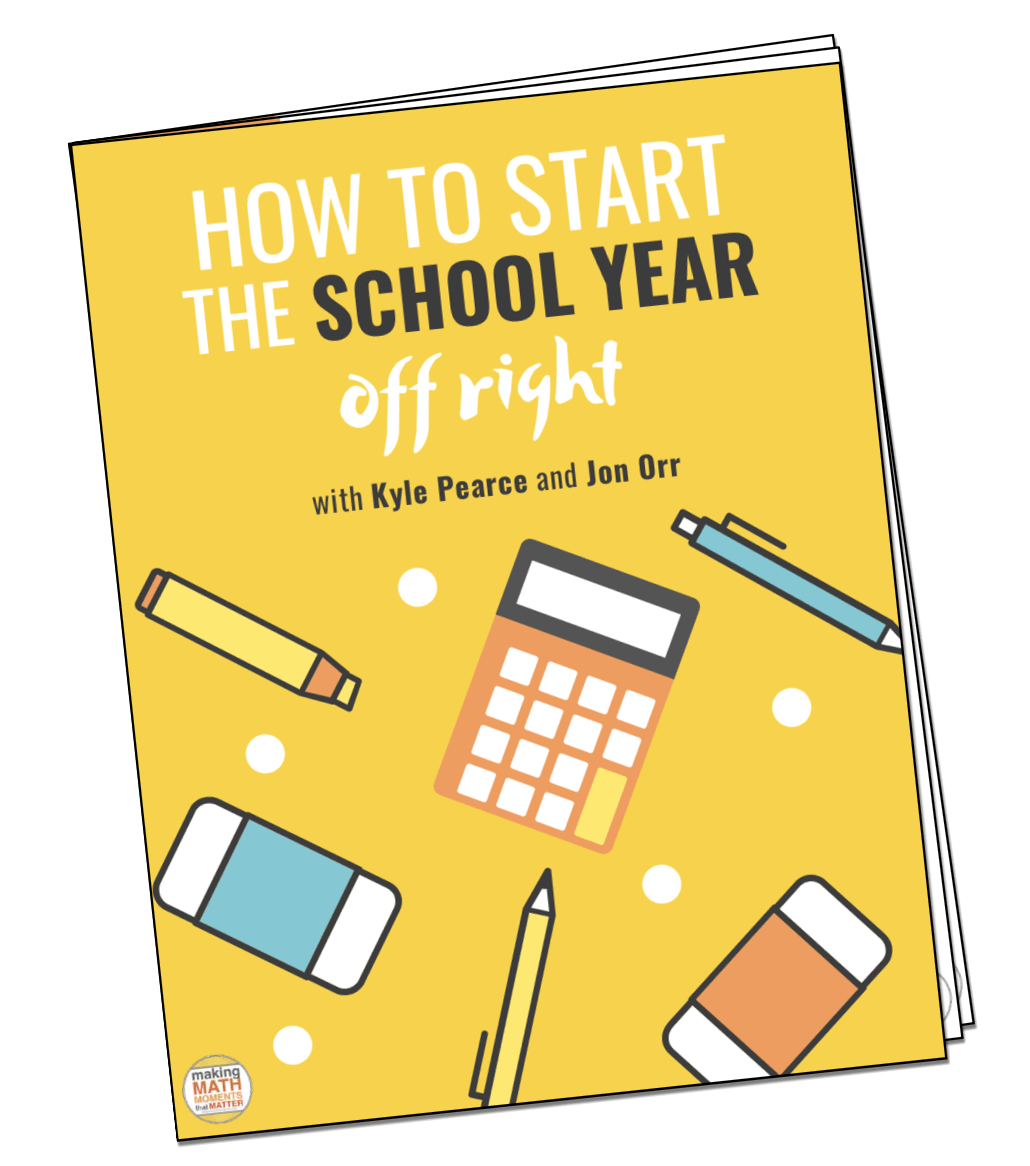 DOWNLOAD OUR HOW TO START THE SCHOOL YEAR OFF RIGHT GUIDE
Start your school year off right by downloading the guide that you can save and print to share with colleagues during your next staff meeting, professional learning community meeting or just for your own reference!
Kyle:
Mathematicians had stumbled upon, and that's the key word, stumbled upon. They didn't know it. No one told them. Pythagorean did not get told the Pythagorean Theorem, he discovered it. Now we know that there were earlier discoveries prior, but that particular mathematician also discovered it, right? So the whole idea here is that is what real reasoning is.
Jon:
Without a clear, concise, and well-communicated mathematics vision and sustainable professional development plan rooted in relevant, attainable, research-based and measurable goals, your teachers and the teachers that you work with, your fellow colleagues, are going to continue to work on, unfortunately, it feels like disconnected pieces of effective math instruction that lead to pockets of success instead of actual systemic change in mathematics, which is really what we're after here in improving student achievement.
Kyle:
In this episode, we're sharing our webinar in audio format because we dive deep on what matters most when designing a successful math program. And we'll outline why reporting the results of your professional development plan over the previous school year is so hard, why you might not be seeing the results you'd hope for, and how you can break the cycle to ensure your progress and reporting at this time next year goes off without a hitch.
Kyle:
Let's hit it. Welcome to the Making Math Moments That Matter Podcast. I'm Kyle Pearce.
Jon:
And I'm Jon Orr. We are from makemathmoments.com.
Kyle:
This is the only podcast that coaches you through a six step plan to grow your mathematics program, whether at the classroom level or at the district level.
Jon:
And we do that by helping you cultivate foster your mathematics program like a strong, healthy and balanced tree.
Kyle:
The trunk of your tree represents leadership in your organization or your classroom pillars in your math class, while the roots of the tree represent mathematics, content knowledge, and what it means to be mathematically proficient.
Jon:
Like a tree that requires soil, water, and sunlight. Your mathematics program requires productive educator mindset and belief that all students can achieve at high levels. Also, your professional learning structure or your professional learning plan are represented by the limbs of the tree.
Kyle:
The branches of the tree represent the development of educator pedagogical content knowledge, including effective teaching and equity based teaching practices.
Kyle:
And finally, last but not least, are the leaves of the tree, which represent the resources, the tools, and the classroom environment that you create for your math class.
Jon:
If you master the six parts of an effective mathematics program, the impact of your math program will grow and reach far and wide.
Kyle:
Every week, you're going to get the insight you will need to stop feeling overwhelmed, gain back your confidence and get back to enjoying the planning and facilitating of your mathematics program for the students or those educators that you're serving.
Kyle:
So it is awesome to be able to spend some time with you here today. And in particular, we're spending time as we try and we're going to be putting on our organizational leader cap. So whether you're in the classroom or whether you are at a district office or an organizational office and you are overseeing all kinds of programming, we are going to be looking at this from a leadership lens.
Kyle:
However, there's something to be learned and something to be gained for everyone regardless of the role that you might be in. So today before we get started, you've introduced yourself, you've said a little bit about yourselves, what we'd like you to share here, and we know a couple of these answers already because we've been on a few calls with some of you recently. But what we want from you right now is to share the current pebble in your math leader.
Jon:
Ooh, we hit home. We hit home. They're like, "Oh, you stabbed me." Yeah, get your fingers in the chat if you can. We'll give you a couple of thinking minutes here as well, and basically do a quick sentence to describe an area of need, a pebble you're seeing in your shoe across your school or across your district that you want to shake loose.
Jon:
We all came here for a specific reason. We are going to talk about goals. We are going to talk about how to change and strengthen our math programs specifically starting right away going into next year. But we got to shake loose some of these pebbles and we got to get them out so that we can name them, we can recognize our pebbles, and then we can figure out why are we having these types of pebbles in our district and what are some ways that we're going to kind of help shake those pebbles loose. Kyle, what are you seeing pebble wise in the chat?
Kyle:
I see all kinds of different pebbles. One is getting students who are not motivated to try or to do assignments. So a little bit of that shut down mentality going on. If you have had that pebble, maybe it's not the one you've stated, but I'm going to guess that that might be a pebble in many of your situations.
Kyle:
I also see getting teachers to recognize that there is always room for improvement. That's a really interesting one, kind of around the beliefs and the mindsets, or at least the messaging that we're getting from teachers is that they don't feel that there's some room for improvement.
Kyle:
But it's interesting because when we dig deeper on some of these, sometimes that is just sort of the front. That is sort of like what they're sharing or putting back at us. There's actually more to some of those problems. Jon, what else are you seeing?
Jon:
Yeah, I'm seeing a common one that I'm going to summarize in a sense that there's a lot of, I do, we do, you do happening and this focus on procedural ways. Nadine said, "Less teacher led instruction, more student led instruction." So there's a lot of that floating around across the chat. So that's a pebble, I think that we are constantly trying to shake loose.
Jon:
For the last six months, Kyle, I think we've spoken with over 200 district leaders in helping them shape their math program and finding these pebbles. And I think that one is probably one of the most common is how do we help shift away from this I do, we do you do model in our class to get more thinkers in our classrooms? What else you seeing, Kyle?
Kyle:
And yeah, and I wanted to comment on that as well. So maybe not even necessarily shifting away from it, but positioning it in a more productive part of our math program. Because again, we don't want to lose explicit instruction completely.
Jon:
No.
Kyle:
It's where does it fit? Where should it be used? When should it be used? And I think we can all agree that it shouldn't be the only mode of instruction. However, we don't want it to be an off limits use of instruction either. So very, very complex and deep here.
Kyle:
I saw a lot of people talking about getting students thinking was sort of what I heard. And actually, Jon, as I'm scrolling through here, we actually ahead of time we're like, you know what? We might run this meeting and we might have nobody show up, or we might have a lot of people show up. Who knows?
Jon:
We weren't sure.
Kyle:
We've got 170 so far who have logged in here, which is amazing, so we don't even really need this. But some of what we anticipated would come out and what we heard through many of those meetings that we've had with district leaders and organizational leaders just like yourselves are some things like this. We heard a lot of people talking about students who are just answer getting.
Kyle:
Now it's interesting because it's like we're producing answer getters. And ultimately at the end of the day when we think about, well, why are we producing that? Well, it must be something going on in the background that's giving that message that all we want is answers and we're not getting kids actually thinking.
Kyle:
Another piece that we see is when we do work in math, we're not seeing results that we had hoped for, and student achievement has not changed. Now, it's interesting when I see a lot of the pebbles we saw there, some of those are maybe some of the root causes for why some of these challenges have come up, correct?
Jon:
Yeah, for sure, for sure. That's one that we've heard. There's another one that is common, I think especially in the discussions we had. I don't think I saw it specifically here in the chat, but also I think it's underlying, it usually comes up in our chats with districts, is that many teachers, when Covid hit took two steps backward. They resulted to some practices that they relied on when they first started teaching. We district leaders and leaders in charge of professional development in the district have put into place many different aspects, many different pieces to help move teachers along their journeys to achieve some of these things that we're looking for in math class, and when Covid hit, it felt like a lot of folks went backwards.
Jon:
I don't know. Give me a yes in the chat if you felt like that was at your district. Teachers kind of went backwards, a couple steps. And yet today, even though we've made progress since then, it's like we're not back exactly where we were when we left off. So it's almost like we still haven't got back there. Kyle, are you seeing any yeses over there? I feel like that's [inaudible 00:09:38].
Kyle:
I'm seeing that's a ton of yeses, and I was waiting to see a no, because I was going to call the person out. We've never encountered someone who's like, "Actually, no, we actually are further ahead because of Covid."
Jon:
Maybe.
Kyle:
No, everyone is seeing that, they're feeling that. And of course that's a weight that is on everyone's shoulders, not just district leaders or teacher leaders who are in a role of responsibility, but ultimately all educators are feeling it. They're seeing it. You have the wider gaps happening in classrooms, and that's just a reality of a really hard situation. As much as education wasn't fully accessible and equitable to all before the pandemic, the pandemic actually just made it even more of a difficult situation for all.
Kyle:
So this is challenging work that we are doing. And really, I want you to just take a second, everyone who's on camera, I could see about probably a good 36 of you here on the screen. I just want you to do one of these and give yourself a tap on the back for taking on the role of leader, of a math leader. It is hard work that you've agreed to. And to be honest, and you can tell me in the chat if you're one of the people that got roped into it, like you turned it down, the position came out and you were like, "No, I don't know if I really want to take that role on." And they were like, "No, we really need you to." And no matter how hard you fought it off, you ended up in that position. There we go. We're starting to see it in the chat [inaudible 00:11:02].
Jon:
There's one. There's only one out there, Kyle.
Kyle:
There's only one. Everybody else was like, "No, actually, I wanted to take on this role and be tasked with one of the hardest, hardest, difficult jobs to do in education." Because mathematics is so complex. So today what we want to do is we want to help you, first of all are articulate some of the reasons why math is hard based on research. We want to share some of that with you and how you can make it easier to support or how we can make it easier to support the educators you support. Jon, what else are we going to do here?
Jon:
So what we're also going to do here is we're going to dive into what really matters in math class when designing high quality math PD. And I think there's a lot of things that float around. And what we're going to help you do in this session as we hope you walk away with, is kind of figuring out what truly matters for you and your school. Every school, every district is different, and every classroom is different, and there's a lot of differentiability that has to happen, but there's a lot of commonality on what really matters. And so we're going to help you uncover that and choose and get you started on the right path so that next year, and actually this time next year, we're in a better place than we are today. And that's one of our main goals when we work with districts.
Kyle:
Awesome. Awesome. And finally, we're going to help you sort of get this understanding as to why it's so important to set realistic, keyword is realistic friends, and measurable goals that can help you drive sustainable change in mathematics. Keep in mind, we're not calling anyone out here. I want to be completely honest and say I, as in a district leader role for about 10 years, I felt that we had set goals. So in the chat, let me know, do you set goals every year in your role or in your department or in your organization? Do you set math goals? Let's see, who's got yeses? We got all yeses.
Jon:
There's a couple yeses. Yeses. There they come.
Kyle:
Now. I'm curious. Be honest. How many times or how often do you feel that the goals are realistic? When you set those goals, are they truly realistic? And let's use a year.
Jon:
[inaudible 00:13:13].
Kyle:
Ooh, we have often and always.
Jon:
50/50.
Kyle:
50/50. That feels more common.
Jon:
Most.
Kyle:
Most of the time.
Jon:
Now, here's another one. Here's another one. How often would you say that those goals are specifically measurable in the sense that if you set a goal on this practice or this outcome or this student achievement that you've measured, what you've put into place to help achieve that goal? Give us a yes. If you're like, "Yeah, I'm always measuring all the goals we've set in place. We've got a tracking system in place." Or, "Hey, not yet." Maybe it's not yet.
Kyle:
I love it. Some people said, "Depends who you ask." So I like that some people are being a little bit more candid here, because again, you're in roles where of course you don't want to offend anyone. Maybe there's teammates that are here with you. And this isn't to call people out. It's that this is common practice in many of the organizations, the schools, the districts that are working. And the reality is that without these things, it can be very difficult to start doing that change.
Kyle:
Now, I wanted to bring out, and oh, I hope I didn't lose it here. There was someone who had said in the chat that if there is good intention, then I believe they're reachable. And I love that. That's like glass half full. But what we're actually talking about here is are we going to be able to do the necessary work in order to reach those goals? I think there's always good intention. I don't think there's any goals that are set with ill intention or no intention, but the reality is when we talk about realistic, realistic means that we have to have an action plan in order to get there.
Kyle:
So we're going to talk about some of that work today and hopefully get you in a position where you can start crafting some of those goals and start thinking about this work. This isn't something that will be finished in a one-hour session. This is work that you'll need to do over the next little while with your team. Or maybe you're already in that work with your team and you want to continue iterating.
Kyle:
So before we do though, for those who don't know us, I'm Kyle Pierce. You'll see me over there on the left of your screen. I've spent quite a number of years in the classroom, both as a high school math teacher, then for a number of years teaching halftime in the classroom and then doing an instructional coaching job. I would like to articulate my five years instructional coaching was really me just going and trying to put out fires everywhere.
Kyle:
If that's you, you can say, "Heck yeah," in the chat. I had no idea what I was doing, and I learned a massive, massive amount in doing that work. And I had really good intentions and I tried really, really hard, but it took me a very long time. And then I went into an instructional coordinator role K through 12. And once again, I've learned a massive amount, but the majority of my time in that role, I feel like I didn't actually get much done because there was so much work for me to do in understanding what the role is and what actually goes into doing mathematics and helping to shift programming across a school district. Over to my, well, to my left is Jon, to your who knows where he is on your screen. Jon, say hello to everybody.
Jon:
Hey, welcome everybody again. Yeah, I'm Jon. And I've been teaching math in the classroom for 18 years. It sounds so weird to say that because I still think of myself as a new teacher, even though it sounds so long when you say 18 years. Kyle and I have spent the last, ooh, 10 years sharing our best practices online, helping teachers that are in your districts change their mathematical practices to align more with the eight effective teaching practices and mathematical proficiencies, strengthening teacher practice. We've been doing that through a variety of different ways.
Jon:
One way in particular, we do this on a weekly basis. Maybe there are some folks who know us through this podcast. We host a weekly podcast. I don't know. Give us a yes if you're a listener to the podcast. We put out a weekly podcast where we talk with teachers who are in the classroom or we talk with leaders. Kyle and I often riff on different ideas ourselves. So you might know us through that.
Jon:
You also might know us through a few of our other websites. Tap Into Teen Minds, Mr. Orr is a Geek, Math Before Bed, Math is Visual are some of the websites that we contribute to. And also, you may know us that you've hit our virtual summit. Every year we host a virtual summit, a free online conference in November. We've been doing that for four years in a row. We'll continue to do that next year into November, a free conference for educators to strengthen their math practice.
Jon:
Kyle, let's get into it. Just let's talk about why math is hard because I think a lot of those pebbles we saw come out in the chat, it's kind of like good and bad in a sense because it's like we got these pebbles, but you folks aren't alone. They aren't alone in a sense of these pebbles aren't just in your district. There's actually some reasons why we experience the pebbles we do.
Jon:
And there's an article that we read not too long ago called Why Are Learning and Teaching Mathematics So Difficult from Alan Schoenfeld. And this article dives into three huge areas, massive areas of why it's so hard to learn math, but also why it's so hard to teach math. And in this session, we're going to kind of pick and choose some of these things to show you, hey, these are the things we're experiencing in our classrooms. These are the things we're experiencing in our schools and our districts, and these are the reasons we may be experiencing those things.
Kyle:
I love it. I love it. And the opening quote I think is what really captured us. For those who have followed the work that we do, it's really important to capture the attention of your audience, be it your students or the audience like you friends here, or maybe it's the reader if you're writing a report or an article, and this jumped right off the page at us, and I'm wondering, I want to know from you, show us an emoji if you are feeling this too. But this to me sort of gives you a bit of a pit in your stomach when you think about mathematics education in general. This quote that is in the article. It says, "School mathematics is the fossilized remains of real reasoning processes or real mathematical thinking."
Kyle:
And when I go back to everyone's pebble, and we saw how many people were talking about perseverance, and they were talking about productive struggle, and they were talking about thinking and they were talking about not mimicking, and they were talking about all of those things, this quote right here sort of summarizes what we see in general. And again, this isn't to insult anyone. This isn't to say like, "Ooh, feel bad about the work that you're doing in your district." The reality is that I, my classroom, that definition would define my classroom for the vast majority of my career.
Jon:
Totally.
Kyle:
When I was in the classroom, it took me a very long time to recognize that that is exactly what I was doing. I was taking these ideas that mathematicians had stumbled upon, and that's the key word stumbled upon. They didn't know it. No one told them. Pythagorean did not get told the Pythagorean theorem. He discovered it. Now we know that there were earlier discoveries prior, but that particular mathematician also discovered it, right? So the whole idea here is that is what real reasoning is and what real thinking is.
Kyle:
And that's actually the first part, one of the three big ideas that Schoenfeld says makes teaching and learning mathematics complex is this idea around thinking mathematically.
Jon:
And this idea goes to the heart of what it means to do mathematics. As leaders of mathematics, this is something that we have to answer ourselves. And a little bit later in this session, we're going to have you start to craft what your mathematics vision needs to be, and it has to be rooted in what you see mathematics to really be what it truly is.
Jon:
I'm wondering in the chat, what do you view what mathematics is. In one sentence, mathematics is dot, dot, dot. Complete that sentence. You can think about that while we keep kind of chatting here, but we have to answer that question before we can do anything else In terms of professional development, goal setting, we have to really understand what mathematics is because people have different views. Your classroom teachers have different views of what mathematics really is. And if we're not in alignment. It is one of the barriers to why teaching math is so hard is that we have to think about what truly is mathematics. And the idea is that most of mathematics.
Jon:
And this is partly what the author's view is, we're in alignment with this view, is that most of what really makes mathematics isn't taught in school. And that's why that quote at the beginning about the fossilized remains made sense for us and also for the author.
Jon:
But he goes on to say that in this article, what else makes this hard is that we're missing four big areas, four key things to what really should be about what mathematics is in the classroom. So Kyle's probably checking the chat, but Kyle, do you see anything in the chat that resembles some of what Schoenfeld is saying here is what's missing from our classrooms?
Kyle:
I mean, when they describe what mathematics is, and I would argue that if we went and extended that and said, is this happening consistently in your classrooms? I think many of us would probably say no, otherwise you probably wouldn't be on this webinar right now. You'd be like, if this is happening consistently, then you're probably good to go. You've solved the math education problem.
Kyle:
But I saw Rachel, for example, said, "Mathematics is a way to describe and understand the world and its processes." So she used that word process, which came out here on the screen. We see processes, content and practices. Something in this first point that jumps out at me is that what we tend to see in classrooms is a lot of content, right?
Jon:
Totally.
Kyle:
We see a lot of content. Now, we're not discounting content and we're not discounting standards, but keeping in mind the standards are really there as almost we look at it as excuses to explore mathematics. It's like an idea. Hey, here's some ideas that you might use in your class to help kids think mathematically. But unfortunately, no one ever told me that. No one ever taught me in that way, and I didn't understand it.
Kyle:
We saw a lot of people talking about thinking and reasoning. So I see that in problem solving. Problem solving strategies. And we're not talking like list problem solving strategies on the board. We know that that doesn't work. We still have problem solving frameworks up on the classroom walls. Just having frameworks, it's not the same as giving kids access to problem solving strategies. Access is something you gain over time when you work towards them, when you have expertise. Giving students this opportunity to explore metacognitively what they're thinking, what they're doing, developing that skill over time.
Kyle:
And then ultimately, I like how they have beliefs last because their mathematical beliefs are actually going to be generated from what happens in our math classrooms. And Jon, we'll be digging into that just shortly here, right?
Jon:
For sure. For sure. And here at Make Math Moments, we believe that in order for you to create an effective mathematics program at your school or in your districts, we believe that it has to be fostered like a strong and healthy balanced tree. And so when we view what's happening in the chat right now, when we think about what's missing in mathematics and we think about mathematics and what it really means to be a mathematician, that kind of brings up three areas of our six areas that we know is important on strengthening mathematics programs.
Jon:
So that brings up for us, and you can see that in the chat when Kyle was kind of picking and choosing a couple of them, that there's a lot of what goes into for beliefs in what mathematics is, hitting on mathematics, content knowledge, and proficiency. We saw a lot about thinking, we saw a lot about reasoning. We saw a lot about understanding patterns. But then we also saw some kind of ideas around pedagogical content knowledge, because that's intertwined in, if I'm going to bring out reasoning and problem solving strategies, we have to be proficient educators, practitioners, ready to go flexible with different strategies to bring that out over time.
Jon:
And Kyle has talked about just a moment ago about mindset and beliefs. That's part of us understanding what mathematics is. That's a huge influence on what we do in the classroom, what we talk about with our teachers. That's a huge influence on how to strengthen that tree. That's kind of the one huge area of why math is hard, is about what it means to think like a mathematician. But Kyle, let's dive into the second piece that he outlines on why math is hard, which is about the learning environment.
Kyle:
Absolutely. So this piece around beliefs, if we are actually thinking mathematically and we are giving students the opportunity, well, where are we giving them those opportunities? It's in the learning environment. And the reality is, while we know that students, their beliefs, and their experiences are heavily shaped in the home, the reality is is we spend a whole lot more time on a daily basis doing mathematical or mathematically focused things in the math classroom.
Kyle:
So you can imagine Schoenfeld here talks about and references research around the primary locale where their mathematics identities are shaped is in the classroom. So the reality is is if students think that mathematics is the copying and regurgitating of procedures and rules, then you can imagine that they believe that that is who they are as a mathematician. If they're good at mimicking, that's me, that's Jon, maybe some of you are those people as well, then you may identify as a mathematician or someone who is good at mathematics when in reality that is a very narrow focus and actually not a very accurate focus of what Schoenfeld is arguing is true mathematical thinking.
Kyle:
We have five pieces that he highlights here, and we can't tackle all of these today, but we're just trying to give you a sense as to how complex this work really is. But ultimately, there is a lot of things that is working against us in our roles as mathematics leaders. And I know Blaine is right under me tonight. I don't know, Blaine, am I above you? Is it consistent for everyone? I don't know.
Jon:
No. Because he's not under you for me.
Kyle:
Okay, I was wondering that. I've always wondered that. So Blaine, we were on a chat and we were chatting about some of these challenges, but in particular, right number one here is the mathematics itself. So the mathematics itself, and I know Blaine and his team, they're really focusing on how do we help our educators actually build the mathematical content knowledge? We're not saying that they don't know how to do algorithms. That's not what we're saying at all. We're saying how do we help position them so that they can develop their own mathematical content knowledge?
Kyle:
Because guess what, in districts, we're asking teachers to help students have a more cognitively demanding math curriculum. But the only way we can do that is if we understand the mathematics that we're trying to actually allow students to explore and learn.
Jon:
And Kyle, I'm going to jump down to the fifth one here to highlight, which is on formative assessment. I've been obsessed with assessment for 10 years now and trying to perfect that in my classroom. And I think where the article talks about why this has to be developed well is actually most educators, even though I know that you've had great intentions and you've talked about formative assessment all over the place and you've been giving different professional development sessions on it, you've brought it in, you've helped your teachers think about formative assessment. But the reality is that most educators are seeing formative assessment as some sort of instrument, some sort of thing to put in front of kids instead of a process and a process to inform your teachers' understanding of where that student is on their journey and how to use that information to change instruction so that they can continue their journey, continue going down this path.
Jon:
I was in this camp Kyle, I was a person who when I first heard this, I am told that formative assessment are like quizzes and summative assessments are like tests. But in reality, the way I viewed it and the way it was told to me, it was like all that was summative assessment. It was all value of learning because it all went through the report card and no one used anything. We didn't use what kids were showing us to change our instruction.
Jon:
That's one of the hard things that we have to help our teachers with is think about what is going on with their assessment. How can we view that assessment to inform our instruction? That's a big issue of what needs to happen in our classrooms if we're going to create this robust learning environment so that students can achieve that mathematical thinking that we already established.
Kyle:
And keeping in mind once again that all of these pieces play together. It's very difficult for us to help students with agency, ownership, and identity if my own agency, ownership, and identity has been limited in my own experience learning mathematics.
Kyle:
Now, here's the thing, and I want you to be honest out there, okay, you friends are on a webinar with us right now. We were over 200, now we're at 199, but we were at 200 people. We had a bunch of people here joining us. I want to ask you a quick question in the chat, just say yes or no. How many of you have done some learning in mathematics, be it content knowledge or pedagogical practices outside of the workday? Go ahead, let us know in the chat.
Jon:
Of course they have.
Kyle:
I'm shocked.
Jon:
Of course they have.
Kyle:
I'm shocked. Look at that. Ultimately that work, and I'm going to be honest, and I will say, and I'm being very conservative. In my journey as a mathematics educator, I used to stay at the school until after all of the basketball practices were done until 8:00 PM every single night and that was just to lesson plan. And in that process, my lessons were some of the worst lessons ever, but I was trying my darnedest.
Kyle:
Now here's the thing. I put in over 10,000 hours outside of the school day, and it still took me over 15 years to sort of start feeling like I was putting the pieces together. This is really, really tough work. And you can see in that list that now we're actually starting to expand things a little bit because now we're talking about the classroom environment. That's the fourth piece here to our tree, to our math program that we need to be aware of.
Kyle:
And the reality is, this isn't something that someone just chooses. I didn't choose to not know what real mathematics thinking was, and I didn't choose my beliefs. I had my beliefs. That was something that I had with me, I brought and it developed over time. So we have these massive, massive challenges that we are up against. And I saw a lot of people share this in the chat, and it is a massive pebble. It's like, how do we help shift teacher beliefs when in reality their beliefs have been formed over their 25, 30, 40, 50, 60 years on this planet, and we are wanting to try to shift those beliefs?
Kyle:
So my wonder is here, we want to take a quick pause and we're wondering what's been done so far. Think to your pebble that you shared out, and then what sort of work has been done so far? Of course, we can't take your entire action plan, but what is some of the work that has been done. Not necessarily around mindset, but around your pebble, what's some of the work that's been going on in your school district, organization in order to help address those pebbles that you had shared earlier? So we'll give you a little bit of time there. We'll catch our breath and then we're going to try to [inaudible 00:33:19]-
Jon:
Think time. Think time.
Kyle:
… shift some gears, right, Jon, to start exposing what our first or our next step might be-
Jon:
Some action items.
Kyle:
… to build off of these ideas, yes.
Jon:
Totally. Awesome.
Kyle:
Jon, I'm going to let you look to the chat here and share some of what you're seeing.
Jon:
I'm looking. I'm looking. I'm giving some quiet think time. I'm one of those people that need that quiet time to process my thoughts.
Kyle:
I just keep talking.
Jon:
Kyle and I, even though we're very similar, he can do two things at once. I have a hard time reading and talking at the same time, but I'm still doing that. Actually, I have not read anything yet. Let me, give me a second.
Kyle:
I was going to say you're lying.
Jon:
All right, I'm going to pull some apart here. Kyle, I'm seeing a lot of workshops. Folks are engaging their teachers in workshops, professional development, teams. We are seeing conferences, helping people go to conferences. I'm seeing embedded conversations with curricular view. Ah, I'm seeing PD around conceptual understanding of mathematics.
Kyle:
Love it.
Jon:
Yes. We're going to talk about that one in just a moment. I'm seeing Carol is sharing others' work like Jo Boaler and Math Mindsets and NCTM resources. I'm seeing Trish, oh, welcome Trish, welcome Trish, around the five practices and building thinking classrooms. So we got some of that growth in coaches. Lots of-
Kyle:
I'm going to go here because I saw Rebecca say at eight practices from NCTM. We did have a slide where we were going to bring up at some point, but you beat us to it. So amazing.
Jon:
Perfect. Yeah, so we're seeing a lot of great ideas here on what people are doing in mathematics. They're thinking about trying these things we're putting into place, these things are helping to address the pebbles that we've seen. This is what our job is to try to make improvement in math instruction, change our student results, change our student success levels and achievements. These all make sense. These are all kind of great places. I think we're going to kind of comment on a couple of these a little bit later and kind of compare what is working and what can be shipped a little bit.
Jon:
Because remember, part of this webinar is we want you to walk away with knowing what your plan is going to be for next year and knowing what makes a difference and what doesn't. Because I'm going to argue some of these things make a huge difference. And some of them could be like maybe we should shift away from this next year and focus more on some of these areas.
Jon:
So to do that, let's bring in the third area of why teaching math and learning math is so difficult. And Schoenfeld talks about the cultural surround. So the cultural surround is what's in place outside of our classroom and outside of mathematics in general that prevent us from doing a great job achieving the things we want to achieve. These are all the outside factors that kind of prevent us from doing that. And so we're going to talk about three specific ones here today on what we call barriers to progress.
Jon:
And one that we know of, and this is one, Kyle, that we experience when we talk with district leaders, like I said at the beginning of this call, is that we've been speaking with I think over 200 over the last six months. And one of the things that's most common is after we kind of dig a little bit is that our leaders think that we need to change pedagogical practices. And that might be true, that should be one of our focuses. But paired with that is that teachers, if they're going to be successful in changing their pedagogy, if they're going to be successful in trying strategies in the classroom, they have to be very confident and very flexible with that conceptual understanding of mathematics.
Jon:
Because if you're going to ask a teacher to think on the fly, to be able to be like, "I'm not going to do the I do, we do, you do model." I'm going to be like, "I'm going to try getting my students at the boards." Maybe I'm following my building thinking classrooms. Maybe I'm following the five practices for orchestrating productive mathematical discussions, which asks my students to try strategies, and my job is to tie strategies together, the teachers have to be very good, very confident with different strategies in math.
Jon:
And that is one of the barriers right now that we're seeing in a lot of districts is that the math content level of confidence for teachers in all grades, Kyle, all grades. So a lot of folks focus on, hey, our elementary teachers, we need them to strengthen their math. They don't have math degrees, but I'm going to argue our high school teachers, I'm a high school teacher, Kyle was a high school teacher.
Jon:
I did not know the conceptual understanding of many topics. I was very good at following the procedures. I was very good at telling my students how to follow the procedures. Probably I had a lot of success just in engagement just because of my personality, not because of the mathematics I was unveiling to them, not the conceptual understanding of that mathematics. Our teachers still need, all of them, need a deeper understanding of how math connects so that we can use models and flexible strategies to build that fluency. That's our biggest barrier that we're seeing right now, to achieving the success levels, the achievement levels, the change in pedagogical practice that we're hoping to see at the end of the year. We got to help our teachers with their math better.
Jon:
And how many, I don't know. I'm curious in the chat is how many, I saw one, of those ideas that are strengthening math pedagogy or math ideas in their classrooms. One strategy that was shared just a moment ago, Kyle, said they focused on the conceptual understanding of math. How many PD sessions, how many times have we put into place or part of our math goals is to help our teachers understand the math and experience the math as students before we ask them to teach it to kids?
Kyle:
And again, if we go back to the challenge and the hurdle that educators have, it's not a decision they get to just make. They don't get to decide starting next year, we're going to teach conceptually. There is a lot of work and time and effort that is involved there. So when we go all the way back, when we talked about setting goals and we talked about realistic goal to me would not be that all of a sudden, by the end of this school year, we teach everything conceptually. Because I think it's actually humanly impossible given the constraints.
Kyle:
But what we can do is we can set a goal that we're going to try to teach more conceptually and maybe we're going to drill down, we're going to start with this particular topic and we're going to do something specific and we're going to set a key result that's going to be connected to that work. We're still getting closer to the end result. But what we're not doing is saying we're going to flip the switch and start teaching conceptually.
Kyle:
And when we go back to our tree and you start to see, cultural surround is connected to all of these areas. I would argue that they're all connected. But now we start to think about how do we overcome them? And that's where our roles in district positions and organization, or even just as a department chair, our role in the leadership is really key here. We talk about that as the trunk of the tree. Not to say that the trunk is the most important part, but guess what? If that trunk is not strong, if it is not well-developed, if it doesn't continue developing, it will not be strong enough to support the rest of the tree. So it is very, very important that we as district leaders are working to build and develop that trunk.
Kyle:
If we cut through that trunk and we look at it, you see all those rings. It's not something that happened overnight. We can't just do this work overnight. It's like every year we get a new ring, we get a new ring, we get a new ring, and that trunk gets wider and wider and stronger and stronger over time. And then finally, that's where we start looking at our professional development structure.
Kyle:
Now here is the challenge, and this is sort of our challenge to you friends as a group. Some of you are here as a team. I know some of you have your partners in the room, which is awesome. For some of you, you are the lone ranger, right? I'm guessing, I'm not sure, Julie, we were chatting with Julie last week, but Julie might be the lone ranger in here in her world right now. So the question then from today is how do we start considering all of the challenges that we have in mathematics and then start thinking about how do we take our plan? I don't want to say you're crafting it from scratch because you all have plans. You've had plans in past years. How do we take it and how do we continue to refine it?
Kyle:
Because one of the biggest pieces that really hinders our ability to make sustainable change is that we either have some sort of misalignment, be it communication issues, you get in the telephone game. Maybe it's a lack of priority in terms of the work that we're trying to achieve. Or, we put in brackets, too many priorities. Because as Jon always says, if we have too many priorities, we're focusing on none of them. So really having this time to think about what part of my tree.
Kyle:
For those who did our assessment screener, some of you have a highlighted area that you might consider with your team to focus on. It doesn't mean it's the best next move for you, but it's highlighting based on some of your questions that it seems like a great place to begin. One thing we know we can't do is change everything.
Kyle:
Now today for you, the things that you can actually implement in your world, is to start thinking about your measurable, clear, attainable math vision and the plan for mathematics. So that's taking what you have already and trying to figure out how do we adjust it so that it can be as impactful and sustainable as possible. Because again, this other issue is the lack of that clear, measurable, attainable vision. And ultimately what you'll have is, and we're going to have you share it in just a second, some of the things that you want to see happening in your district.
Kyle:
And the reality is is that when we have you list your wishlist of all the things that you would like seeing in an effective classroom, when I walk into a classroom, we're going to have you share out, I would love to see this. I'd love to see that. I'd love to see all of these things. What ends up happening is the more people in your district that you talk to, the more pieces get thrown on the table. And when you look at all of these pieces, they're all amazing.
Kyle:
Right over here, this one right here, this is using vertical, non-permanent surfaces. Because we know vertical non-permanent surfaces, based on Peter Liljedahl's work, will help students get on task faster and stay on task faster. It'll also get them thinking more. But then over here, there's this other one, math talks, trying to do math talks in our district.
Kyle:
All of these pieces are all amazing things that we want for our math classroom. But the reality is that you likely have across your school, department, your organization, you have different educators pushing different puzzle pieces, and one of the biggest challenges in our worry for math education is that we're pushing these puzzle pieces, but we actually don't know what the finished puzzle should look like. So we're doing the work, we saw it, you listed the things you're working on already, but do we know what that finished puzzle is? Are we pushing the pieces in the right direction to get closer so that we can bring it together and start putting this puzzle together and that everyone in the district is aligned to go, "Yep, we are heading towards that. That is the finished puzzle piece."
Jon:
I was going to add to that, Kyle, you beat me to it. But the idea that a lot of times you know what the finished puzzle should look like and it's just maybe not been translated to the key stakeholders that need to know. And for example, somebody above, let me just scroll back up, asked about time. How do we make time? And teachers will often quote time as a barrier to making change in their classroom.
Jon:
And what we have found is that time goes with priority. Have we made this a priority? And what the teacher says when I don't have enough time, they're saying that that is not a priority for me at this time. And part of that is this vision. If we don't have a clear vision that's communicated to all key stakeholders, then there's no incentive. There's no incentive for that teacher to shift their practice to meet what you're asking them to do because they've got a lot of outside factors.
Jon:
There's parents that they're being answered to. Part of their job is I have to teach this standard, this standard, this standard, this standard. All the standards have been itemized. And we have to go ahead and check all those off. And if the administrator, think about they have to answer to their administrators in their buildings, and if the administrator doesn't know the math vision that the district leader or the curriculum consultant or the director has set for mathematics, if not everyone is aligned and the administrator doesn't know that, then the teacher doesn't feel like the administrator has their back if they're going to make a change. Because there's a lot of pressure.
Jon:
If I'm going to be a teacher and I'm going to go down this path over here, which is different, I don't know if I go down this path that I'm going to be able to get to all these standards because it's new. I know this path. I've been there the 20 years in a row, but this path is different. And if I go down that path, is everyone going to get mad at me? Is my administrator going to come at me because I didn't teach the exact standards because I took a chance? Because the curriculum consultant is asking me to take a chance here? If the administrator knows what the vision is and is on board with the vision and says that's our priority and has communicated that to the teacher, now that pressure has been lifted.
Jon:
That says, oh, that's a priority for us in the building, and we know that if I go down this path now, which is risky, that I know that my administrator and everybody in my department has my back because that's our priorities this year. That's our vision. And then we know that if a parent calls, then we know that we've got support. We've got support to kind of move down these new pathways. But it can't happen unless the vision has been set. It's clear, it's been measured, there is a place for us to measure it, and everybody's on board. And the reality, Kyle, is that most of the districts we talked to over the last six months is some people have these puzzle pieces and we've been moving them in place, but that puzzle isn't set and every key stakeholder is on board with where that puzzle needs to go.
Kyle:
Now this is a challenge and one big pushback everyone will have is that there are so many things that are urgent. So many things that are urgent. We're just talking about mathematics. There's all the other subject areas when we talk across a school, a department, a district, an organization. But the reality is is that it comes back to that word realistic and attainable.
Kyle:
And the reality is is that if we want to use, we call it the spaghetti against the wall method, what we can expect is probably a lot of the same. The reality is that goals have been set in districts, in schools, in organizations. This isn't a new thing. It's not a 2023 thing. It's not a after Covid thing. Goals have been set for decades, for very long time. But the reality is that if we want to make real change, we need to get serious about ensuring that it's realistic. And we need to also imagine what would that look like?
Kyle:
So we go back to the time piece. If you know that the goals that have been set, the time is not there, or we can't help a teacher figure out where to make the time, then it's not a realistic goal. Then it's just plain and simple. It really isn't. So we need to stop fooling ourselves.
Kyle:
So for example, when I'm trying to lose some weight, if I continue to eat the way I have been eating and I don't do any more exercise, I cannot expect a change to happen. It just does not make sense. But we do this a lot in education because we're supposed to, and we have a lot of stakeholders.
Kyle:
So that's one of the big things that we're going to have you do now is to start thinking about this. We're going to encourage you to share it in the chat, but some of you're going to want to maybe jot some of this down on paper. We also have a link up at the top and we actually have a Google Doc you can create and make a copy of. We won't be able to see what you write in there or anything like that unless you're a district partner. A few of you out there are some of our partner friends we see in your document because we help you co-construct them. But for those who are going to this link, you'll get yourself your own copy and you can jot it down there.
Kyle:
But what I'd like to see in the chat, what are some of, we call it the magic wand wishlist items. So if you could wave the magic wand and all of a sudden none of the barriers are there, none of the challenges are there. Time is not an issue supply teachers or occasional teacher coverage isn't an issue. What would you see happening in your math classrooms? Let's get some of these ideas down here.
Kyle:
And really what you can envision in your mind is like we're getting puzzle pieces down. And when you get the puzzle pieces on the table, that's when you can start looking and going, okay, what do I want the finished puzzle to start looking like? And that'll get us a little further down this process. And this is work that will need to happen, and it will need to iterate with you and your team in order to get closer and closer to a more realistic, clear, concise and measurable vision with goals.
Jon:
And as those come in the chat, so you're thinking about again, what does the completed puzzle look like? What do you want to see in your classrooms? Because we're going to kind of reverse engineer a little bit from there is when you start to get those out and brainstorm and someone said they're going to do this with their staff. I mean, that is a great activity.
Jon:
This is actually step one with the work that we do with districts who partner with us. We kind of do a needs analysis. We think about the work that they did on their district assessment, their screener, and then we start to craft what do we want the final kind of puzzle to look like? And then we're going to reverse engineer to get there. And it starts with creating that magic wand wishlist.
Jon:
So as Kyle said, if you go to makemathmoments.com/goals, you can download our vision planning kit, which has a number of different templates you can use to start planning that process. That's step one in the work that needs to get done to create the goals.
Jon:
Now, step two, as you're kind of putting this in the chat, step two is once you've kind of articulated what you want the puzzle to look like, step two is narrowing that down and focusing on your OKRs. So OKRs is a process of you stating, what are my key objectives? What are my objectives? These are my big ideas. And this is this idea that we said before. We want you to narrow that to three key objectives for the year, not four. Pick three. Keep it small. Because if you focus on too many things, you're focusing on none. The objectives are, these are the big things I want to hit this year.
Jon:
We've had districts that we've worked with in the past say, "I want to focus on productive struggle in the classroom." We've had another district pick one of their key objective to be changing mathematical beliefs with administrators. We've had another one talk about building fluency in conceptual understanding. These are big mathematical things that we want to have work towards. Now that's the objective.
Jon:
Now, the real nuts and bolts here is for you to develop what we call key results. These are measurable things that you can actually quantify, that you can put a number on. These are the things that you want to put underneath each key objective or each objective so that you can say, "I did this, we did this, we did this," and we see the result of that. So that might be thinking about how to measure that with say, a survey, or maybe it's student data.
Jon:
But here's the thing about setting your key result measurable is if you want to see a change in practice with teacher practice. So if you want to see, say I want to see more teachers using a building thinking classroom, that's been a lot that we've talked with districts about. Then we should measure that teacher practice. A lot of times what districts will do is measure the student result at the end of the year, and there's a lot of factors that go into place to produce that student result. And we can't set a clearer line between what we wanted to change, teacher practice, and that result.
Jon:
So what we want to do is when we partner with districts, we set up that key measurable to track exactly what we want to see improvement on. So if we want to change teacher practice, we're going to measure teacher practice so that at the end of the year, 180 days later, we've seen results that have been changed and they're improved. And we can say at end of the year that whatever we did starting now, because you're starting right now, the fact that you're here on this webinar means you're one step closer to achieving this, is at the end of the year, next 180 days, you're going to be like, "Hey, we put that into place and here's the result we got. And we've seen improvement in teacher practice." If that's that practice.
Jon:
So you can also, in the vision planning kit, you can get an example, a vision statement with objectives and key results that a district that we've worked with has built. And I got a blank one there and there for you as well. Kyle, what are you seeing in the chat?
Kyle:
Seeing lots of great stuff. I feel like there's some head nodding going on. I see it in the cameras. That's awesome. Right on point. Some people are saying though, can you give an example of how to measure the use of BTC without depending on student data? And this is really interesting because we talk with our district partner friends about this work all the time. And the reality is it really depends on what you're measuring. Because guess what? There are 14 practices last time I checked that are connected to building a thinking classroom. So which one are you trying to measure? That is going to dictate what you are trying to measure.
Kyle:
So the reality is when you back up for a second, a lot of times we actually make things way more hard and difficult and complex or I'm going to use complicated, then they need to be because the reality is that if we are doing this thing, the question we want to ask ourself is why are we doing that thing? What are we anticipating it's going to do? In the long run, everything we do is for student achievement. We know that. But let's be honest, when you start anything new, you're not anticipating that all of a sudden the marks are going to go through the roof. Although we usually set our key results to measure that, which does not make any sense. It really doesn't. Setting yourself up for actually feeling not so great about yourself.
Kyle:
And then what happens is we end up moving on from that practice. So we go, you know what? So if we're talking about the practice of actually physically getting up and going to the vertical non-permanent surfaces, we have a district that is working on that. And that is going to be one of the objectives they have is trying to get more time at the whiteboard students collaborating. And the question then becomes is, well in how many classrooms is it happening now? And they don't know. All right, well how can we figure that out?
Kyle:
We can go with honesty and just go with teachers just open and honest. That's great. We can do that. Oftentimes when we ask about effectiveness, teachers tend to be more efficacious than maybe they really are, right? We think we're doing amazing work because we're doing the best we can. So what other measure can we do? Does that mean a walkthrough where you're just going and you're just basically counting? How many classes did you walk into where you saw students working at the whiteboard? It's not going to be perfect, but you need to structure it in a way that you're measuring what it is that you're trying to change. And of course the change you're trying to make is supposed to, in the longer term, address something.
Kyle:
So I would argue that building thinking classrooms actually is not designed for all of a sudden test scores to go up. What it's really trying to do is it's trying to get students to do more of the thinking that is different. That is very different. Because with the same district that we've been working with, now that they've measured and saw how many classes students were standing up at the boards when they went in, and they haven't done their next one, but they've done kind of an informal check-in, the next question we had is how are you going to measure the intentionality? Because you know what I used to do? I'd get kids standing up at the boards and then they would regurgitate the stuff that I already taught them in the note and that is not going to help us make the change that we really wanted to make.
Kyle:
So this is the work that Jon and I have been so passionate about doing more recently is actually working and essentially being accountability partners for the handful of districts that we've had the pleasure and really the honor of being able to learn alongside with. We get to ask the harder questions. And sometimes we ask very simple questions and they seem obvious after the point. But the reality is when you're in a role where you are there and you're trying to grow all six areas of that mathematical tree of that math program, it is incredibly difficult.
Kyle:
And once again, I'm going to guess and I see Jordan, I just saw Jordan in the room who, Jordan, I'm going to pick on him right now. When you applied for your role to be a mathematical leader in your district, I'm going to guess that there was a list of all kinds of things that you were responsible for. All the math things. And then at the end there's like a line, somebody want to beat me to it in the chat? What's the line that's at the end of every job posting where there's a role of responsibility? It would say, ooh it says teacher PD. Yeah, that's baked in there.
Jon:
That's in there. That's in there.
Kyle:
I don't know.
Jon:
Oh, duties as assigned.
Kyle:
Duties as assigned. Nicely done there, Blaine.
Jon:
He knew the answer.
Kyle:
Fellow Canadians.
Jon:
He knew the answer.
Kyle:
Fellow Canadians.
Jon:
Yes.
Kyle:
So other duties as assigned. So you are wearing all these hats, but here's the crazy part. Never have I seen a job posting where it says, "Here is the support we are going to provide you to prepare you to do this role that you've never done in your entire life before." Right? Never done it. You are now [inaudible 00:59:03].
Kyle:
So when I took on the K to 12 math consultant role in my district, it was the first time we ever had a math consultant, and I basically walked in and was like, "What do we do now? What is it that we need to do?" So that's the work that Jon and I have been doing, and we essentially work together with friends just like you in order to craft not only a plan, we tend to start with the trunk because that's where a lot of districts end up being, but ultimately-
Jon:
Almost all.
Kyle:
… we try to co-construct a plan that matches your current goals, some of the district priorities that are set in stone and that cannot be changed, but to help you make them more realistic, measurable. And then once again, we try to be that accountability partner to try to ensure that we make real progress so all of that hard work, all of that extra thinking, all of those extra hours that you put in into the role you're in, that they actually go and start shifting and moving the needle in the direction you're trying to get it to.
Jon:
And what we often have to do, we said this at the beginning of the session, is that every district is unique. Every district has different priorities, different needs, and this is a customized program. When we work with a district, it's fully customized to that district.
Jon:
So oftentimes what it's going to look like, what to expect is that we do sit down, we do that needs analysis. We go through with you the magic wand wishlist. We help to craft those goals. What should those goals be and how are we going to measure them? We co-create that together. We do that vision planning together. We do the monitoring together, and then a lot of times we develop what the actual program and help to carry out that program. We aim this to be a fully sustainable program.
Jon:
The reality is, it's just Kyle and I that do this work. It's our life's passion work. And when we partner with a district, our goal is to give that district everything they need so that by the end of that year, and we often partner for three years by the end of that timeframe, is that the district is strengthened at the leadership level and the teacher level. And the idea there is that we want it to be a sustainable program. We don't want you to need us forever. We want to be there to build a system with you so that when we leave, that system can remain strong and that can keep going. And then we can go partner with another district and build that system there. Our goal is to strengthen mathematics across North America and the world, and we're going to start with different districts and giving them what they need so that we can build that system.
Jon:
And the reality is we only partner with a handful each year because of that idea of that work. And we actually have a couple slots left open for the 2023, 2024 year, and part of that is we start that work immediately when this is something that you want in your program, you want in your school.
Jon:
So, we know budget is always an issue when it comes to professional development, but I want you to think right now, if you took budget and you threw it out the window for a moment, oh my gosh, I just said that, took budget and threw it out the window for a moment. Could you say, "This is a program I could use or I need in my school district?" And if you say yes, then you might be a great fit. We only partner with a couple. And so a step would be to head on over to that same page and click the book a time to call with us. We'll chat and see if it's the right program for you. As I said, we got a couple slots left going into next year that need to be filled before the year is up. And if you think you're a good fit, then we'll have a chat and see if it's a good fit for you.
Kyle:
Yeah, and guess what? If the spots do fill up, Jon, people can maybe hate at a couple friends in the room here because some of those friends just snagged a couple spots. So good on them for starting that work. So that's the work that we'll be doing. So you'll see there's a link up on the screen. When you get to that page, basically you have access to the planning workbook and sort of getting yourself going, and hopefully you've looked at this time together as an opportunity to maybe take a step back for a second and think about the work that you've done in the past.
Kyle:
And please, please do not take any of what we've said here is that you've been not doing it correctly or that it hasn't been helpful because every single thing that we've done over the years is helpful. That PD that you're doing it is helpful. What we want to do though, is we want to shift it so that we can make it as intentional as possible.
Kyle:
Just like, when I go into a classroom and I think about all of the years of teaching when I didn't understand exactly what a math classroom or effective math classroom might look like. I mean, it wasn't all for naught, right? Students did do learning and there was good things happening there. It just wasn't as impactful or as intentional as I would've liked it to be.
Kyle:
So please, I hope when you look at this session, we will be sending out a replay as well. So some people were saying they missed part of it. And also really, I think you want to take that time. If you decide that you're going to go it alone, your district's in a spot where you're feeling really good about the work that you're doing, awesome, keep going. But take that plan that you have and let's start thinking about how do we craft it in such a way so it's clear, it's concise, it's measurable, remember, realistic, attainable. Those are really, really important pieces.
Kyle:
Because at the end of next school year, you don't want to look back and sort of go, "Wow, we did all of these things." And all of a sudden all you can think of in your mind, because this was me, is we did all of these things. And I know there was movement. I know there was movement. And then when somebody says, "Well, how do you know?" And it just sort of like, "Because. I can tell." We want more than that, and we want to start shifting those puzzle pieces so that they start coming together. And we want to make sure that educators across the system are coming up with a common understanding of what it is that we're asking them to do.
Kyle:
So for almost a decade, I was asking my colleagues when I was a department chair and then as a district leader, I was asking them to do something that was clear in my mind, but very unclear and very foggy in their minds. So whether you choose to go at that route, awesome. If you think your district's in a spot where you're going, "You know what? It would be great to have that accountability partner." And you think back to some of the things that we do that we want to make habits out of. And the best example is brushing your teeth. How many people were kids? How many people were kids? At one point? I want to see some people with the camera.
Jon:
Nice question.
Kyle:
How many people? A few of you were kids. No, you were all kids at one point. And your parents or your guardians used to say, "You got to brush your teeth in the morning, the afternoon." That is external accountability. As much as it'd kick and scream and you didn't want to do it, I'm going to guess, I hope, that you are actually brushing your teeth every day now, and that's now internal. You've internalized that as a habit.
Kyle:
What we try to design with districts is we want to help you create habits where you don't have to commit in your memory. You don't have to think and spend mental energy on doing some of these things that we know are going to help you move that needle. That's really one of the main things that we do with our districts. And again, we ask simple questions, we ask harder questions, and of course we support you with the work. So what through meetings, through PD, whatever is needed. Everything is on a custom basis.
Kyle:
When you hit that page, if you are interested, you can grab a spot in our calendar. We'll listen to your exact context, better understand whether it is a good fit. We cannot work with every district that we've met with. And then sometimes it's just not a good fit simply because of maybe some of the barriers. One thing I can say is that the barrier has never seemed to be budget because we always work with budgets. We try our best to make it work for you. But the one thing that we don't want to do is we don't want to put you in a spot where we can tell that your district is not in a position to partner on a program such as this one.
Jon:
Yeah, I would say if you are thinking about it, book a time and meet with us, and then we can look at your situation, look at your unique needs, and then we can work out a plan together so that you're not saying no right now. So decide, "Hey, is this the right program for me and my district?" If you're saying yes, then book a time and we will work out some details with you specifically.
Kyle:
Well, today, Jon, folks had an opportunity to listen to what matters most. And actually we sort of addressed some of the challenges in teaching and learning mathematics and ultimately, I think we addressed all six areas of our math program tree. And we uncovered why it's so difficult. And we did that not to sort of make you feel bad about yourself or how hard this is to do this work, but just so that you recognize that this is hard work and this will take time. But most importantly is that we need to start with a plan.
Kyle:
So whether you're in the classroom, you're a teacher in your own math program, you have to start thinking about what is your plan? What is your vision for your math classroom? If you're in a district leader audience or in a district leader setting, I should say, you have to start thinking about what does that look like and sound like for you and your leadership team? Get clear and concise on what it is that you're hoping to see change.
Kyle:
Because, Jon, as we mentioned in that webinar, something that we always hear people saying is they're like, we want to shift teacher practice. But the question is what does that look like and sound like in a short elevator pitch? Does every educator in the system that you're working within, do they know what it is that you are trying to get them to do? And oftentimes the answer is no. It's clear in your own mind, but it's not clear in everyone else's mind. So we need to gain clarity at the system level.
Kyle:
And this might be in your own classroom. And again, if you're a teacher, be a teacher leader. It might be in your grade band in your school. You go, "Hey, let's work on what is it that we are trying to achieve here?" Because we're all trying to help students. We know that. That's why we're in this thing called education. But at the end of the day, if everyone's vision is different, even if it's just a little bit different, think of how far apart you're going to be after a number of years down the road.
Jon:
Yeah. So if we think about our tree, in the webinar, we touched on pretty much all aspects of the six parts of the tree, the six parts of an effective mathematics program. But we heavily discussed the trunk of the tree, the leadership, the vision that Kyle just referenced in setting those clear, measurable and achievable goals in setting key results so we can hit those goals. So that by the end of the year, we know exactly what goals we have hit, what goals we haven't, and we're kind of rounding out what that program can achieve the next year as well. So that talks in addresses, the trunk of the tree.
Jon:
We talked about the roots of the tree should be part of that process of thinking about strengthening teachers' content knowledge so that they have the flexibility to move in the classroom or implement those teacher moves, those pedagogical moves that we always want our teachers to do. So we have to strengthen those roots up.
Jon:
We talked a lot about mindset, which is the soil, the water, and the sunlight. The limbs. We specifically kind of gave suggestions about how to think about structuring PD, the professional development so that our teachers are in a good spot to develop their roots and also develop their branches of the tree, which is their teacher moves, the pedagogical structures they're using in the classroom, how their lessons are designed. And the last thing we talked briefly about was like what lessons actually help us do that, which are the leaves of the tree.
Jon:
So improving the six parts of your tree is on your to-do list. We can't necessarily do all six at once, but we want to think about which do we want to improve upon right away. And if you're not sure exactly which of those six to improve upon right now, you can head on over to makemathmoments.com/report. That's makemathmoments.com/report and get your free report which tells you which of the six you should focus on, whether you're a leader or whether you're a classroom teacher.
Kyle:
I love it, Jon. And when those assessment screeners come through, we get a notification. So we get to kind of see who is actually engaging with that assessment screener. And what I've loved most recently is we're starting to see people filling them in within the same day from the same district. And what that tells us is that we have a group of educators who are all doing this, and then our hope is that they're coming together, or maybe they're even in the same room doing this thing together so that they can engage in a discussion and discuss some of the things that intrigued them.
Kyle:
So oftentimes you'll see some of the questions in the screener can actually create a massive discussion where you thought that was clarity across your grade band or maybe across your school or across your district, but there actually isn't clarity. There is a lack of clarity. So use the screener so you can selfishly improve your own program for your students, but also use the screener as a means to start conversations within your school, within your district, or even beyond.
Kyle:
So keep on going over at makemathmoments.com/report, and you will not only have a great 10-minute screener that you can go through with great questions that will start great discussions and you'll be able to actually use this report to take the next step in the area of the tree that you could use the most support in.
Kyle:
Friends, show notes, links to resources, and complete transcripts can be found over on the Make Math Moments website. That's at makemathmoments.com/episode238. Again, at makemathmoments.com/episode238. And on that show notes page, keep in mind, that planning kit you have, which we've sort of designed specifically for a district, but could be used in a school setting, it could even be used in a grade band or department setting. You will find it on that show notes page. So you can go over to makemathmoments.com/episode238, and you can grab that planning kit right now.
Kyle:
Well, until next time, my friends, I'm Kyle Pearce.
Jon:
And I'm Jon Orr.
Kyle:
High fives for us.
Jon:
And a high five for you.
DOWNLOAD THE MAKE MATH MOMENTS FROM A DISTANCE CHEAT SHEETS
Download the Cheat Sheets in PDF form so you can effectively run problem based lessons from a distance!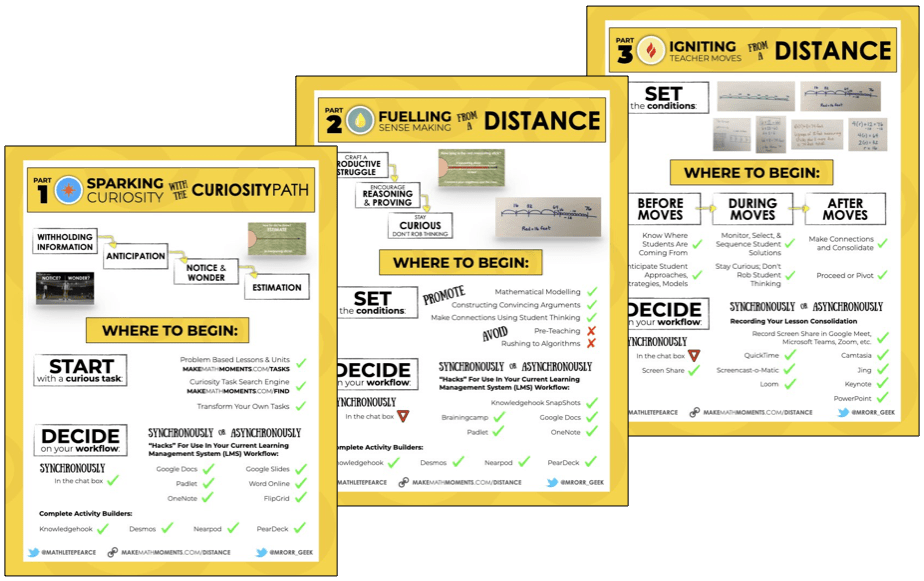 UP YOUR DISTANCE LEARNING GAME IN THE ACADEMY
There is a LOT to know, understand, and do to Make Math Moments From a Distance.
That's why so many Math Moment Makers like YOU have joined the Academy for a month ON US!
You heard right: 30 days on us and you can cancel anytime. Dive into our distance learning course now…
Thanks For Listening
Leave a note in the comment section below.
To help out the show:
ONLINE WORKSHOP REGISTRATION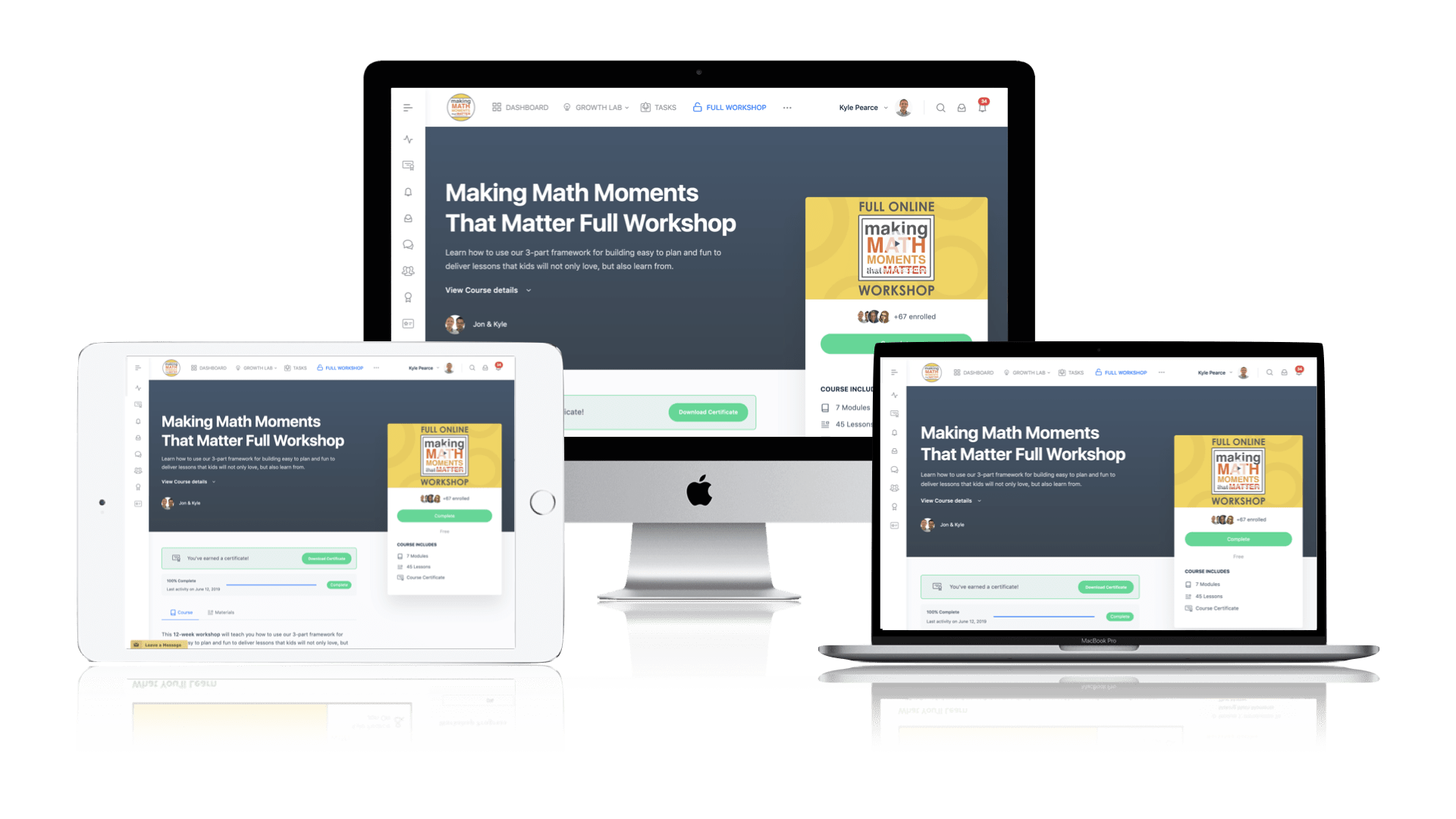 Pedagogically aligned for teachers of K through Grade 12 with content specific examples from Grades 3 through Grade 10.
In our self-paced, 12-week Online Workshop, you'll learn how to craft new and transform your current lessons to Spark Curiosity, Fuel Sense Making, and Ignite Your Teacher Moves to promote resilient problem solvers.