Modified and Editable Curriculum Documents and Resources
There are a ton of resources floating around the Math Twitter Blogosphere #MTBoS regarding the MTH1W De-streamed Mathematics, 9 course so I thought I would share what I've been working on as well as some of the other work from around the province.
Dynamically Updated Google Doc With Resource Links By Strand & Overall Expectation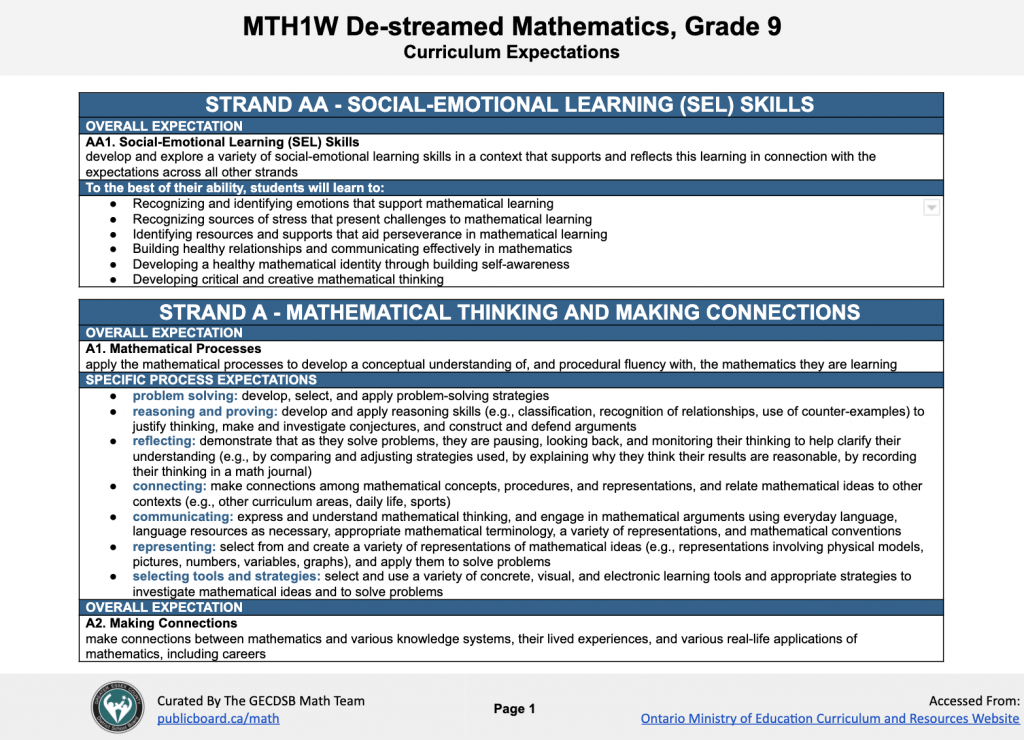 There are some other great resources being shared around the web including the following MTH1W Resources Shared By Gerard Lewis including:
The following Excel spreadsheet was shared by Cal Armstrong:
If you know of other useful materials worth sharing, please drop the link in the comments section at the bottom.
Understanding the "Why" Behind De-streaming
With so many Ontario mathematics educators having had their perspective influenced through a "streamed" or "tracked" education system, it can be hard to understand why there is a need for change.
After all – a streamed high school mathematics system worked for us, right?
It might be helpful to start by learning more about why academic streaming was introduced in Ontario schools in the first place.
Let's turn it over to Ontario educator, Jason To to help paint us a picture with this gem of a video:
A Brief History of Academic Streaming in Ontario
Some other worthwhile de-streaming / de-tracking resources to help learn more about this first step we are taking in Ontario towards more access and equity for all learners to access a high quality mathematics education can be found below:
If you know of other useful materials worth sharing, please drop the link in the comments section at the bottom.
Live OAME Panel Discussion: How To Remove Tracking From Your Mathematics Program
We recently held a live panel discussion at the annual OAME Conference (Ontario Association of Mathematics) on de-streaming the grade 9 math program here in Ontario with some pretty special guests! 
We were honoured to host Dr. Christine Suurtamm who is a Professor of Mathematics Education at the University of Ottawa, Hema Khodai, an Instructional Resource Teacher with Peel District School Board, Mark Chubb, a classroom teacher and past instructional coach, and finally Jason To who is a Coordinator for Secondary Mathematics and Academic Pathways with the TDSB. 
In this deep discussion we discuss the benefits of de-tracking or de-streaming as it helps to break down barriers that prevent marginalized students from an equal opportunity to succeed, thrive, and reach their full potential.
Shifting Our Pedagogy To Reach Every Learner
Over the past year since the Ontario Minister of Education announced that streaming would be ending for grade 9 mathematics courses, many educators have been concerned about the already tough challenge of reaching every learner becoming even more difficult.
This is a valid concern and there is much learning we all must undergo to ensure that we provide all students with an opportunity to achieve at high levels in the new MTH1W de-streamed mathematics course.
Although shifting our pedagogy is always a challenging task, we must continue to explore routines and practices that will create a non-threatening classroom environment where all students feel they belong and can contribute in a meaningful way. 
Consider a Problem Based Lesson Model
Were you a student of the "I do, we do, you do" approach to teaching and learning mathematics? We were and thus we thought that this was the only way to teach mathematics.
Consider heading over to the Make Math Moments 3-Part Framework page to learn about how starting with contextual problems to investigate new concepts can be a difference maker in allowing all students to enter a task and confidently solve problems using emerging strategies and models.
Math Talks To Build Fluency & Flexibility
How can we lead a productive math talk in the new MTH1W De-streamed Grade 9 Mathematics Course? What should we plan for? What are the teacher moves that fuel sense making in our students so we don't waste our valuable time?
Watch as we lead members from the Make Math Moments Academy through a math talk involving solving equations in an accessible way revealing connections including the two types of division and its impact on solving equations.
A Few More Resources You Might Find Helpful:
LESSONS TO MAKE MATH MOMENTS
Each Make Math Moments Problem Based Lesson consists of a Teacher Guide to lead you step-by-step through the planning process to ensure your lesson runs without a hitch!
Each Teacher Guide consists of:
Intentionality of the lesson;
A step-by-step walk through of each phase of the lesson;
Visuals, animations, and videos unpacking big ideas, strategies, and models we intend to emerge during the lesson;
Sample student approaches to assist in anticipating what your students might do;
Resources and downloads including Keynote, Powerpoint, Media Files, and Teacher Guide printable PDF; and,
Much more!
Each Make Math Moments Problem Based Lesson begins with a story, visual, video, or other method to Spark Curiosity through context.
Students will often Notice and Wonder before making an estimate to draw them in and invest in the problem.
After student voice has been heard and acknowledged, we will set students off on a Productive Struggle via a prompt related to the Spark context.
These prompts are given each lesson with the following conditions:
No calculators are to be used; and,
Students are to focus on how they can convince their math community that their solution is valid.
Students are left to engage in a productive struggle as the facilitator circulates to observe and engage in conversation as a means of assessing formatively.
The facilitator is instructed through the Teacher Guide on what specific strategies and models could be used to make connections and consolidate the learning from the lesson.
Often times, animations and walk through videos are provided in the Teacher Guide to assist with planning and delivering the consolidation.
A review image, video, or animation is provided as a conclusion to the task from the lesson.
While this might feel like a natural ending to the context students have been exploring, it is just the beginning as we look to leverage this context via extensions and additional lessons to dig deeper.
At the end of each lesson, consolidation prompts and/or extensions are crafted for students to purposefully practice and demonstrate their current understanding. 
Facilitators are encouraged to collect these consolidation prompts as a means to engage in the assessment process and inform next moves for instruction.
In multi-day units of study, Math Talks are crafted to help build on the thinking from the previous day and build towards the next step in the developmental progression of the concept(s) we are exploring.
Each Math Talk is constructed as a string of related problems that build with intentionality to emerge specific big ideas, strategies, and mathematical models. 
Make Math Moments Problem Based Lessons and Day 1 Teacher Guides are openly available for you to leverage and use with your students without becoming a Make Math Moments Academy Member.
Use our OPEN ACCESS multi-day problem based units!
Make Math Moments Problem Based Lessons and Day 1 Teacher Guides are openly available for you to leverage and use with your students without becoming a Make Math Moments Academy Member.
DOWNLOAD THE 3-PART FRAMEWORK GUIDEBOOK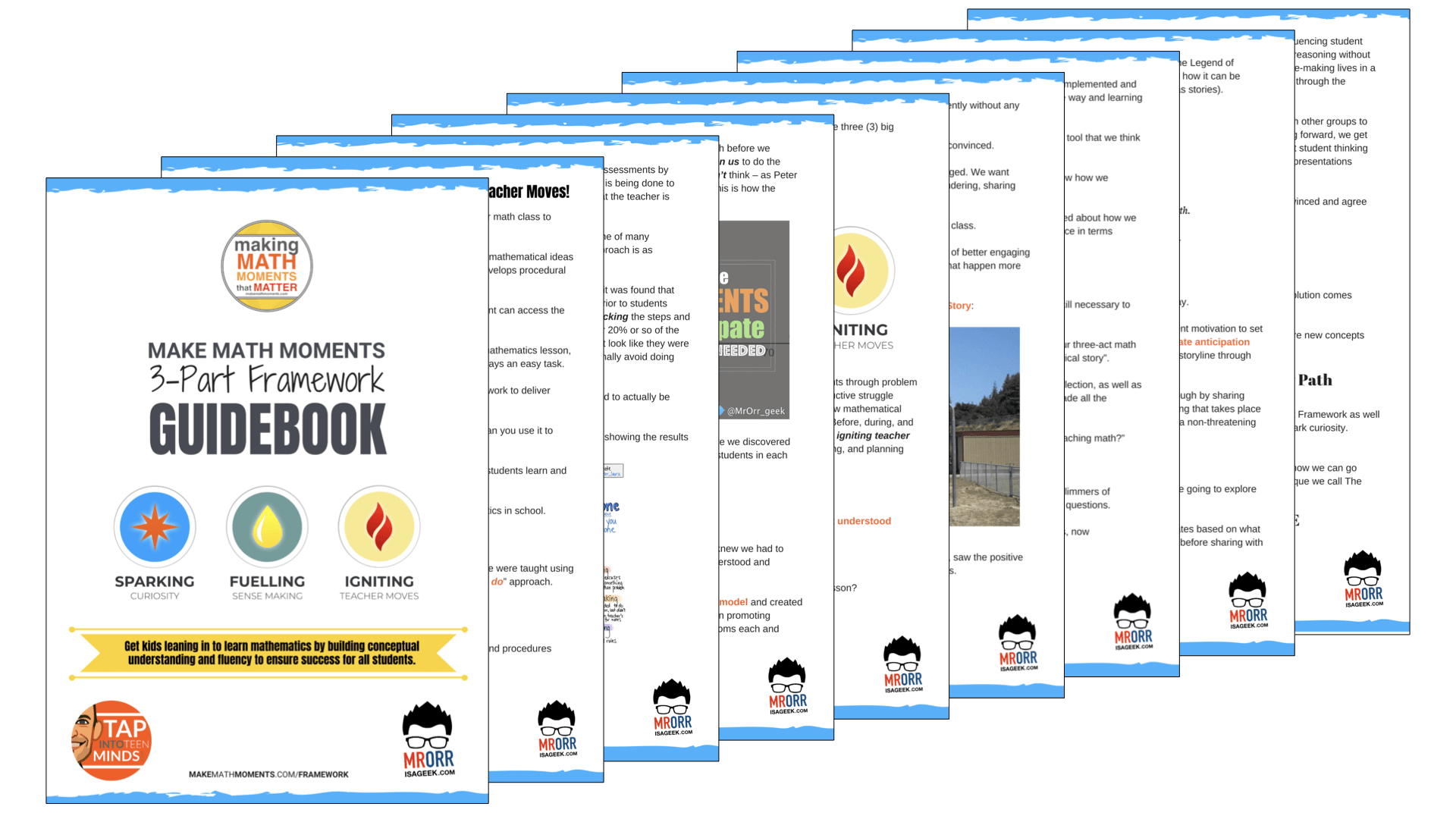 Why not bring the 3-Part Framework Guidebook with you?
Download the PDF so you can share with your professional learning network via print or email!
Use our OPEN ACCESS multi-day problem based units!